2022 Female Pathways Coaches, Signings and Squads
13th October 2021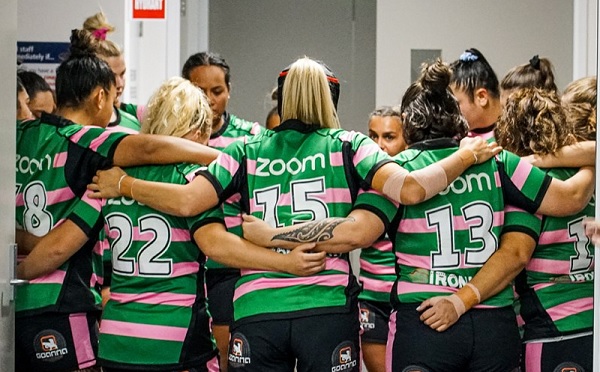 The South Sydney Rabbitohs continue to build their female pathways squads with the announcement of some key signings and re-signings in the Harvey Norman NSW Women's Premiership pre-season squad, the announcement of the 2022 Tarsha Gale Cup under 19s women's pre-season squad as well as the Head Coaches for the Harvey Norman NSW Women's Premiership, Tarsha Gale Cup and Lisa Fiaola Cup under 17s teams. The Rabbitohs will also increase female participation in their Black Rabbits elite player development squad from three players to eight in 2022.
Rabbitohs Head of Elite Pathways and Player Development, Joe O'Callaghan, is excited to see the female squads coming together. "This is by far the biggest investment we've made in women's Rugby League so far at our Club as we build our pathways with a view to fielding an NRLW team in the not-too-distant future," Mr O'Callaghan said. The interest in playing for the Rabbitohs in all three tiers of female teams has been overwhelming and we're delighted to see so many women and girls wanting to represent our great club. These players will have the opportunity to train with the elite young men's players as well as NRL coaches and players throughout the season and we saw the benefits of this squad last year for the female and male players. We all really looking forward to the addition of the two extra teams to the Club in 2022 and young girls and boys playing junior football in the Souths Juniors competitions can see a clear pathway to the elite levels of the game. Everyone can now dream of, and work hard towards, becoming a South Sydney Rabbitoh."
Harvey Norman NSW Women's Premiership
The Rabbitohs Harvey Norman NSW Women's Premiership side will be led by experienced coach Shane Sultana, who will be assisted by Tarsha Gale Cup Head Coach Karen Stuart throughout the 2022 season. Sultana has extensive experience in pathways football with the Sea Eagles' NRL and Jersey Flegg Cup squads; the Raiders' NRL, NSW Cup and Jersey Flegg Cup teams; the Bulldogs' SG Ball Cup side; the Tigers' high performance program; the Western Suburbs Magpies', Sydney Roosters and Wentworthville junior representative teams; Combined High Schools representative teams; Sarah Redfern High School and international teams Fiji, Italy and Thailand. The Rabbitohs have re-signed a number of key players from last year's squad.

Key Additional Retentions
     Ellie Johnston        - Prop
     Akira Kelly           - Halfback
     Aaliyah Fa'amausili   - Lock
     Seli Mailangi         - Hooker

Key Additional Gains
     Charlotte Booth       - Prop         (England 2018-19, Leeds, W-QRL Brisbane-Easts)
     Patricia Raikadroka   - Centre       (PMXIII, Fiji, W-NRL Warriors, W-NSWRL Mt Pritchard, Wests-Tigers)


The pre-season squad so far for the Rabbitohs' 2022 Harvey Norman Women's Premiership team is:

Baird, Nikki 
Bell, Nellie 
Booth, Charlotte 
Burgess, Renee 
Cain, Terri 
Cook, Tia 
Dann, Summer 
Davis-Welsh, Brandii 
Donovan, Monique 
Donovan, Turzah 
Fa'amausili, Aaliyah 
Fa'amausili, Rysh'e 
Fa'amausili, Tiana 
Fonokalafi, Helen 
Gordon, Kyla 
Jennings, Kiarnie 
Johnston, Ellie 
Kafoa, Tayla 
Kelly, Akira 
Kilisimasi, Seneti 
Mailangi, Lorretta 
Mailangi, Seli 
Lamb, Rikka 
Leger, Mariah 
Leifi, Donita 
Moale, Moniqca 
Overton, Crystal 
Perugini, Nikki 
Post, Jessica 
Raikadroka, Patricia 
Whiteley, Cindy 
Zreika, Haneen 


Tarsha Gale Cup Under 19s
The Rabbitohs' return Tarsha Gale Cup team will be led by Head Coach Karen Stuart, will be assisted by Lisa Fiaola Cup under 17s Head Coach Shane Manning in 2022. Stewart has extensive experience as both a coach and player, having represented Australia and Queensland as a player in Rugby League, Rugby Union and OzTag, as well as holding Rugby League coaching roles with the Australian Jillaroos, Queensland, New South Wales, Queensland Indigenous, Indigenous All Stars and junior representative teams. The pre-season squad for the Tarsha Gale Cup team features from some familiar names for Rabbitohs Members and supporters including Kasey Taaffe, the cousin of NRL player Blake Taaffe; Yilara Widders, the daughter of former Rabbitohs player and coach Dean Widders; and Fifita Koloamatangi, the cousin of Rabbitohs first grader Keaon Koloamatangi. The pre-season squad so far for the Tarsha Gale Cup under 19s squad is:

Akeje, Catherine 
Anitalea, Alyna 
Brown, Kahliah 
Bush, Paige 
Fahey, Sheridan 
Fakaosi, Pricilla 
Fokes, Jasmine 
Green, Kiara 
Harris, Maya 
Hoffman, Lillah 
Kelly, Eliza 
Koloamatangi, Fifita 
Maile, Luti 
Manukia, Maata 
McDonald, Indie 
Mundine, Shyla 
Niki Esekielu Vai, Wilma 
Oxenbridge, Mackenzie 
Pallier, Avalon 
Prince, Lailah 
Rooke, Jamie-Lee 
Simpson, Havana 
Simpson-Carr, Darci 
Smith, Bianca 
Stanton, Parker 
Taaffe, Kasey 
Thomas, Payten 
Toga, Grace 
Turner, Tess 
Widders, Yilara 
Zgorzelski, Kiara 


Lisa Fiaola Cup Under 17s
South Sydney will enter for the first ever time a team in the relatively new U17 Lisa Fiaola Cup. The squad for the under 17s Lisa Fiaola Cup squad for 2022 will not be announced until next year due to their competition not being played until the weekend carnival in mid-2022. The team will be coached by Shane Manning. Shane has previously held roles with the Rabbitohs Harvey Norman NSW Women's Premiership team as well as various assistant coaching roles with junior representative teams at South Sydney over the past eight years.
---
© 2021 SSR Almanac / HOME / RETURN