2022 NSW Cup and Jersey Flegg Pathway Squads
22nd October 2021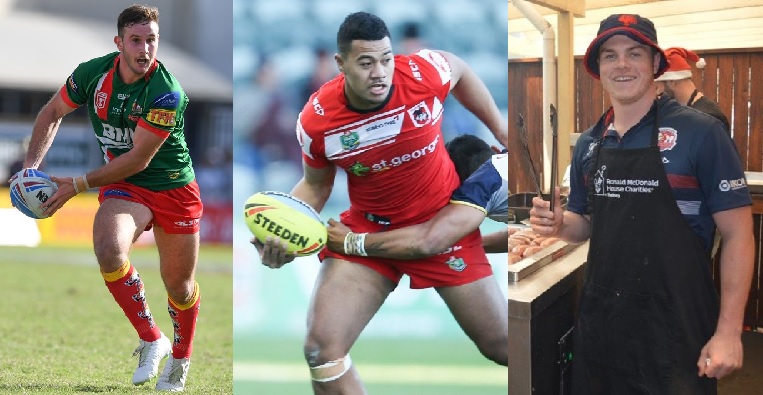 The South Sydney Rabbitohs have announced their pre-season squads for the open age NSW Cup and under 21s Jersey Flegg Cup competitions leading into the 2022 pre-season training programs.
Rabbitohs Head of Elite Pathways and Player Development, Joe O'Callaghan, says 2022 will be an important development season for players in these squads. "One of the unfortunate side effects of the COVID-19 pandemic for young footballers is that they have played little Rugby League over the past two seasons," Mr O'Callaghan said. "Despite this interruption to their development, we've seen a strong desire in these players to continue their journey and to put in their best efforts to achieve their goals and, in turn, the Club's goals in pathways football. We've made a commitment to develop players, both male and female, through our pathways program towards the NRL and we feel that we have quality players these two top male pathways teams that can develop their games further and push for NRL inclusion in the future."
Reserve Grade NSW Cup Premiership
The NSW Cup squad sees a number of key re-signings as well as some recruitment in key depth positions, as well as some players progressing from the 2021 Jersey Flegg Cup under 21s squad into the open age squad.

Key Additional Retentions
     Trent Peoples         - Second Row
     Ben Lovett            - Second Row
     Jacob Gagai           - Fullback
     James Hasson          - Prop

Key Additional Gains
     Jack Campagnolo       - Five-Eighth  (Wynnum-Manly Brisbane, QRL Qld Cup Five-Eighth of the Year)
     Izaac Thompson        - Wing         (St George-Illawarra U20)
     Hugh Patterson        - Prop         (Sydney Roosters U20)


The pre-season squad so far for the Rabbitohs' 2022 Reserve Grade NSW Cup team is:

Angianga, Tallis 
Campagnolo, Jack 
Chanfoon, Maila 
Fepuleai, Joshua 
Gagai, Jacob 
Gardiner, Shannon 
Gordon, Yileen 
Hardman, D'Arcy 
Hasson, James 
Lovett, Ben 
Mitchell, Shaquai 
Mougios, Nic
Patterson, Hugo 
Peoples, Trent 
Robinson, Chaise 
Tago, Jake 
Thompson, Izaac 
Zaurrini, Marc 


Jersey Flegg Cup Under 21s
The Jersey Flegg Cup squad sees a number of players from the successful 2021 SG Ball Cup squad graduate to the under 21s team in 2022.




Key Additional Retentions
     Tallis Duncan         - Second Row
     Isaiah Vailalo        - Prop
     Romano Cook           - Hooker
     Evan Manning          - Wing

Key Additional Gains
     Thomas Giles          - Prop         (Cronulla-Sutherland U21, Australian Schoolboys)
     Solomon Torrens       - Lock         (Gold Coast, Qld Schoolboys Captain)
     Joshua Rizk           - Fullback     (Wests-Tigers U21)





The pre-season squad so far for the Jersey Flegg Cup under 21s squad is:

Ball, Thomas 
Bray, Keahlan 
Cook, Romano 
Duncan, Tallis 
Garner, Ryan 
Giles, Thomas 
Griffiths, Trent 
Haumono, Maile 
Henderson, Brodie 
Hill, Ky 
Hutchinson-Walters, Lathan 
Karam, Jacob 
Lam, Bailey 
Lanham, Isaac 
Laui, Etuate 
Lester, Harley 
Leugaimafa, Deijion 
Lloyd, Ben 
Madden, Jackson 
Manning, Evan 
Mercy, Drey 
Mezzomo, Oscar 
Mitsias, Michael 
Moretti, Marco 
Pereira, Cooper 
Ratumaitavuki, Keanu 
Reweti, Gabriel 
Rizk, Joshua 
Saunders, Will 
Situati, Simote 
Teaupa, Dion 
Tobin, Jake 
Tohi, Penioni 
Tonpi, Liam 
Torrens, Solomon 
Tweedie, Cruise 
Vailalo, Isaiah 
Vaka, Charles 


---
© 2021 SSR Almanac / HOME / RETURN