2022 - The Cyber View from the Hill
23rd February 2022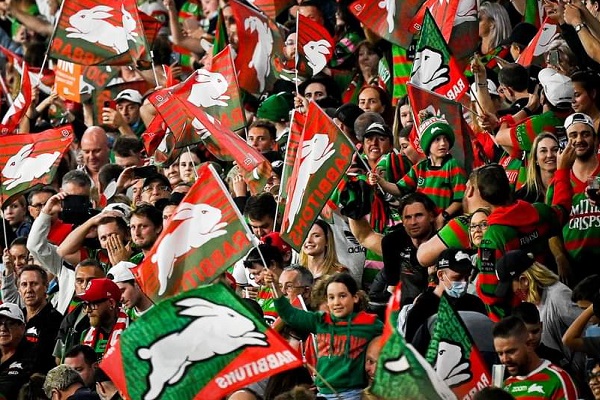 Solid First Hit Out
The first hit out of the season was all about giving our fringe first graders some game time. The first 40 minutes were a strong effort and some good signs there for the season to come. As in all trials, after the break there are changes made as the main group usually only play 40 minutes and different combinations were tried. Over the next week we will see our lineups settle in readiness for round one. Now off to Mudgee for the annual Charity Shield.
Hawkins back in the mix
With all of the off season talk about Ilias and Milford, Dean Hawkins had reverted back to a train and trial contract rather than coming into the main Top 30. But with the Milford court case dragging on, Souths decided to bring Hawkins into the main squad. He took the opportunity to show his quality kicking game in his 60 minutes on the field. He will be ready to step up if form or injury issues arise.
Wright making his mark
One of the junior standouts over the last few weeks in Matts has been Daniel Wright nephew of Ken Wright. He is settling well into the team and continues to find the try line and is a hand goal kicker to boot. Looking forward to seeing him develop.
All trials broadcast
Last week we saw all trials broadcast for the first time ever. This was a real boost for rugby league fans, as we watched fringe players get a run and combinations trialed across all clubs. With a large number of first grade players missing week one of the trials, it became a defacto round of NRL reserve grade. We have a real market for NRL reserve grade next to the Qld Cup and proper NSW Cup with NSW regioanl divisions.
Rabbitohs TV - Weekly Segment
The boys discuss the NRL Cairns Trial & Pathways Wrap
Trial - Stat Attack
Statistically it was a poor game. Completion dropped to 65% from 74% last year. Errors were dropped at 14 from 11 last year We gave away 9 penalties and 1 6-again calls from 5 last year. Souths Effective 1st tackle improved to a poor level of 39.5m from 40.0m last year. Our missed tackles dropped to a average level of 33 from 23 last year. Opposition offloads improved to 5 from 6 last year.
Looking at our left side defence - Bijorac-Paulo/JGagai-Campagnolo-Lovett (2-4-3-8) dropped to 19 from 10 missed tackles last year. On the right side Kennar/Thompson-Karapani/Kennar-Hawkins/Gardiner-Cartwright/Peoples (0-0-3-0) improved to 3 from 6 missed tackles this year. Ruck defence SMitchell/Vailalo-Mamouzelos/RCook-Moale/Hodge-Sele/Duncan (2-4-3-3) dropped to 12 from 7 missed tackles last year.
Our go forward dropped to 1376m from 1509m last week. S.Mitchell, Vailalo, Sele, Cartwright, Karapani, Bijorac and Thompson made 10+m per run. Moale, S.Mitchell, Karapani, Bijorac and Campagnolo made 100+m in the match. Defensively Moale and Lovett were our best in the tackling raking up 36 tackles. Moale, Sele, Cartwright, Peoples, Paulo, Karapani, Kennar and Thompson didn't miss a tackle.
News This Week
NRL 2022 Revision of Concusion Policy - Independant Doctors
Charity Shield Preview
Recent 2022 Form - South Sydney (2nd)

Trial Nth Qld    Crns L 12-24

Recent 2022 Form - St George-Illawarra (11th)

Trial Parramatta WSS  W 26-22

Recent Charity Shield Results

2012 StAu v St Geo-Ill L 12-18 21,398 J.Robinson/B.Suttor
2013 StAu v St Geo-Ill W 28-10 19,630 J.Maxwell/A.Devcich
2014 Woll v St Geo-Ill W 38-20 14,633 A.Klien
2015 StAu v St Geo-Ill D 12-12 16,821 A.Devich/D.Munro (Rabbitohs Retain)
2016 StAu v St Geo-Ill W 18-14 13,241 G.Badger/C.Sutton
2017 StAu v St Geo-Ill W 32-14 12,516 A.Klein/G.Munro
2018 Mudg v St Geo-Ill W 22-18  9,133 A.Gee/C.Sutton
2019 Mudg v St Geo-Ill W 36-24  9,027 A.Klien/D.Munro
2020 Mudg v St Geo-Ill W 26-12  9,124 A.Klein/G.Badger
2021 Mudg v St Geo-Ill W 48-16  6,841 P.Gough


Selected Charity Shield & Juniors Round 4 Teams