2022 - The Cyber View from the Hill
2nd March 2022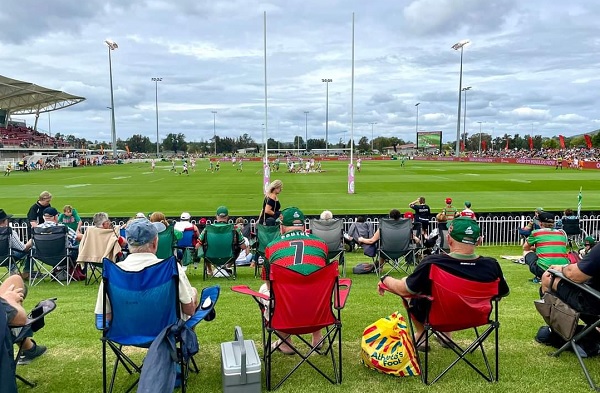 Some work to do
The first hit for our main first grade squad was disjointed. Key positions for 2022 don't look like being settled yet and may take a few rounds before they settle. One early concern is the age old problem of weaking one position to strengthen another. Our forwards looked in better shape and will settle when Murray returns. But it was only a trial, a new coach trying things and the boys having their first hit out after the grand final and all of the Covid impacts last year. Now for a week off before we head up to the soggy Brisbane for round 1.
Arrow strong hit out
Jai Arrow has picked up where he left off last year. He is settling in as the first coice second rower to fill in the gap vacated by the departure of Su'A. He is playing a interesting role where he starts at second row and then rotates into the front row after 20 minutes. Looking forward to seeing continue his imporvements.
Gagai mark II scores a double
In the only other game on the weekend saw our reserve grade team have their first full hit out. In a slow start the team came back strong in the second half with young brother Jacob Gagai scoring a double. This team and our U21s have been disrupted more than any other so we will monitor how they progress.
The big wet
As Covid starts to settle, borders openning up, the east coast of NSW and SE Queensland have been battered in one of the heaviest rainfalls ever recorded. From Brisbane all the way down the Grafton having their major rivers having record floods with Suncorp and Robina Stadiums going under water. This week has seen this heavy rain arrive in Western Sydney and for the second week in a row we see significant disruption to junior reps. Stay safe everyone.
Rabbitohs TV - Weekly Segment
The boys discuss the Charity Shield
Charity Shield - Stat Attack
Statistically it was a average game. Completion improved to 76% from 65% last week. Errors improved to 10 from 14 last week. We gave away 5 penalties and 1 6-again calls from 10 last week. Souths Effective 1st tackle improved to a average level of 35.0m from 39.5m last week. Our missed tackles dropped to a catestrophic level of 58 from 33 last week. Opposition offloads dropped to 9 from 5 last week.
Looking at our left side defence - Johnston/Paulo-Paulo/Milne-Walker/Campagnolo-Arrow/Host (4-5-4-5) improved to 18 from 19 missed tackles last week. On the right side Mansour/Kennar-Graham/Karapani-Ilias/Hawkins-Koloamatangi/CheeKam (4-5-3-6) dropped to 18 from 3 missed tackles this week. Ruck defence Tatola/Burgess/Moale-DCook/RCook-Sele/Havili-Nicholla/Arrow (7-3-6-2) dropped to 18 from 12 missed tackles last week.
Our go forward dropped to 1231m from 1376m last week. Burgess and Moale made 10+m per run. No one made 100+m in the match. Defensively Damien Cook were our best in the tackling raking up 35 tackles. Arrow didn't miss a tackle.
News This Week
NRL fines Sam Burgess $30,000 and South Sydney $20,000
Selected Juniors Round 5 Teams