2022 - The Cyber View from the Hill
6th April 2022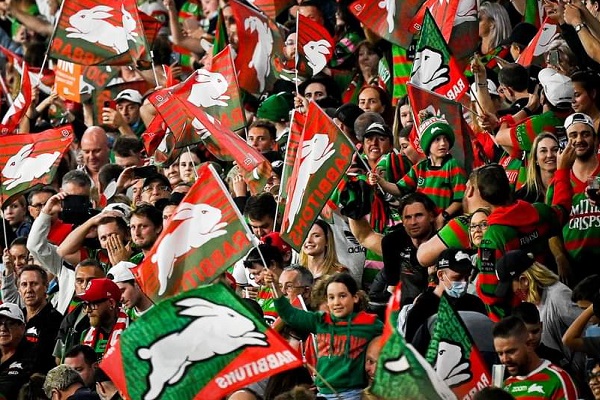 Errors prove costly
We continue to have parrallels with 2021 is key big games. Last year against Penrith we lost a forward in the openning minutes. This time around we lost Nicholls in the openning minutes. But while that didn't help our cause, it was the errors that continue to impact our ability to match it with the top teams. We will need to rectify this issue for us to be able to compete in 2022. Now for the Dragons who are coming off a major hiding last week.
Ilias steps up
It has been a baptism of fire for our young half. But last week he stood up and inspired the team. While he still has the occassional error, his defence has stepped up and his combination is growing. He also almost scored a great solo try. I am liking what I am seeing and he is developing nicely.
Tass high workrate
Our reserve grade team moved into Top 6 with a good strong win over junior powerhouse Penrith. One player who continues to improve is Isaih Tass who came drop from Souths-Brisbane. His work rate on the weekend, was a big contributer to the teams win. After his off-season surgery he building nicely for a possible call up in the coming weeks.
Robinson returns
One name popped up oover the weekend after a long layoff, and that was Chaise Spyroulias(Robinson). He is a great dynamic fullback and after a year off due to injury and covid, it is good to see him back on the paddock, helping guide our U21s team to their first victory. He is still work in progress.
Tough Return for the U19 Girls
It was tough return for our W-U19 girls team. But a important stepping stone to a future NRLW team. Luti Maile was a standout with her work rate. Shyla Mundine and Yilara Widders were our top point and try scorers for the compeition with 2 tries. Onwards and upwards as they say for future teams.
Covid hasn't gone away
With borders opening up and things starting to return to normal in public life, we continue to see a surge in the cases of Covid. While everyone these days is treating like the flu, it is bouncing around through the public who had not caught it in large numbers. With 24,000 new cases in a day reported during the week. The 7 day isolation protocol is in force and so can easily knock out a group of people. It hasn't had a big impact on the playing group as yet, but we are also not hearing when a player has been ruled out either. It can't be long before it impacts a team significantly just before kickoff.
Rabbitohs TV - Weekly Segment
The boys recap Round 4
Round 4 - Stat Attack
Statistically it was a very poor game. Completions dropped to 65% from 8!% last week. Errors dropped to 14 from 9 last week. We gave away 7 penalties and 2 6-again calls from 7 last week. Souths Effective 1st tackle dropped to a very poor level of 42.5m from 28.6m last week. Our missed tackles improved to a outstanding level of 18 from 43 last week. Opposition offloads dropped to 11 from 7 last week.
Looking at our left side defence - Johnston-Milne-Walker-Host (0-1-1-1) improved to 3 from 10 missed tackles last week. On the right side Paulo/Graham-Graham/Arrow-Ilias-Koloamatangi (4-2-1-2) improved to 9 from 14 missed tackles last week. Ruck defence Tatola/Burgess-DCook-Nicholls/Arrow/Havili/Knight-Murray (2-1-0-2) improved to 5 from 16 missed tackles last week.
Our go forward dropped to 1421m from 1771m last week. Cook, Nicholls, Havili, Johnston and Graham made 10+m per run. Burgess, Host, Murray, Johnston and Graham made 100+m in the match. Defensively D.Cook was our best in the tackling raking up 61 tackles. Arrow, Havili, Knight, Nicholls and Johnston didn't miss a tackle.
News This Week
none
Round 5 Preview
Recent 2022 Form - South Sydney (13th)

Rd02  Melbourne  MRSt L 14-15
Rd03  Syd Rstrs  StAu W 28-16
Rd04  Penrith    Penr L 12-26

Recent 2022 Form - St George-Illawarra (15th)

Rd02  Penrith    Koga L 16-20
Rd03  Cronulla   Woll W 36-12 
Rd04  Parramatta WSS  L 14-48

Recent South Sydney v St George-Illawarra Results

2019 ChSh  Mudg W 36-24  9,027 A.Klien/D.Munro
2019 Rd02  Koga W 34-18 10,080 G.Sutton/P.Gough
2019 Rd19  StAu W 20-16 12,318 G.Sutton/M.Noyen/L.Kennedy
2020 ChSh  Mudg W 26-12  9,124 A.Klein/G.Badger
2020 Rd12  Koga W 32-24  2,719 A.Klein
2021 ChSh  Mudg W 48-16  6,841 P.Gough
2021 Rd20  LngS W 50-14      0 C.Butler
2021 Rd25  SunS W 20-16  3,295 M.Cecchin
2022 ChSh  Mudg L 10-16  9,257 Z.Przeklasa-Adamski


Selected NRL Round 5 & Juniors Round 9 Teams