Davvy Moale 2024-25 Contract Extension
29th June 2022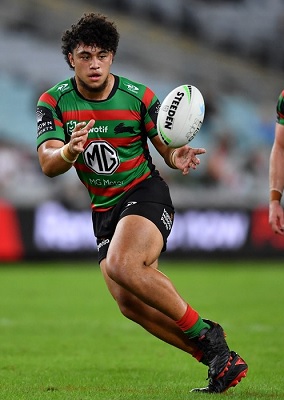 The South Sydney Rabbitohs are delighted to announce the contract extension of front row forward Davvy Moale until at least the end of the 2025 season. Moale, 19, has played eight NRL matches since making his debut against the Dragons last season, having played in the South Sydney SG Ball Cup under 19s team earlier that season. Moale represented the Cook Islands against Samoa in last weekend's Pacific Test, earning his first senior representative jersey whilst scoring his debut try. Moale, a South Sydney junior from the Coogee Randwick Wombats club, is tipped to become a regular NRL player and represent at the highest levels of the game over coming seasons.
Moale is very happy to be re-signing with the Rabbitohs. "It's always been my dream to play in the NRL and to do so for the South Sydney Rabbitohs so I couldn't be happier to be extending my time with the Club," Moale said. "This Club is part of my extended family. My parents have had to make so many sacrifices for me and my siblings as we have grown up. My older brother, Evanda, is my inspiration to make it as a regular NRL player, but the players I get to train with and play with every week are my inspirations too. We are a big family. I can't wait to get back out on the field to play for this great Club, its Members and its fans."
Rabbitohs Head of Football, Mark Ellison, says Moale is one of a number of key young players in the Rabbitohs' squad. "Davvy has shown he has what it takes to debut in the NRL as an 18-year-old in the front row, something not many props have done to begin their careers," Mr Ellison said. "He has the size, aggression and work ethic to play at the highest levels of the game and we're delighted that he sees his future at Club level with the South Sydney Rabbitohs. He is South Sydney through-and-through. He's come up through the Souths Juniors competitions and our development systems, his sister Moniqca plays in our Harvey Norman NSW Women's team and he understands what it means to the district to have a player come through the ranks and represent their junior club. Davvy joins young players such as our captain Cameron Murray, Campbell Graham, Keaon Koloamatangi, Peter Mamouzelos, Blake Taaffe, Josiah Karapani, Leon Te Hau and Tyrone Munro on long term deals here at South Sydney, players that will be the backbone of the Club for years to come."
---
© 2022 SSR Almanac / HOME / RETURN