Ilias 2024-25 Contract Extension
6th September 2022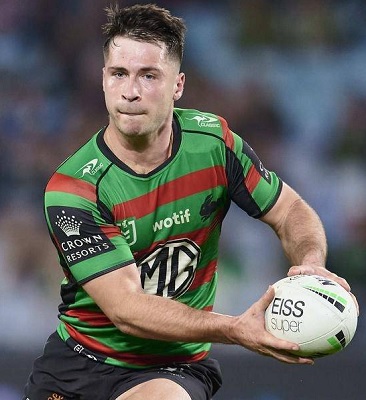 The South Sydney Rabbitohs are delighted to announce the contract extension of halfback Lachlan Ilias until at least the end of the 2025 season today.
Ilias, 22, has played 24 NRL matches for South Sydney since making his debut against the St George Illawarra Dragons at the end of last season, having previously won a Jersey Flegg Cup premiership with the Rabbitohs in 2019. Ilias, who has strong pedigrees in both Rugby League and rugby union, has taken the reins of the Rabbitohs NRL outfit in 2022, and hopes to play for Greece at the end-of-season Rugby League World Cup in 2022. Ilias, Rabbitohs first grade player number 1173, was crowned the Rabbitohsí John Sattler Rookie of the Year at last weekendís Red and Green Ball and will be guiding the Rabbitohs through his first NRL Finals Series, starting this weekend against the Roosters.
Ilias could not be happier to have re-signed with South Sydney. "Iím really happy to have my contract sorted out and Iím even happier to know Iíll be a long-term player with the South Sydney Rabbitohs," Ilias said. "Iím really enjoying my first full season of NRL footy with the boys and the coaches, and I know we have more footy to come this year and into the future. Iíve won a Jersey Flegg competition with Souths and Iíll be doing everything I can to help us win an NRL premiership too. I want to give a massive thank you to my family, my friends and the Club for always being by my side and supporting me through everything. I love the Club, the players, coaches and staff; the Members and supporters are second-to-none; and Iím really happy to be able to play my role in the success of this Club for the long term."
Rabbitohs Head of Football, Mark Ellison, says Ilias has been earmarked as the number seven into the future for the Rabbitohs. "He is as impressive off the field as he is on it. He is learning to become a leader amongst a group of strong personalities, and we believe Lachy will be one of the leading halfbacks in the competition for a long period of time. He and his family have found a home here at South Sydney and we all look forward to working with him on his continued development at the NRL level and beyond. He joins his great mates Blake Taaffe and Peter Mamouzelos on extended contracts at South Sydney and will have the opportunity to play alongside players like Cameron Murray, Latrell Mitchell, Cody Walker, Campbell Graham and Keaon Koloamatangi for many years to come."
---
© 2022 SSR Almanac / HOME / RETURN