2023 - The Cyber View from the Hill
9th Aug 2023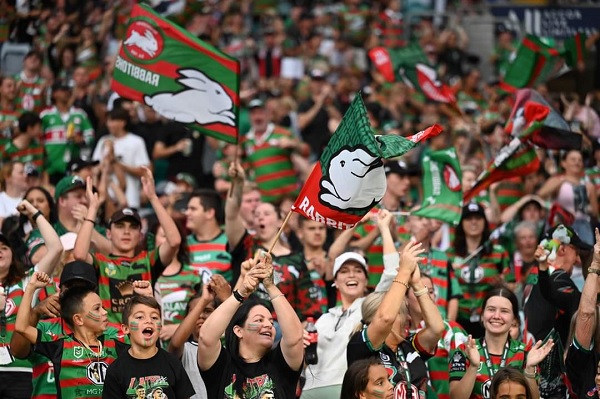 Perth Train Wreck
Errors and inability to stop the offload continue to be our achilles heal in 2023. We took our full 45 man squad to Perth and it did not help our onfield performances. We have evolved into a team who don't look when they pass trying for a miracle play before doing the hard work. A further injury to Arrow and Burgess suspension will now mean our engine room will be tested in the remaining games of the season. We are in a 8 way battle for the 4 final Top 8 spots and still need 3 more wins out of 3 remaining games. Our road trip continues as we now fly to Cairns to play the improving Dragons with nothing to lose.
Duncan Strong Game
Tallis Duncan has once again played very well in his step up into first grade. He has turned into a perfect cover for Murray when he needs a break. Another huge break late in the game, shows his value against a tiring defence. He looks to have cemented his utility role in the team.
Shaq Mitchell rewarded
Big Shaq Mitchell returned to the NRL this week after another good performance in the NSW cup. His power up the middle was evident, as he crashed over for a try, and how he combined with his outside men. Looking forward to him being a settling role in our team.
Williams double on debut
Another young player was given a opportunity on the weekend and he did not disappoint. Drew Williams stepped up and scored two tries on the wing. He is part of young team learnig their trade at the higher level late in the season. Looking forward to seeing more of him in the future.
Finally CBA Agreed
It took Peter VLandys and RLPA chair Dr. Deidre Anderson, to step in and make the midweek meeting happen after the ongoing clashes between Newtown and Abdo. We Blake Solly representing the NRL Clubs, it seems a solid two days have sorted out the RLPA concerns, as a in-princpal agreement has now been reached. It looks like the biggest off field issue since the Super League War is finally over.
Round 23 - Stat Attack
Statistically it was a very poor game. Completions dropped to 66% from 80% last week. Errors dropped to 15 from 9 last week. Our worst all year. We gave away 11 penalties and 3 6-again calls from 5 last week. Our worst all year. Souths Effective 1st tackle was improved to a poor level of 39.1m from 22.8m last week. Our missed tackles dropped to a horrid level of 44 from 38 last week. Our worst all year. Opposition offloads dropped to 17 from 9 last week. Our second worst all year.
Looking at our left side defence - Johnston-Tass-Walker-CheeKam/Murray/Cartwright (0-3-4-4) was steady at 11 again this week. On the right side Munro-Graham-Ilias-Koloamatangi (3-1-5-4) was dropped to 13 from 10 missed tackles last week. Ruck defence Arrow/Moale-DCook-Burgess/Havili-Murray/Duncan (1-4-8-4) dropped to 17 from 16 missed tackles last week.
Our go forward improved to 1812m from 1749m last week. With our props making a very poor 356m compared to 428m last week. Koloamatangi, Duncan, Moale, Havili, Cartwright, CheeKam, Munro and Johnston made 10+m per run. Kolomatangi, Murray, Duncan, Burgess, Munro, Tass, LMitchell and Graham made 100+m in the match. Defensively D.Cook was our best in the tackling raking up 59 tackles. Moale and Johnston didn't miss a tackle.
News This Week
IRL Announces New Look 2026 RLWC
IRL Announces International Calender to 2030
RLPA appeal to sponsors and fans for support in CBA dispute
NRL and RLPA reach CBA agreement
Round 24 Preview
Recent 2023 Form - South Sydney (8th)

Rd21  Brisbane   SunS L 20-36
Rd22  Wests-Tig  Tamw W 32-18
Rd23  Cronulla   Prth L 16-26

Recent 2023 Form - St George-Illawarra (16th)

Rd21  Wests-Tig  Woll W 18-14 
Rd22  Manly      Woll L 18-24
Rd23  Parramatta WSS  L 20-26

Recent South Sydney v St George-Illawarra Results

2021 Rd20  LngS W 50-14      0 C.Butler
2021 Rd25  SunS W 20-16  3,295 M.Cecchin
2022 Rd05  StAu W 24-12 11,332 B.Cummins
2022 Rd15  Woll L 12-32 11,257 G.Atkins
2023 Rd15  Koga L 30-36 17,357 B.Cummins