2023 - The Cyber View from the Hill
16th Aug 2023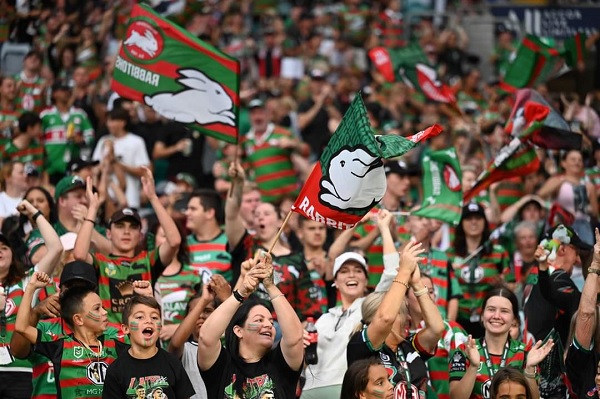 3 Grade Victory
It was a hot day up in the tropics as we played our critical match, and it was good to see the boys start the long hard road to improvement. While the win wasn't pretty and too much drop ball in the heat, it was a critical 2 points as we head into the finals. But what was most pleasing was seeing all grades put in a great performance in our first 3 grade win since round 11 We are in a 7 way battle for the 3 final Top 8 spots and still need 2 more wins out of 2 remaining games. After a horror road trip, its now only a bus trip to a sold out Newcastle in a critical Top 8 seeding match.
Milne power game
Taane Milne has been in and out of the team all year, but he put in a huge effort on the weekend. He provided some much needed yardage out of our 20m zone, as he rattled up over a record yardage for anyone this year. He is helping take some of the grunt work off injured Graham.
Thompson hatrick
Well it took a few weeks to shake off the cobwebs from his last injury, but Izaac Thompson proved what a great finisher he is when he scored another hatrick. The way he ran over 50m to support the runner in his last try was great to see. Perfect timing for a finals run.
Cruise Control
Tweedie Cruise doesn't get the wraps, his controlled defense at lock was instrumental in fixing our ruck defence which then had a huge bearing on our team winning their first game in 9 weeks. Well done.
Pacific Tests Announced
Now that the CBA has been sorted it has been great to see the International calender start to get sorted. The newly published calender and the new Pacific Tri-Nations, Pacfic Bowl and womens tests means things are getting settled for another quality international rep season in October/November. I now expect a lot of announcements to come out as regions understand how we are moving forward.
Round 24 - Stat Attack
Statistically it was a average game. Completions dropped to 63% from 66% last week. Errors dropped to 16 from 15 last week. Our worst all year. We gave away 3 penalties and 1 6-again calls from 14 last week. Souths Effective 1st tackle was improved to a good level of 25.2m from 39.1m last week. Our missed tackles improved to a good level of 23 from 44 last week. Opposition offloads improved to 9 from 17 last week.
Looking at our left side defence - Johnston-Tass-Walker-Host/Lovett (1-4-5-2) dropped to 12 from 11 missed tackles last week. On the right side Milne-Graham-Ilias-Koloamatangi (2-2-1-1) improved to 6 from 13 missed tackles last week. Ruck defence SMitchell/Havili-DCook-Arrow/Murray/Moale-Murray/Duncan (0-1-0-2) improved to 3 from 17 missed tackles last week.
Our go forward dropped to 1778m from 1812m last week. With our props made a very poor 371m compared to 356m last week. Koloamatangi, S.Mitchell, Arrow, Host, Moale, Milne and Johnston made 10+m per run. Koloamatangi, S.Mitchell, Host, Arrow, Murray, Milne, Graham, Johnston and Tass made 100+m in the match. With Milne making 200+m for the match. Defensively Murraywas our best in the tackling raking up 38 tackles. S.Mitchell, Havili and Moale didn't miss a tackle.
News This Week
none
Round 25 Preview
Recent 2023 Form - South Sydney (8th)

Rd22  Wests-Tig  Tamw W 32-18
Rd23  Cronulla   Prth L 16-26
Rd24  St Geo-Ill Crns W 26-14 

Recent 2023 Form - Newcastle (7th)

Rd22  Canberra   Bruc W 28-6 
Rd23  Dolphins   Prth W 30-28
Rd24  Canterbury NISC W 42-6 

Recent South Sydney v Newcastle Results

2020 Rd10  WSS  L 18-20  4,249 G.Atkins
2020 mPSF  StAu W 46-20 17,212 B.Cummins
2021 Rd14  StAu W 24-10 12,156 C.Butler
2022 Rd17  NISC W 40-28 18,621 T.Smith