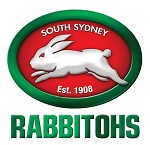 South Sydney Rabbitohs Past Jerseys
Over the years Souths have worn a number of jerseys. Here is a history the South Sydney jersey

1896-99 - The South Sydney Pre-District Rugby Union jersey (blue and white)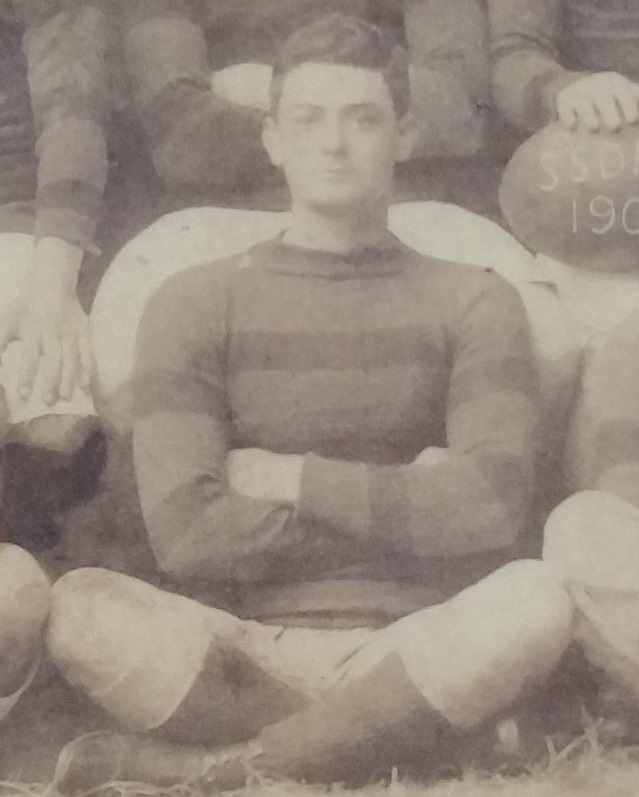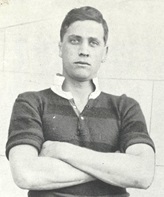 1900-07 - The South Sydney District Rugby Union jersey - 1902 no colar and 1905 colar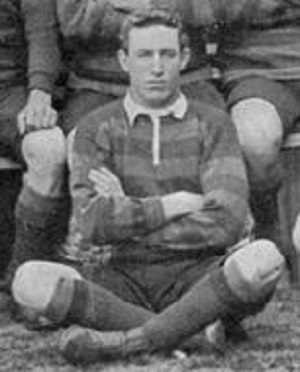 1908 - The original 14 hoops jersey was established to differenitiate the League team from its Union counterpart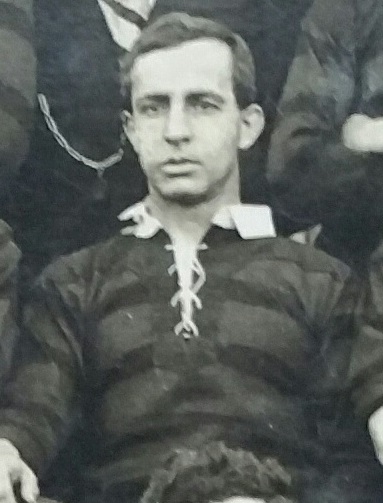 1908-13 - Souths leather shoulder reinforced jersey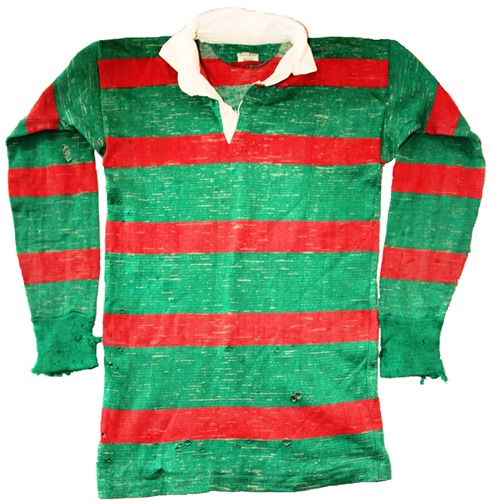 1909-44 - In 1909 we had reverted back to our famous 2 inch myrtle and 1 inch cardinal jersey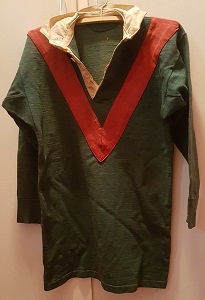 1936,45-46 - Souths night competition jersey. Then during World War II most clubs reverted to V jerseys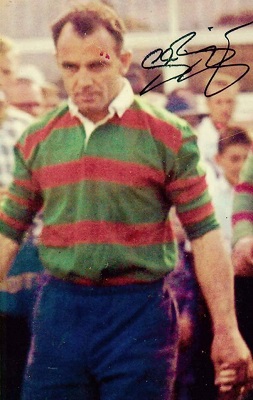 1947-58 - After World War II we reverted back to our traditional playing strip
1948 - For a one off trial we wore a black and white strip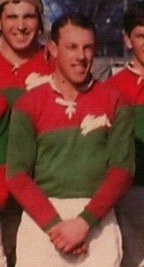 1959-64 - The saddle jersey where we wore the Rabbit for the first time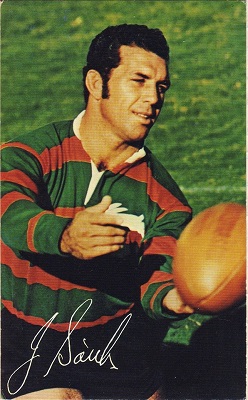 1965-76 - Back to our traditional jersey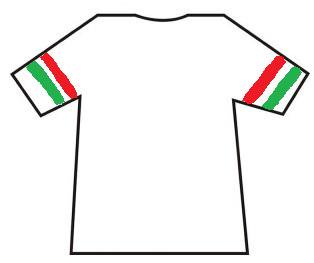 1967 - A pre-season cup night jersey, introduced by Don Lane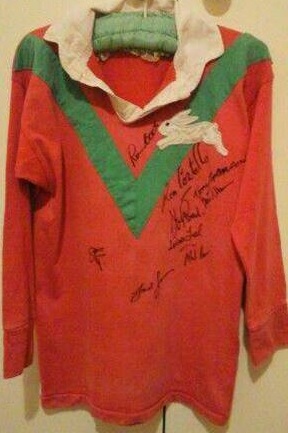 1975 - Pre-Season jersey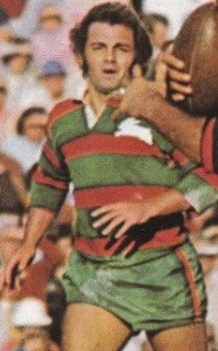 1975 - Green Shorts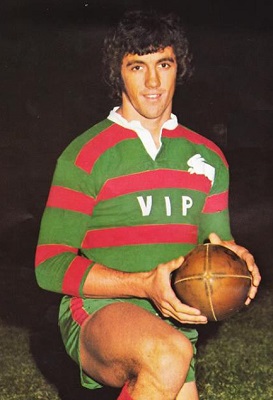 1976 - Sponsorship Begins
1977-79 - The red trim jersey collar and shorts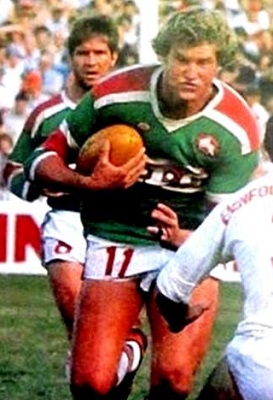 1980-84 - The mintie wrapper. Originally it had the red and white go all around the body, with yellow numbers. Within a few weeks it reverted to a full green back with white numbers. For the 1980 preliminary final we also wore red numbers on the shorts.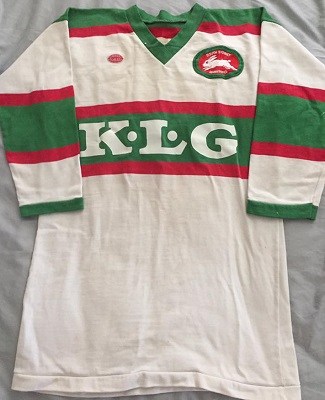 1980 - The midweek cup alternative jersey. It was never required to be worn.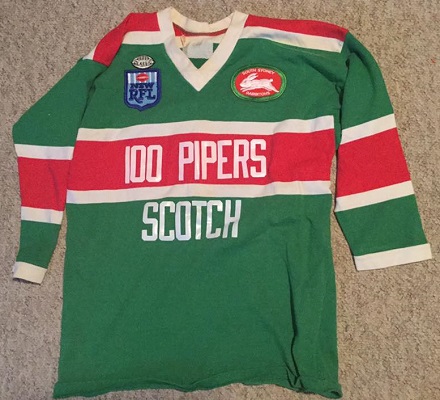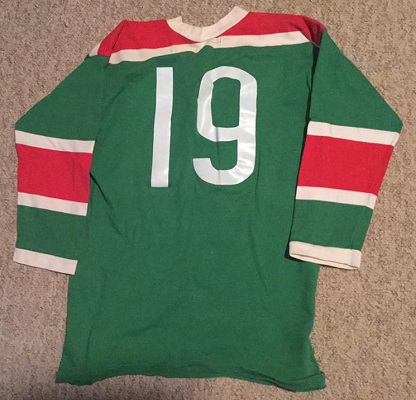 1980-84 - The mintie wrapper. Rugby League incorporated with the NSWRL logo.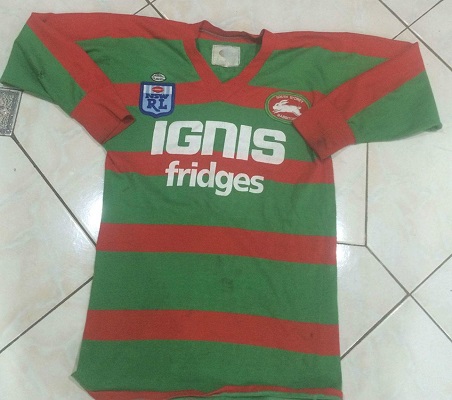 1985-94 - The arm stripe jersey, with a red stripe down the arm.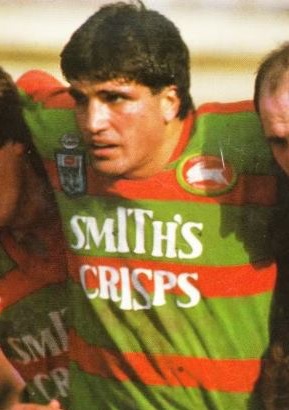 1986-91 - The Smiths Crisps jersey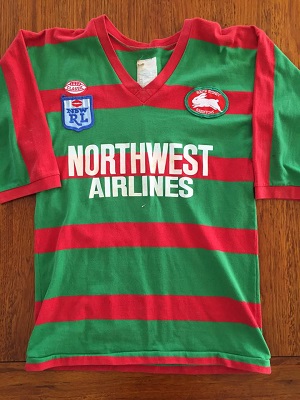 1992-94 - The Northwest jersey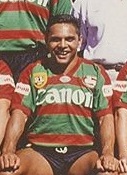 1995-96 - The ARL jersey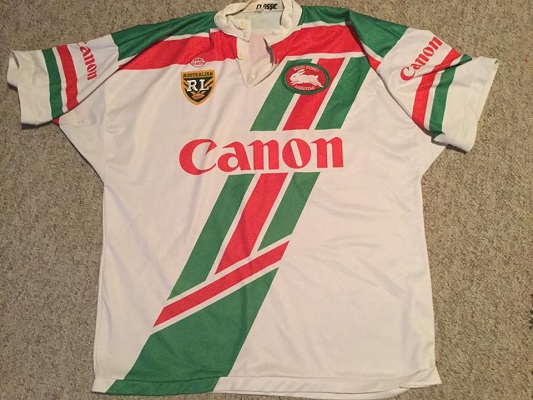 1995-97 - The 7s jersey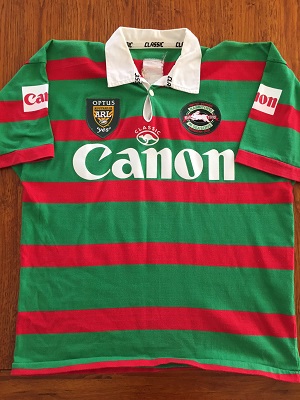 1997 - The 90th season jersey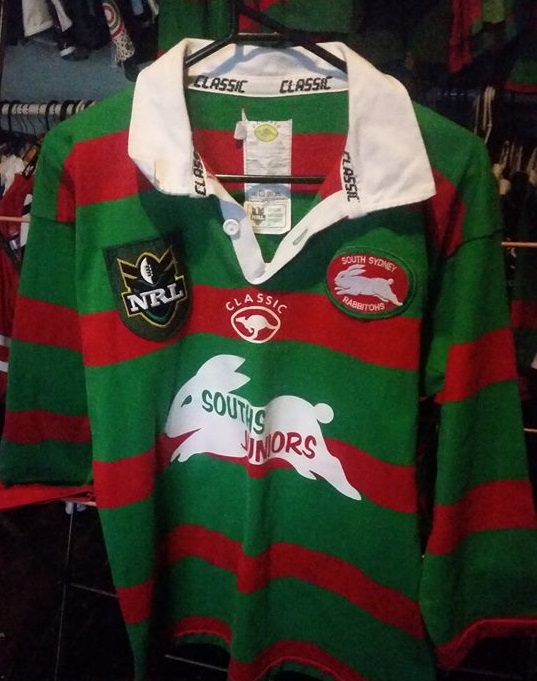 1998 - The sponsorship jersey the NRL rejected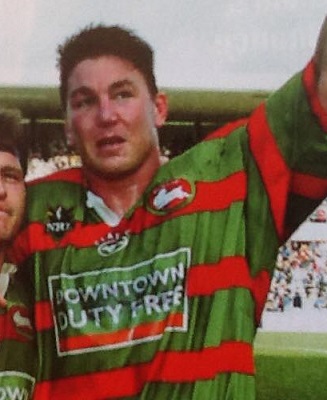 1999 - The last match jersey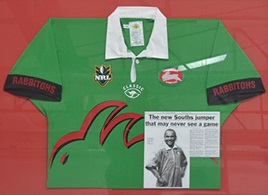 2000 - The opera house jersey we were to wear in 2000 (never worn)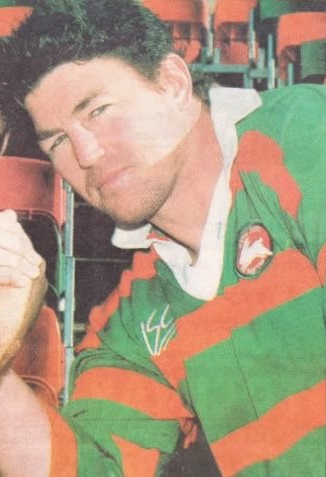 2000-1 - The fightback jerseys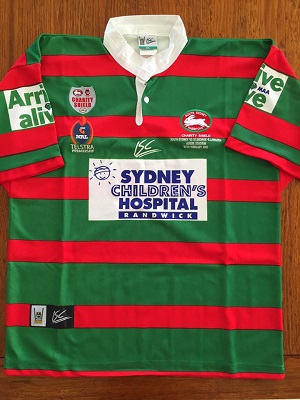 2002 - Were Back Charity Shield jersey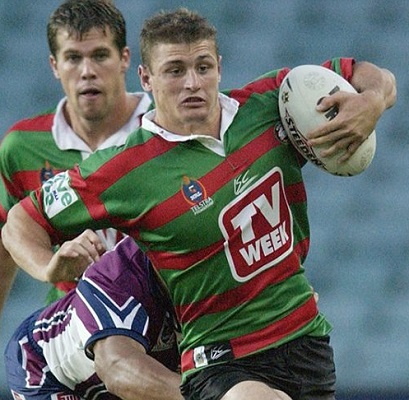 2002 - Reinstatement Home jersey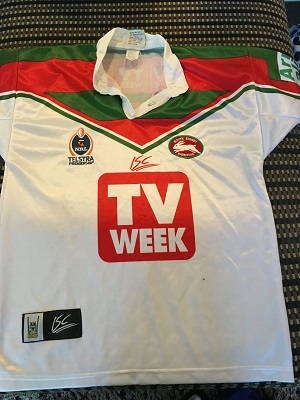 2002 - South Sydney first ever away jersey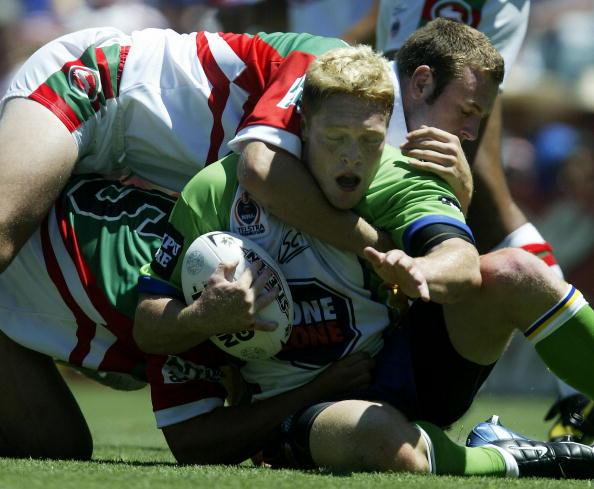 2003-4 - 7s jersey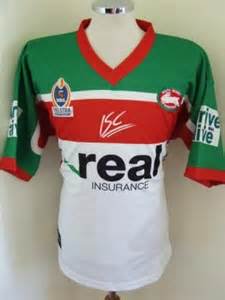 2003-4 - Away jersey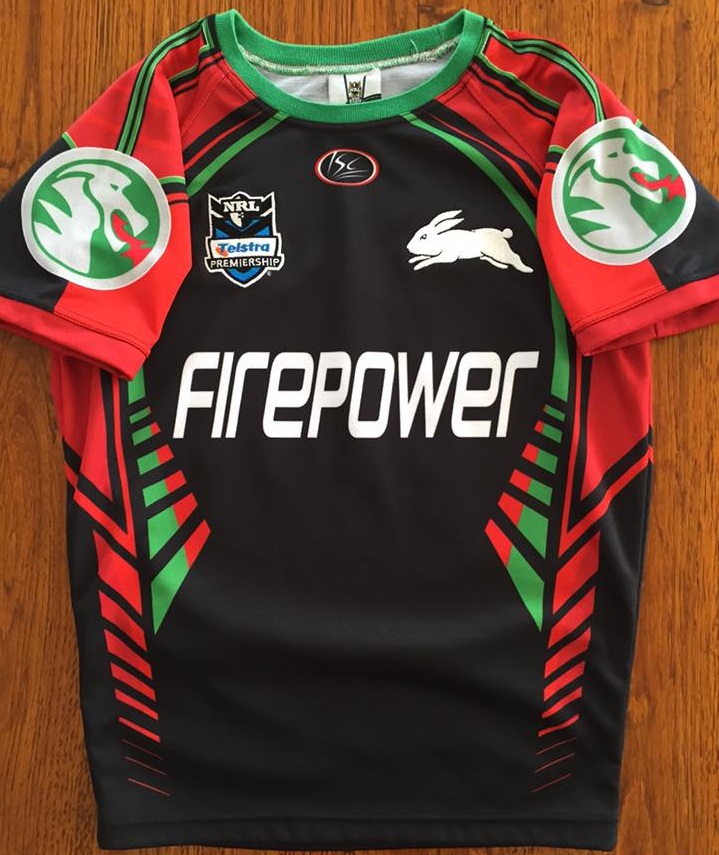 2005-6 - Spiderman away jersey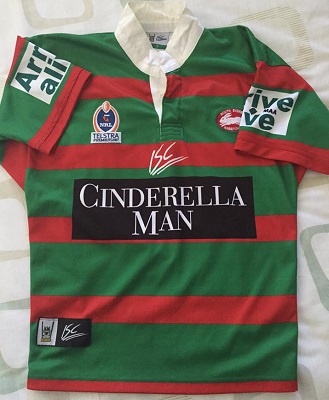 2005-6 - Cinderella Man jersey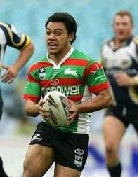 2007 - White home jersey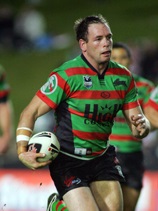 2007 - Black Rabbit away jersey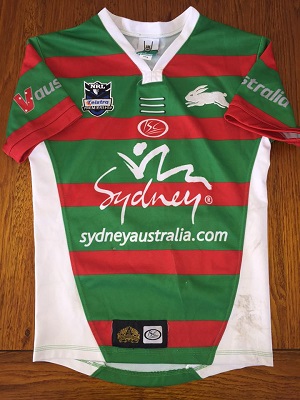 2008 - Jacksonville Florida jersey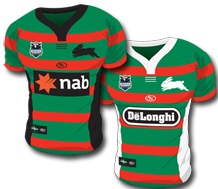 2008-15 - Home and Away jerseys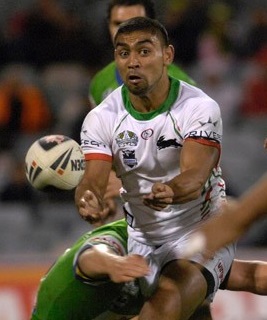 2008 - Alternate Jersey verses Canberra and U20s away jersey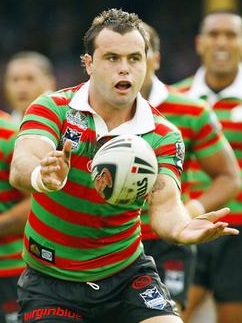 2008 - 100th Year heritage jersey
2008 - Inaugural NYC home jersey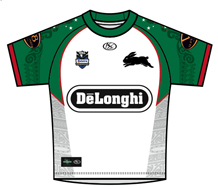 2009-10 - Trial and Away Jersey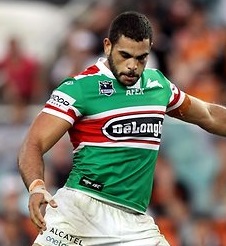 2009-10 - Heritage jersey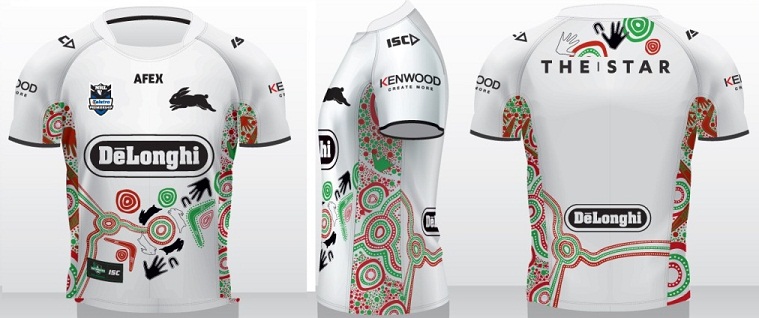 2012 - Indigeneus Jersey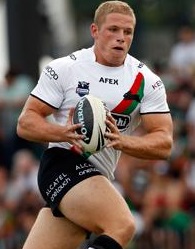 2012 - Alternate Away Jersey and NYC Away Jersey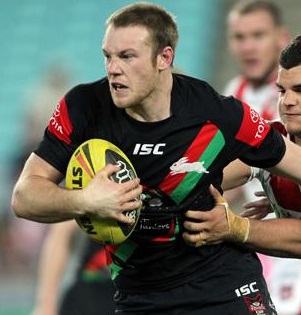 2012 - NYC Home Jersey
2013 - Indigeneus Jersey, Merritt's 150th try jersey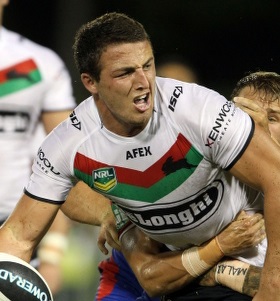 2013-4 - Alternate Away Jersey and NYC Away Jersey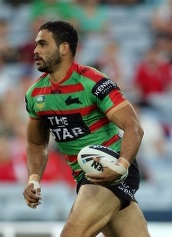 2013 - Heritage Jersey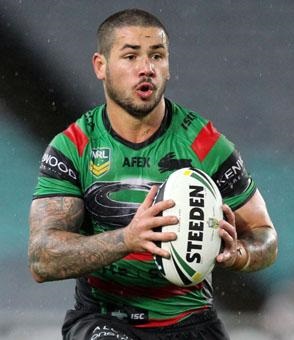 2013 - Superman Jersey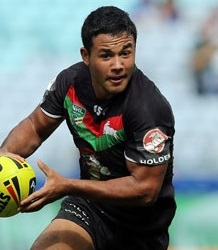 2013 - NYC Home Jersey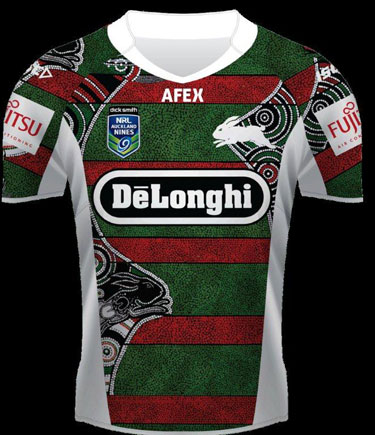 2014 - 9s Jersey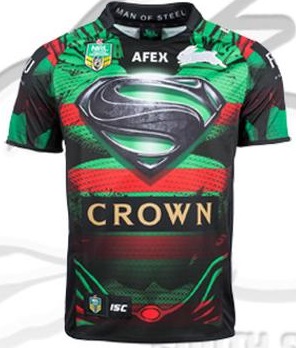 2014 - Superman Jersey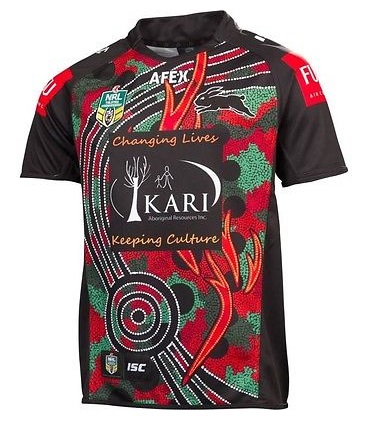 2014 - Indigeneus Jersey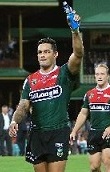 2014 - Heritage Jersey and NYC Home Jersey 2015-16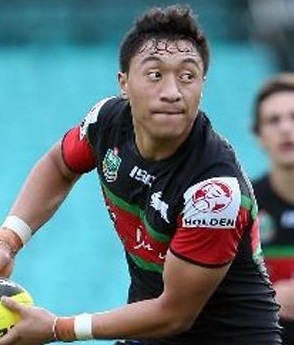 2014 - NYC Home Jersey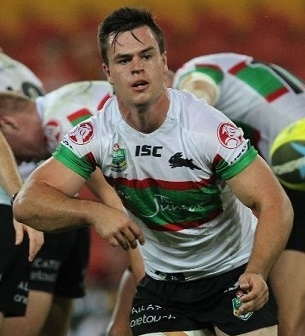 2014 - NYC Away Jersey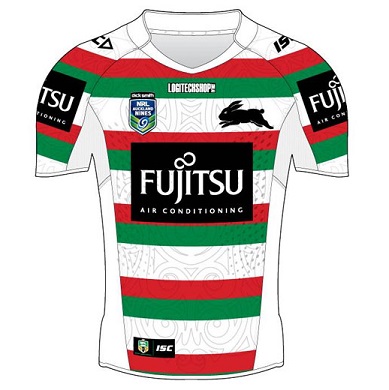 2015 - 9s Jersey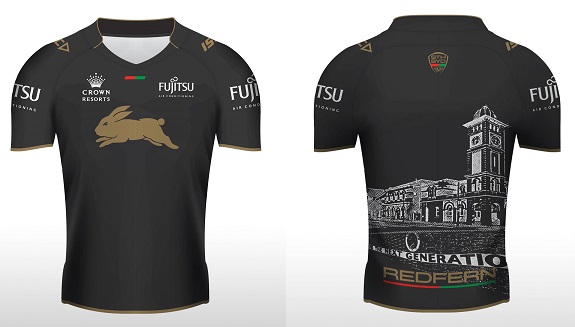 2015 - Return To Redfern Jersey
2015 - World Club Challenge Jersey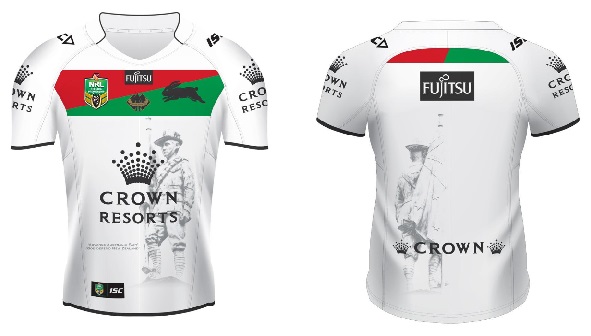 2015 - 100th ANZAC Anniversery Jersey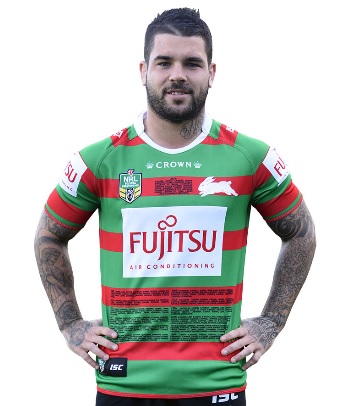 2015 - Heritage Jersey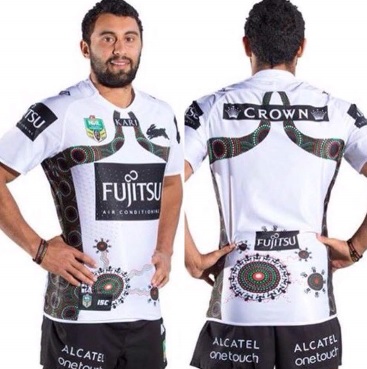 2015 - Indigenous Jersey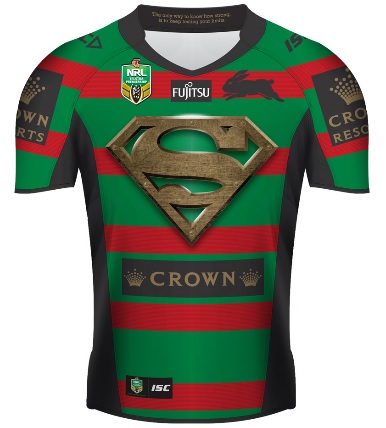 2015 - Superman Jersey
2015 - Ovarian Cancer Jersey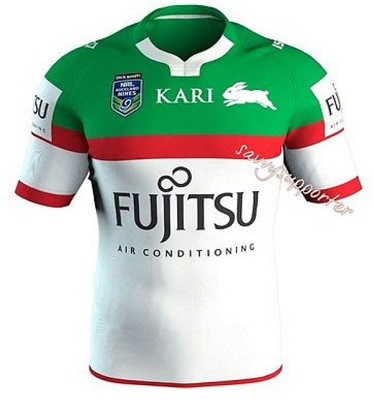 2016 - 9s Jersey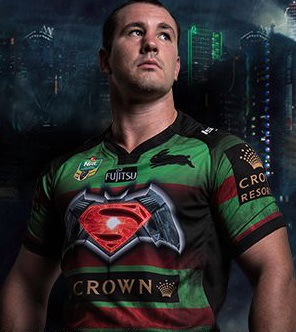 2016 - Superman Jersey
2016 - Indigenous Jersey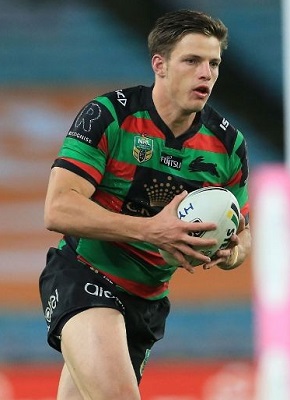 2016- - Home jersey with black shoulders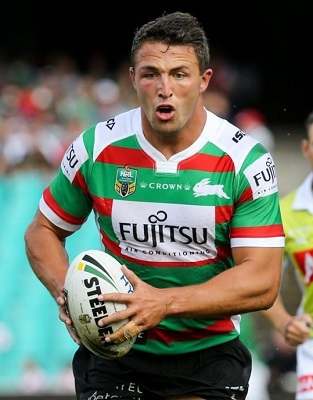 2016- - Away jersey with white shoulders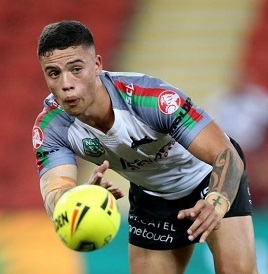 2016- - NYC Away jersey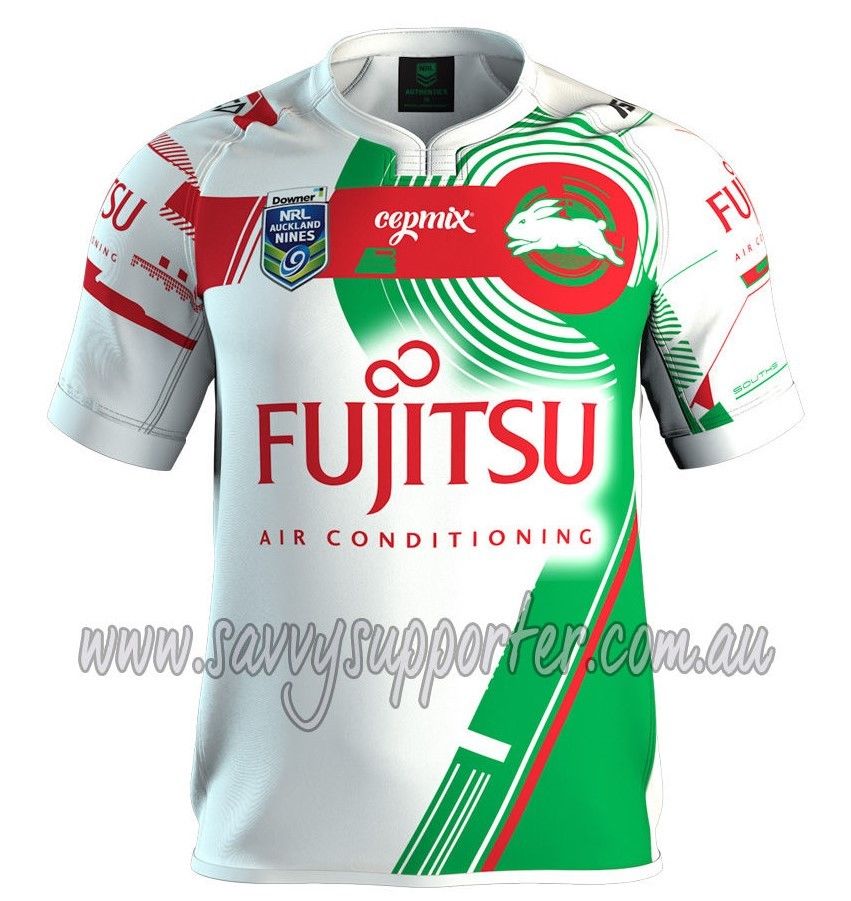 2017 - 9s jersey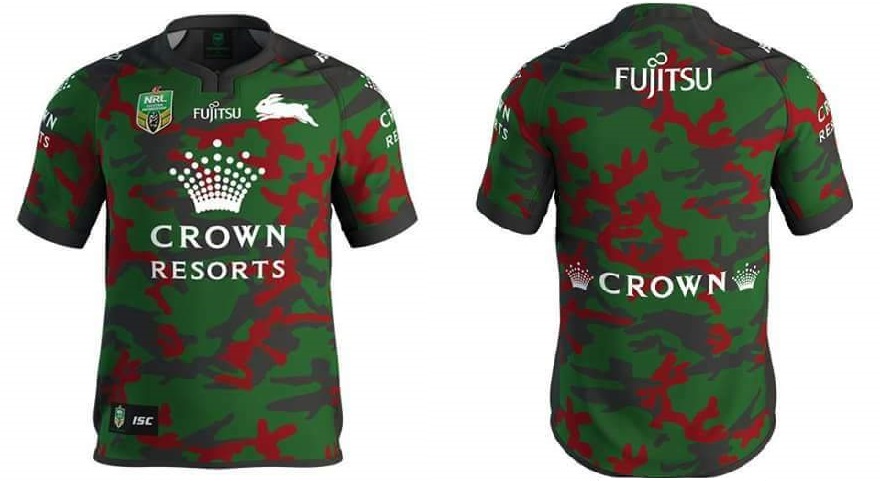 2017 - Camouflage ANZAC Jersey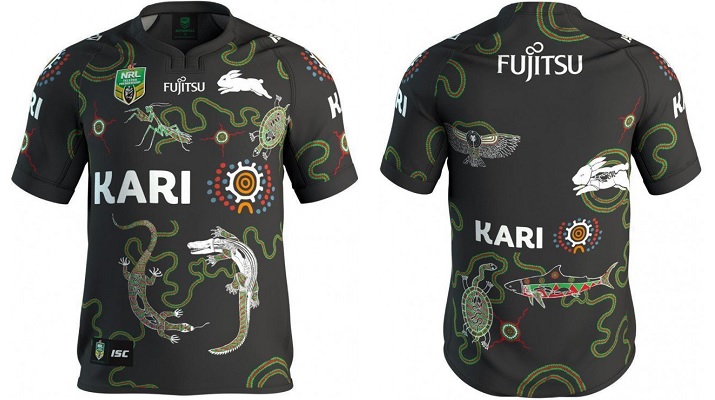 2017 - Indigenous Jersey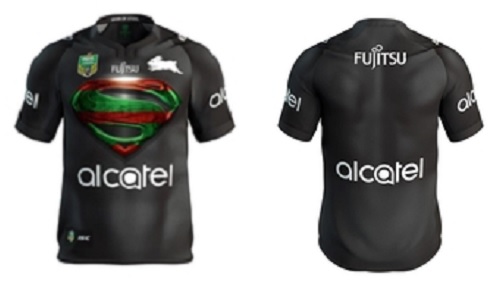 2017 - Superman Jersey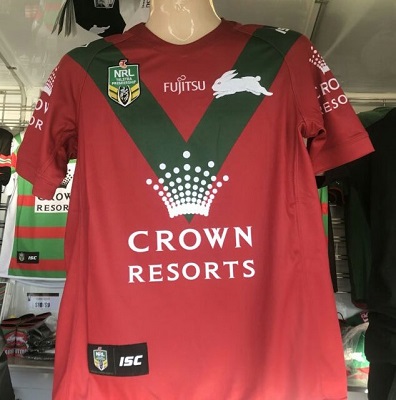 2018 - Alternate Jersey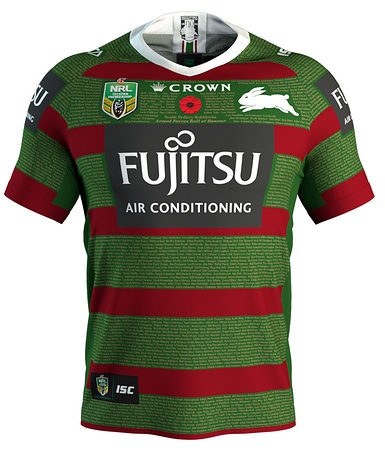 2018 - Armed Forced Honor Roll ANZAC Jersey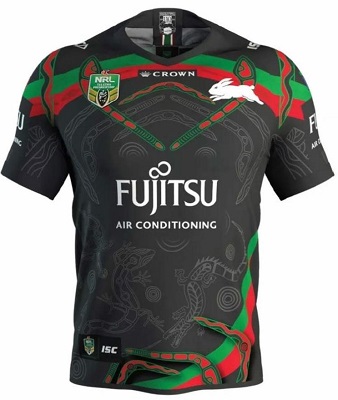 2018 - Indigenous Jersey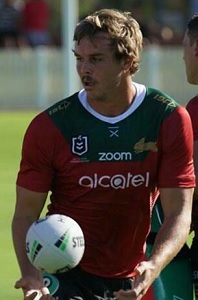 2019 - Reverse Saddle Alternate Jersey with Gold Rabbit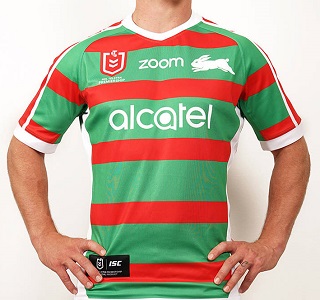 2019 - Away Jersey with Red arm stripe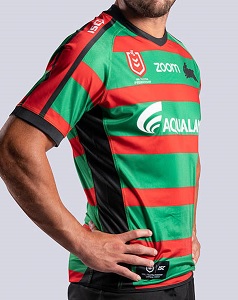 2019 - Home Jersey with Red arm stripe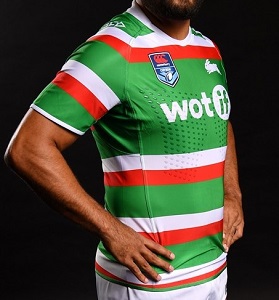 2019 - Lower Grades Jersey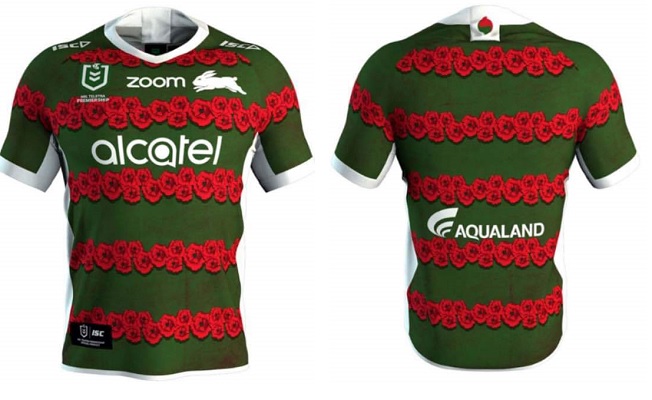 2019 - ANZAC Poppy Jersey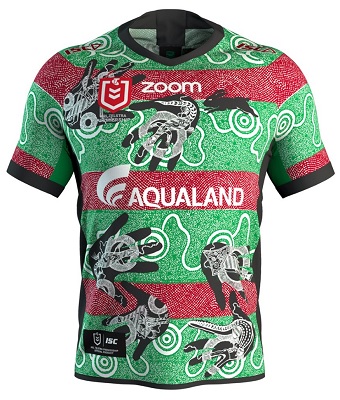 2019 - Indigenous Jersey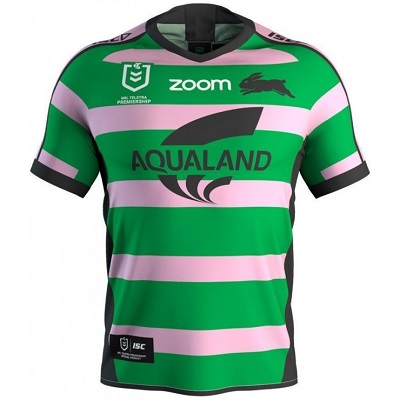 2019 - Women In League Jersey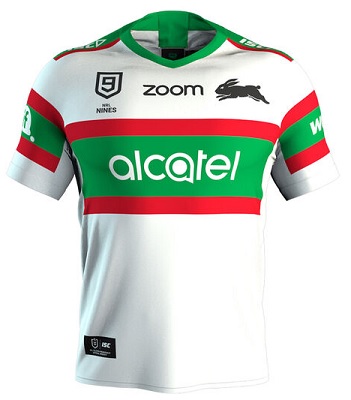 2020 - 9s Jersey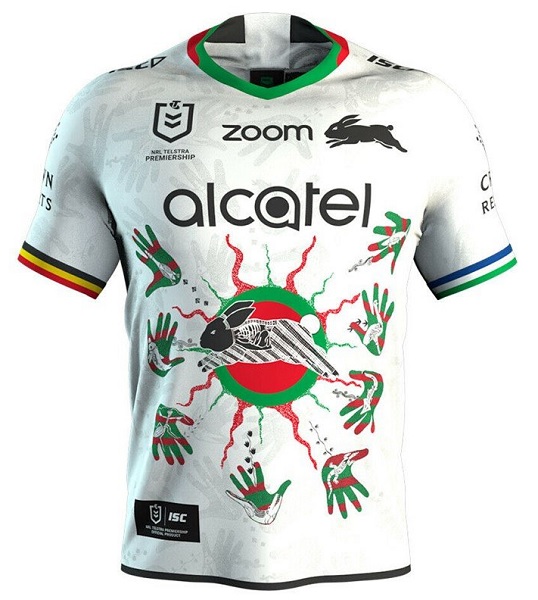 2020 - Indigenous Jersey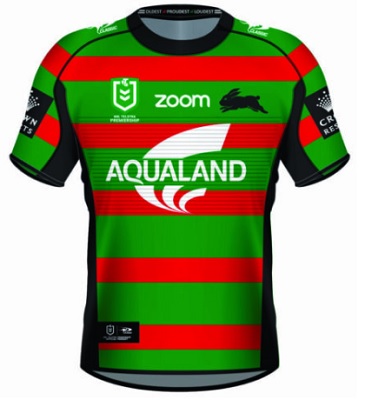 2021 - Home Jersey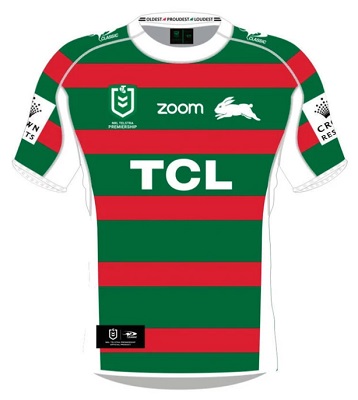 2021 - Away Jersey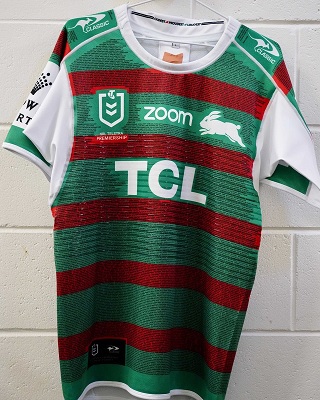 2021 - Members Away Thank You Jersey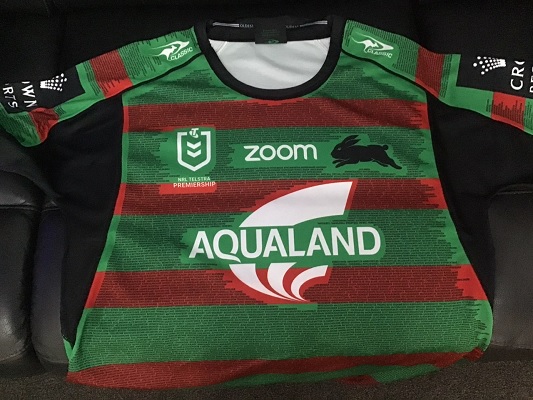 2021 - Members Home Thank You Jersey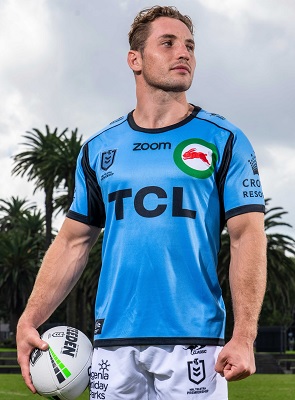 2021 - RAAF Centenary Jersey
2021 - Indigenous Jersey
---
© 2020 SSR Almanac / HOME / RETURN