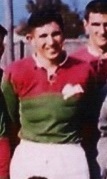 Fred "Facetreader" Jackson - South Sydney Player Report
Prop
FG Player - 518
1962 3rd grade Premiership winning forward. He was a product of the Marcellin college in Randwick. Fred was selected at lock for the Rest against the Premiers Kogarah Marist at Coogee oval. Played one year D grade with Eastern Suburbs junior club Woollahra CYO who were undefeated premiers 1958 before coming across to South Sydney. Fred was not only a good young footballer but a active member of the Surf Life Saving community, being a member of Bronte and South Maroubra clubs. In 1958 and 1959 he won NSW and Australian Beach sprint titles at the Royal Life Saving Titles.
In 1960 he was graded by South Sydney, going to Souths direct from school was a winger/centre. He was allocated to Alexandria Rovers as his junior club, but never played a junior match being graded immediately during the 1960's trials. On the day of his first third grade game Clem Kennedy approached him in the dressing room and tried to persuade him to pull out of grade and play with his 1960 Presidents Cup side, he however declined the offer. However it wasn't long before he had moved into front row in the Souths Third Grade squad. His Souths career highlight was winning the 1962 third grade grand final. This paved his way to be be selected in first grade in 1963 in the second Pre-Season competition match against Manly, where he remained for the rest of the series. He looked destined to make his premiership first grade debut, but in the first grade trial between the pre-season competition and the premiership proper at Redfern Oval he was sent off. In a tackle he stood on the face of Wests international Peter Diamond while getting up in the tackle. He picked up a infamous nickname of "facetreader" from that day, and was suspended for one match. Just before his 22nd birthday in round 2 he made his first grade debut against Newtown. But in his second match against St George at Kogarah the yound prop was injured his shoulder in a tackle with Brian Clay and spent 4 weeks on the sidelines. With the arrival of young stars McCarthy, Sattler and Stevens, Jackson was finding it hard to force his way back into reserve grade let alone first grade. He was finally selected in first grade again in the last round match against Parramatta.
After leaving Souths at the end of the year he moved over to Easts where he played in the second row and front row in the lower grades. But like all footballers of the era, Fred was now considering life after football and retired from the game as a player in 1965 at age 24. He was able to earn more through his job than playing football. Fred did make a cameo comeback as a player while working, where he played for the Australian Customs Service Flying Greens at the Domain in the Public Service lunch time competition. He also acted as a committee man for the Customs team.
But Fred was not lost to the game, after moving to the peninsula, he returned as a Sports Trainer in 1980 with the Manly-Warringah Harold Matthews side, and being a delagate to the Manly-Warringah Junior Rugby League and joined the Queenscliff surf club. Also spending 17 years as a Sports Trainer with the NSWRL Referees Association assisting at Test/World Cup/Origin/and many finals and Grand Finals. He is currently a Committee member of Sydney North Men-Of-League, working as a well being officer for the Men-Of-League. Fred today also acts as a Men-Of-League volunteer at The NRL Heroes and Legends Museum at Moore Park. Enjoying duties such as preparing the premiership trophies for Grand Final day.

Representative Qualification
NSW City

South Sydney First Grade Debut
1963 Pre02 v Manly-Warringah (21y 324d)
1963 Rd02  v Newtown (Premiership - 21y 362d)

Previous Clubs
Eastern Suburbs(Juniors)

Date of Birth
17th April 1941

South Sydney Junior Club
Alexandria Rovers

First Grade
                           Premiership :               State / Ampol Cup :                 Pre-Season Comp
         M   S   R   T   G/A   FG  Pts :   M   S   R   T   G/A   FG  Pts :   M   S   R   T   G/A   FG  Pts
1963     2   2   -   -   -      -    - :   -   -   -   -   -      -    - :   2   2   -   -   -      -    -
 
TOTAL    2   2   -   -   -      -    - :   -   -   -   -   -      -    - :   2   2   -   -   -      -    -

SS FG    4   4   -   -   -      -    - 

Lower Grades
                         Reserve Grade :                     Third Grade : 
Year     M   S   R   T   G/A   FG  Pts :   M   S   R   T   G/A   FG  Pts : 
1960     2   2   -   -   -      -    - :   5   5   -   -   -      -    -
1961     1   1   -   -   -      -    - :  15  15   -   -   -      -    -
1962     4   4   -   -   -      -    - :  17  17   -   2   -      -    6
1963     2   2   -   -   -      -    - :   8   8   -   -   -      -    -

TOTAL    9   9   -   -   -      -    - :  45  45   -   2  -       -    6 

South Sydney Senior(FG/RG/3G) Grade Career
                           Premiership :                     All Matches
         M   S   R   T   G/A   FG  Pts :   M   S   R   T   G/A   FG  Pts
CAREER  56  56   -   2   -      -    6 :  58  58   -   2   -      -    6

Match Statistics at South Sydney
1960             First Grade Statistics     :                 Lower Grade Statistics
                             T  G    FG     :                             T  G    FG
Rd01                                        : 3G   Balmain    Wing #40 L  -  -     -
Rd02                                        : 3G   Parramatta SRow #40 W  -  -     -
Rd13                                        : 3G   Norths     Wing #40 L  -  -     -
Rd15                                        : 3G   St George  Lock #40 W  -  -     -
Rd16                                        : 3G   Canterbury Lock #40 W  -  -     -
Rd17                                        : RG   Newtown    Lock #40 W  -  -     -
Rd18                                        : RG   Wests      Lock #40 L  -  -     -

1960 TOTALS                                 :                             -  -     -

1961             First Grade Statistics     :                 Lower Grade Statistics
                             T  G    FG     :                             T  G    FG
Rd01                                        : 3G   Easts      SRow #40 W  -  -     -
Rd02                                        : 3G   Manly      SRow #40 W  -  -     -
Rd03                                        : 3G   Wests      SRow #40 W  -  -     -
Rd04                                        : 3G   Newtown    SRow #40 W  -  -     -
Rd05                                        : 3G   Canterbury Lock #40 W  -  -     -
Rd06                                        : 3G   Parramatta Lock #40 W  -  -     -
Rd07                                        : 3G   Norths     Lock #40 W  -  -     -
Rd08                                        : 3G   St George  Lock #40 W  -  -     -
Rd09                                        : 3G   Balmain    SRow #40 L  -  -     -
Rd10                                        : 3G   Easts      SRow #40 W  -  -     -
Rd11                                        : RG   Manly      SRow #40 L  -  -     -
Rd13                                        : 3G   Newtown    SRow #40 L  -  -     -
Rd14                                        : 3G   Canterbury Prop #40 W  -  -     -
Rd15                                        : 3G   Parramatta SRow #40 L  -  -     -
Rd16                                        : 3G   Norths     SRow #40 W  -  -     -
Rd17                                        : 3G   St George  SRow #40 W  -  -     -

1961 TOTALS                                 :                             -  -     -

1962             First Grade Statistics     :                 Lower Grade Statistics
                             T  G    FG     :                             T  G    FG
Rd01                                        : RG   Parramatta Prop #30 L  -  -     -
Rd02                                        : 3G   Newtown    Prop #30 L  -  -     -
Rd03                                        : 3G   Easts      Prop #30 W  -  -     -
Rd04                                        : 3G   Balmain    Prop #30 W  -  -     -
Rd05                                        : 3G   Manly      Prop #30 L  -  -     -
Rd06                                        : 3G   Canterbury Prop #30 W  -  -     -
Rd07                                        : 3G   St George  Prop #30 L  -  -     -
Rd08                                        : 3G   Wests      Prop #30 L  -  -     -
Rd09                                        : 3G   Norths     Prop #30 L  -  -     -
Rd10                                        : RG   Parramatta Prop #30 L  -  -     -
Rd11                                        : 3G   Newtown    Prop #30 L  -  -     -
Rd12                                        : 3G   Easts      Prop #30 W  1  -     -
Rd13                                        : 3G   Balmain    Prop #30 W  1  -     -
Rd14                                        : 3G   Manly      Prop #30 W  -  -     -
Rd15                                        : RG   Canterbury Prop #30 W  -  -     -
Rd16                                        : RG   St George  Prop #30 L  -  -     -
Rd17                                        : 3G   Wests      Prop #30 W  -  -     -
Rd18                                        : 3G   Norths     Prop #30 W  -  -     -
mSF                                         : 3G   Manly      Prop #30 W  -  -     -
F                                           : 3G   St George  Prop #30 W  -  -     -
GF                                          : 3G   Parramatta Prop #30 W  -  -     -

1962 TOTALS                                 :                             2  -     -

1963             First Grade Statistics     :                 Lower Grade Statistics
                             T  G    FG     :                             T  G    FG
Pre02 Prop #11 Manly      L  -  -     -     :
Pre03 Prop #11 Easts      L  -  -     -     :
Rd01                         Suspended      :
Rd02  Prop #13 Newtown    L  -  -     -     :
Rd03  Prop #13 St George  L  -  -     -     :
Rd07                                        : 3G   SRow Easts	   #13 L  -  -     - (c)
Rd08                                        : 3G   SRow Manly      #13 W  -  -     - (c)
Rd09                                        : 3G   Prop Parramatta #13 L  -  -     - (c)
Rd10                                        : RG   Prop Canterbury #13 L  -  -     -
Rd11                                        : 3G   Prop Newtown    #13 W  -  -     - (c)
Rd12                                        : 3G   Prop St George  #13 L  -  -     - (c)
Rd13                                        : 3G   Prop Norths     #13 L  -  -     - (c)
Rd14                                        : 3G   Prop Wests      #13 W  -  -     - (c)
Rd15                                        : RG   Prop Balmain    #13 W  -  -     -
Rd17                                        : 3G   Prop Manly      #13 W  -  -     - (c)

1963 TOTALS                  -  -     -     :                             -  -     -


Captaincy Record
Year Grade  Premiership(  W- D-L      %)
1963 3G               8(  4- 0-4    50%)

Suspensions
Year       Grade v           Wk CHARGE
1963 Trial FG    Wests       1  Treading on the face of a opponent in a tackle
1963 Rd13  3G    Norths      -  Fighting


Representative Honours at South Sydney

Year Pos  Team                 Verses               Match      T  G/A  FG
none


---
© 2020 SSR Almanac / HOME / RETURN