1912 NSWRL Premiership - Round 13
South Sydney v Annandale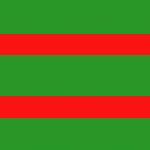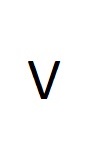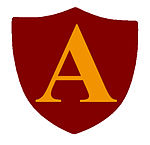 Sydney Sports Ground
Sat Aug 17, 3:15pm
WIN 11-7
At the Sydney Sports Ground 4000 people witnessed an even and interesting game, in which the South Sydney backs had a good deal of the ball and were in very merry mood, combining well and making many rushes goalwards. H.Pearce opened for Annandale against a light breeze, but the sun was at their backs. South Sydney were soon pressing, Davis twice reaching to within a few yards ot the line before being pulled down. A trifle too strong in individualism just there. Another rush on the left wing, with McCaoe and Davis in it, carried the ball over the line. Rex Norman fielded it near the posts, wheeled to the left, and kicked out low. Spence caught it 10 yards out, and with a jerky run flew ahead through the loose, and landed the first try within five minutes of opening. Maidment missed from a difficult angle. It was a good piece of play by the forward. South Sydney 3 to nil. Soon afterwards Munce broke through the ruck straight down the field, and sped hard to the 25. But he deprived his side of the advantage of his good play by hanging on to the ball too long, though well supported. A strange medley of the clever and the crude. South Sydney transferred to ha!f-way where Challis, the wing three-quarter of Annandale, broke away, but was ill supported, and he kicked into touch. The Red and Green were merry for some time, Maidment, McCabe, Butler, and Hucker passing finely down the left wing flnd penning Annandale on the goal-line. O.McCarthy was injured and left the field, Thompson, a forward of goodly proportions, taking his place. South, Sydney continued to have the better of play, owing to the utter failure of the Annandale front row, until Leonard snapped it up in his own 25 line and cut through the opposing three-quarter line. He dropped the ball, dribbled on, then picked up again and sprinted for the corner on the right wing, chased by Hucker, who knocked him into touch at a critical moment. Annandale strove hard to get in Challis almost forcing his way across, but the local defence was sturdy, and the attack was not as sharp as a needle. South Sydney worked clear for a moment. Then Challis, a player of dash and giuger, started back, and within a few yards of the goal-line sent it on to Kyle, who was tackled by Hucker, and came down inches short of the chalk-line. McCabe turned the tide for South Sydney, darting along touch, dribbling past llie wing three-quarter, and fielding it again, then running into the centre and passing to Davis, to Collier, who in-passed wildly, and that stopped the rush. Davis was very much in the picture owing to his forwards getting the ball, but at times he was out of place in attack from the scrummage. Annandale worked clear, and a fine individual effort by Kyle, who was tackled by Brown in the 25, helped them on. But the Red and Green backs were now passing neatly and getting the ball with the monotony of a clock-tick, and soon came back. McCabe, getting hold, kicked to the full-back. Annandale were penalised in the scrums, and Maidment landed a goal from 30 yards out, and on the left wing. South Sydney, 5 to nil. Half-time. South Sydney had the better of play, getting the ball so often, and being faster as a body among the backs.
Resuming, South Sydney were very lively on the Annandale side of half-way. Maidment, McCabe, and Hucker, travelling well down the left wing, the last-named being forced into touch. Working across field, Rex Norman gained a lot of ground with a fine line kick, and Leonard, Kyle, and Munce ran it further down the touch-line, but Munce knocked on. South Sydney then came away fast, and harassed their opponents in the 25. Brown, Nicholls, and Hucker headed one rush down the left wing, Leonard stopping them. Play worked across goal, and South Sydney backs were moving again. Inside the 25 Davis secured the ball, went ahead, and flung, it out to Collier, who went hard for the line and scored with two tacklers hanging on to him. The angle was too difficult for Maidment, who missed the goal. South Sydney, 8 to nil. Annandale next opened their score. Following a forward rush down the centre, South Sydney were penalised, and Kyle landed the goal from 40 yards out. S.S. 8 to 2. The scoring was very fast now. South Sydney came again along the right wing, Butler, Davis, and McCabe passing well, and McCabe tricked the defence at the flag and grounded the ball. Maidment again missed a difficult kick. S.S. 11 to 2. The Red and Green were heeling so regularly that the backs, sending it out often, were prettily in action. But Annandale tackled well, and stopped their gallops frequently. Some merriment was introduced when H.Butler was tackled and robbed of his knickers. McPherson, with a good run and a punt over the full-back, started Annandale up the centre. He transferred to Munce, who was soon pulled down, but the visitors maintained the advantage and forged their way across to the left wing. Here Gressier and Leonard came away from the scrum and sent it out to Roy Norman, who sprinted along touch, finely, and landed the try. Leonard capped the move with a fine, goal, and Souths led 11 to 7. Annandale delved in again, but the local men pulled themselves together and had the better of the remaining play. Referee, A.Norton.

       3-0
HT     5-0
       8-0
       8-2
      11-2

Spence, Collier, McCabe tries
Maidment 1 from 4 goals

Crowd      4,000
Referee    A.Norton

Final Line Up
                              T  G/A  FG

Flbk - Brown, Os              -  -     -
Wing - Collier, Charlie       1  -     -
Cntr - Davis, Jim             -  -     -
Cntr - Butler, Arthur         -  -     - (c)
Wing - Hucker, Ernie          -  -     -
5/8  - McCabe, Arthur         1  -     -
Half - Maidment, George       -  1/4   -
Lock - McCarthy, Owen         -  -     -
SRow - Almond, Roy            -  -     -
SRow - McCann, Tom            -  -     -
Prop - Butler, Harry          -  -     -
Hook - Nicholls, Harry        -  -     -
Prop - Spence, William        1  -     -

Res  - Thomson, Harry R       -  -     -

                              3  1/4   -

Other FG Matches

12-9  Brch Newtown         b Balmain
34-18 Went Glebe           b Wests
15-10 NSO  Easts           b Norths

               W D  L Diff PT
EASTS         12 -  1 +137 24
Glebe         10 -  3 +113 20
Souths         8 -  5  +82 16
Newtown        8 -  5  +38 16
Balmain        6 -  7  -23 12
Norths         6 -  7  -66 12
Annandale      1 - 12  -62  2
Wests          1 - 12 -217  2
 

Judiciary News
No one was sent off.
Second Grade - Final Round


30-0  Went (1v2) Glebe      b Redfern

               W D  L B Diff PT
GLEBE         13 -  - - +171 26
--
Redfern        9 -  3 1  +81 20
Souths         8 2  2 -  +65 18
Easts          7 2  3 -  +78 16
Newtown        6 2  3 -  +29 14
Waverley       5 -  5 1  +59 12
Balmain        6 -  5 -  +23 12
SS Federal     5 -  5 1  +14 12
Marrickville   4 -  5 1  +44 10
Norths         5 -  5 -    - 10
West Sydney    4 -  5 1  -74 10
Grosvenor      3 -  6 1  +55  8
Mosman         4 -  6 -  -36  8
Annandale      3 -  7 -  -31  6
Sydney         2 -  8 - -166  4
Surry Hills    - -  6 1 -108  2 ++
Wests          - - 10 - -159  -

++ Surry Hills have been struck out of the competition after forfieting


Third Grade - Final Round
(1v2) v South Sydney Federal, Sydney Sports Ground, 2:00pm
WIN 5-0
Played at Sports Ground. South Sydney Federal had much the better of the opening stages. Then South Sydney drove them back. Brown, Wall, and Mooru leading the rush, and Moore was nearly over. Play worked to centre, where Lynch picked the ball out of the scrum. Wall had a kick at goal, but failed. Federal fought hard, but could not get through, Rigney, at full-back, being very fine. They were almost in on a couple of occasions. South Sydney rallied, and Cook crossed, but the ball was recalled. In the second half South Sydney attacked from the start. Brown, Dwyer, Cook, and Lynch playing the best. It was a hot time for Federal. Then a South Sydney had marked in the centre, and Dwyer landed a good goal. South Sydney, 2 to nil. South Sydney returned to the attack from the kick-out, and Hemmings got across. Dwyer missed tho goal. South, 5 to nil. Theso were the final scores.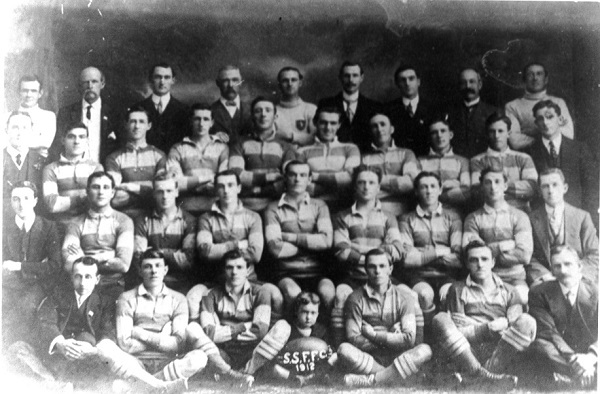 South Sydney Federals - Runners Up
Back Row: D.Gosling(trainer), W.Walker(Mem), G.Jobling(VP), P.Corrigan(Mem), F.Norman,W.H.Johnson(VP), C.Younger(Mem), C.Devlin(Pres), A.Ballnouse(Trainer)

Third Row: SG.Ball(Dist Sec), S.Brogan, Clarrie Horder, C.Potter, E.Blackwell, J.Kerwick, H.Brandon, T.Kelly, R.Thomas, J.Shiels(Mem)

Second Row: Reg Goodwin(Sec/Tres), P.McCabe, A.Harris(vc), L.L.Skelsey(c), M.Clumson(Sel), H.Horder, H.Wall, W.Bryson(VP)

Front Row: M.H.Lazarus(VP), G.Beaumont, M.Smyth, G.C.Jobling(Patron), C.Beaumont, A.Siddins, V.Pullar(VP)

HT    0-0
      2-0
      5-0

Hemmings tries
Dwyer goal

Final Line Up
                              T  G/A  FG

Flbk - Rigney                 -  -     -
3/4  - Cook                   -  -     -
3/4  - Riddell                -  -     -
3/4  - Dwyer                  -  1/2   -
3/4  - Tucker                 -  -     -
Half - Finney                 -  -     -
Half - Brown                  -  -     - (c)
Fwd  - Glover                 -  -     -
Fwd  - Moore                  -  -     -
Fwd  - Blinco                 -  -     -
Fwd  - Cheeseman              -  -     -
Fwd  - Booth                  -  -     -
Fwd  - Lynch                  -  -     -

Res  - Hemmings               1  -     -

                              1  1/2   -

               W D  L B Diff PT
SOUTHS        11 1  1 - +213 23
--
SS Federal    10 1  2 - +162 21
SS Kinkora    10 -  2 - +100 20
Sydney         9 -  2 1  +56 20
Easts          8 -  2 1 +140 18
Balmain        7 -  3 1  +69 16
Parramatta     7 -  4 -  +97 14
Surry Hills    7 -  4 -  +43 14
St Peters      5 -  5 -  +78 10
Granville      4 -  5 1   +8 10
Wests          5 -  5 -   +6 10
Drummoyne      3 -  6 1  -50  8
Camperdown     3 -  5 1  -60  8
Glebe          3 -  6 -  -10  6
Norths         3 -  6 -  -63  6
Mosman         2 -  6 1 -136  6
Marrickville   3 -  6 - -161  6
Waverley       1 -  7 1 -122  4
Paddington     - -  8 1    -  2 ++
Newtown        1 -  8 -  -93  2
Annandale      - -  9 - -268  -

++ Paddington has been disqualified for the rest of the season for forfieting



Presidents Cup - Round 3
v Western Suburbs, Redfern Oval, 3:15pm
WIN 13-7


Staunton, Booth, Brodie tries
Speechley 2 goals

Other Presidents Cup Matches

13-4  NSO  Easts          b Norths
20-2  Brc2 Balmain        b St George

               W D  L Diff PT
EASTS          3 -  -  +11  6
Balmain        2 -  -  +24  4 **
Souths         2 -  1   +9  4
Norths         1 -  2   +5  2
Wests          - -  2  -12  - **
St George      - -  3  -37  -


---