Johnston, Reynolds are out. Aaron Gray started on the wing, Keary at half and Oldfield was added to the bench.
Sam Burgess celebrated his return to the Rabbitohs by grabbing himself a four-pointer in the side's 22-20 win over the Gold Coast Titans at Pizzey Park tonight (Saturday). It was a nervous start from both sides with plenty of drop ball inside the first 10 minutes of play, as the Titans dominated field position. It wasn't until a lifting tackle on Greg Inglis in centre-field that the men in Red and Green finally got inside the Gold Coast half, and John Olive nearly scored as aa result, but the winger would ultimately be taken into touch. While the run of play may have been in favour of the Titans, it would be Souths who would grab first points when Bryson Goodwin streaked away from the 30 metre line before linking up with Kyle Turner to score in the corner. Goodwin converted from the sideline to take Souths to a 6-0 lead at quarter time. After the break, a string of penalties against the Rabbitohs saw Brian Kelly grab a try in the corner following a dropped ball to take the score to 6-4. The Titans would go on with it following an error from the Rabbitohs with Anthony Don speeding into the corner to take the lead 8-6. But when the Rabbitohs got back inside the Titans half, some brilliant short-balls would test the Titans before Hymel Hunt finally crossed to make it 10-8 – Damien Cook unable to convert the try. Just before half-time, Cameron Cullen stole back the lead for the Titans when he crashed over next to the sticks – Tyrone Roberts' conversion taking the half-time score to 14-10 in favour of the home-side. After an arm-wrestle that saw the Rabbitohs try on numerous occasions to gain an advantage, it would be Sam Burgess who would equalise for his team after stepping off his right foot before crashing over to score. Godwin converted to take the lead at 16-14. The men in Red and Green went on with it mere minutes later when Jason Clark set up a try for Inglis, who crashed over under the posts to make it 22-14 with Goodwin's conversion. With six minutes remaining, Zeb Taia hit a shortball at speed for the Titans to score. Nathan Davis' conversion meant the score would be taken to 22-20 to round out the match.
U20 NYC Trial
v Hill District Bulls, Friday February 19 7:00pm, Redfern Oval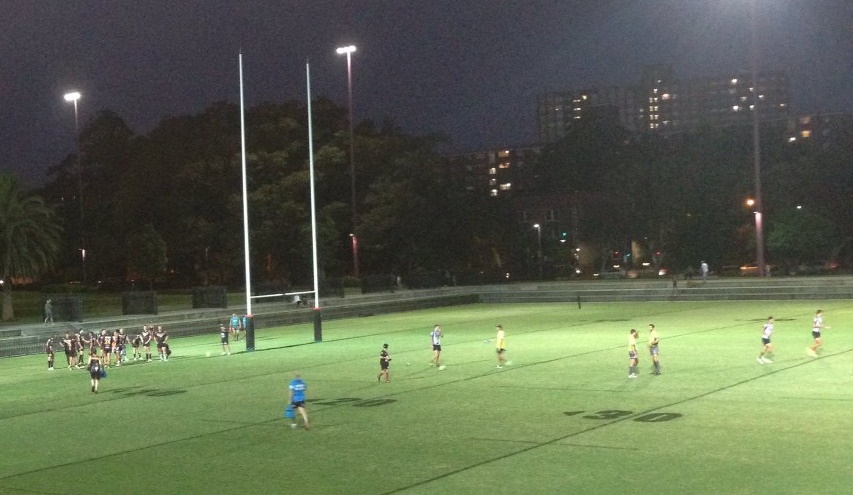 WIN 18-14
No changes. Final line up -

Flbk - Robinson, Latrell 
Wing - Yates, Riley 
Cntr - Walters, Neihana 
Cntr - Goolagong, Damon 
Wing - Ellison, Josh 
5/8  - O'Donnell, Chad 
Half - Coleman, Liam 
Prop - Rudolf, Toby 
Hook - Sands, Maia 
Prop - Davis, Tim 
SRow - McCudden, Jacob 
SRow - Brennan, Jake 
Lock - Gray, Brock 

Int  - Perrin, Tom 
Int  - Leddy, Harry 
Int  - Cordtz, Beau 
Int  - Ili, Kalani 
Int  - Titie, Evander 
Int  - Peato, Joe 
Int  - Saunders, Josh 


The Hills District Bulls offered some decent opposition to our 2016 NYC team. Souths opened the scoring through some slick passing to create an overlap and score in the south western corner via Riley Yates. This kid seems to have tremendous pace. Our 2nd try came through a great swerving, jinking run by Damon Goolagong who carried a number of defenders over the line to score. The ref had allowed the game to flow generally but each time the Bulls came close to the Souths try line we were constantly penalised, but managed to hold them out. The Bulls only try in the first half come from a kick by the 5/8 which was fumbled and then rolled forward with a Bulls player grounding it for a try. (Should have been called back for a knock on?) Souths come off at half time in the lead 12 - 4. Souths received the ball in second half from the kick off and found it difficult to get out of their own half for the first 15 minutes. Plenty of dropped ball kept turning possession over. The Bulls would score and kick the conversion to make it 12 - 10. Eventually Souths made it to the opposition 30 metre line and a bainstorming run down the western side of the field by front rower Josh Saunders found him crashing through the line, and with some excellent foot work beat the fullback to score. The try was converted by Chad O'Donnell and Souths lead 18-10. The remainder of the game was a torid affair with both sides showing plenty of gusto in attack and defence. Again through some poor passing lead to bad handling errors and dropped ball by both sides but it was an evenly contested match. The Bulls were next to score with a few minutes remaining after a solid break down the eastern flank but again missed the conversion to take the score to 18 - 14. A spirited finish by the Bulls took them onto the atack close to the Souths line in the dieing moments but again poor handling let them down. Souths regained the ball, just before the full time (and bloody loud) hooter was sounded. All in all a solid performance by our lads up against what appeared to be a much bigger side, although we did seem to have an edge in fitness and stamina. Again for Souths Liam Coleman stood out, Chad O'Donnell has a good kicking game and quite smart around the pivot role, Maia Sands the hooker is very busy around the ruck with some calculated runs and good defence. Our prop rotation is good. At the back Lattrel Robinson caught the eye. He is the younger brother of twins Reece and Travis. Jarrod McCrudden looks like he has bulked up superbly and is set for a bright future. Really took it to the Bulls forwards last night and his defence was solid. The forwards stuck together and the defensive patterns were obvious. All in all a pleasing performance.

 9 min  6-0
22 min 12-0
38 min 12-4
60 min 12-10
62 min 18-10
75 min 18-14

Yates, Goolagong, Saunders tries
O'Donnell 3 from 3 goals



Reserve Grade - Intrust Super NSW Premiership Trial
v Canterbury-Bankstown, Belmore Sports Ground, Sat Feb 20 3:00pm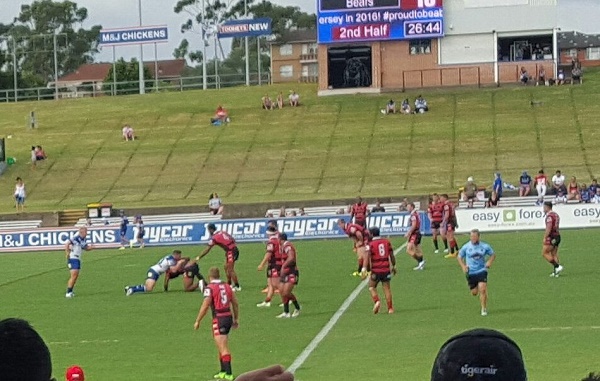 LOSS 34-36
Late Changes. Oldfield and Travers are out. Gregorius starts fullback. Hughes wing, Rogers five-eighth, Williams prop, Dokinavalu with Lee, Miski, Dent, Booth and Makore-Boyce added to the bench. Final Line Up -

Flbk - Gregorius, Bernard 
Wing - Moceidreke, Sitveni 
Cntr - Murphy(c), Ed 
Cntr - Nielsen, Dane 
Wing - Hughes, Tom 
5/8  - Rogers, Piki 
Half - Levido, Eli 
Prop - Williams, Clayton 
Hook - Deitz, Brad 
Prop - Siejka, Jack 
SRow - Gosiewski, Jack 
SRow - Siolo, Patrice 
Lock - Whitelaw, Cheyne 

Int  - Saumamao, Tulsa 
Int  - Dokinavalu, Jokatama 
Int  - Lee, Evan 
Int  - Miski, Abbas 
Int  - Dent, Michael 
Int  - Booth, Aaron 
Int  - Makore-Boyce, Devon 


The Canterbury-Bankstown Bulldogs NSW Cup side have held on for a 36-34 victory over the North Sydney Bears at Belmore Sports Ground this afternoon. It was tight throughout but a missed conversion with two minutes to go proved to be the difference. An error from the Bears gifted the Bulldogs the ball on the half-way line and from there the Bulldogs worked the ball through the middle and on the fifth tackle hooker Craig Garvey darted out and got a short ball off to Makahesi Makatoa who crossed next to the right hand upright. Five-eighth Dane Chisholm converted, with the score 6-nil after four minutes. Three minutes later the Bears opened their account through winger Tom Hughes. It was off a Bulldogs error on this occasion that they were able to turn into points. Halfback Eli Levido converted with scores now level at 6-all. From the following set the Bears were able to score again, this time through back rower Patrice Siolo. A smart grubber was put through and Siolo won the race to the ball and then got it down to score. Levido converted from next to the uprights, putting the visitors in front, 12-6 after 10 minutes. In the 18th minute halfback Lindon McGrady was hit late when he put a kick through and Chisholm took it into his own hands to sort out, resulting in him and a Bears player being sent to the sin-bin for 10 minutes. A mountain of pressure was put on the Bulldogs and they were good enough to turn it into points through Brad Keighran. It was a classic show and go from the NYC graduate Keighran and he sliced through the defence to score. He converted his own try with scores level again at 12-all. A try each before the break kept each team on their toes and scores were level at 18-all at the half-time break. Makatoa grabbed his second try just four minutes after the restart and when Renouf To'omaga ran a great line off Garvey to extend the lead. Chisholm converted on both occasions and the lead was out to 30-18. The Bears answered back with one converted try but it was cancelled out quickly when Ray Moujalli carried three defenders over the line to score. Chisholm again converted with the scoreboard now reading 36-24. Two late tries to the Bears were not enough and the side managed to hold on for a 36-34 victory.
Jack Gosiewski was charged with a grade 2 careless high tackle in the 19th minute from the match and will miss two games with 7 carryover points.

 3 min  0-6
 7 min  6-6
11 min 12-6
33 min 18-12
39 min 18-18
44 min 18-24
50 min 18-30
57 min 24-30
61 min 24-36
72 min 30-36
77 min 34-36

Hughes 3, Gosiewski, Dokoivalu, Levido tries
Levido 5 from 6 goals


NSWRL U18 SG Ball Cup Round 2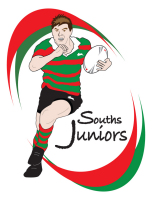 v North Sydney, Redfern Oval, Sat Feb 20 1:30pm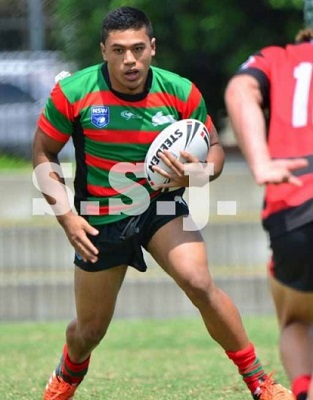 WIN 28-12

35 min 16-6

J.Cook 2, D.O'Connor, B.Manowski, M.Hiroti tries
M.Hiroti 4 goals

Other U18 Matches

38-0  Koga Illawarra    b St George
42-8  Prth Canberra     b West Coast
26-24 Leic Parramatta   b Balmain
22-12 Hens W Syd Acad   b Syd Roosters
66-4  Camp Cronulla     b Wests
18-12 Penr Penrith      b Newcastle
42-14 Belm Canterbury   b Central Coast
     
               W D  L B Diff PT
CRONULLA       2 -  - - +126  4
ILLAWARRA      2 -  - -  +70  4
SOUTHS         2 -  - -  +50  4
CANTERBURY     2 -  - -  +44  4
PENRITH        2 -  - -  +26  4
PARRAMATTA     2 -  - -  +14  4
CANBERRA       2 -  - -  +62  4
NEWCASTLE      1 -  1 -  +18  2
W Syd Academy  1 -  1 -  -18  2
Manly          - -  1 1  -24  2
Wests          - -  1 1  -62  2
Balmain        - -  2 -  -22  -
Central Coast  - -  2 -  -40  -
Syd Roosters   - -  2 -  -44  -
Norths         - -  2 -  -48  -
St George      - -  2 -  -54  -
West Coast     - -  2 -  -98  -


NSWRL U16 Matthews Cup Round 2
v North Sydney, 12:00 noon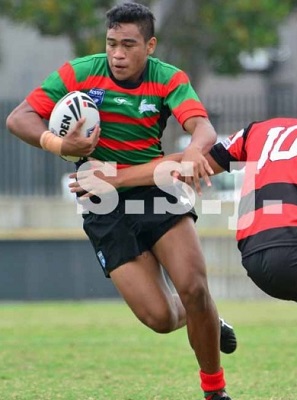 WIN 58-0

30 min 30-0

P.Turner 4, M.Chan-Foon 2, J.Taumoepeau, E.Saisoaa, J.Stewart, E.Butcher, S.Scalede tries
J.Taumoepeau 7 goals

Other U16 Matches

20-20 Koga St George    d Illawarra
62-0  Kirk Canberra     b SW Syd Academy
22-18 Leic Parramatta   b Balmain
28-22 Hens W Syd Acad   b Syd Roosters
44-4  Camp Cronulla     b Wests
31-10 Penr Newcastle    b Penrith
28-8  Belm Canterbury   b Central Coast
     
               W D  L B Diff PT
CRONULLA       2 -  - - +122  4
PARRAMATTA     2 -  - -  +52  4
CANTERBURY     2 -  - -  +36  4
NEWCASTLE      2 -  - -  +31  4
CANBERRA       1 1  - -  +62  3
SOUTHS         1 1  - -  +58  3
ILLAWARRA      1 1  - -  +24  3
W SYD ACADEMY  1 1  - -   +6  3
Manly          - -  1 1  -10  2
Wests          - -  1 1  -40  2
Balmain        - 1  1 -   -4  1
Syd Roosters   - 1  1 -   -6  1
St George      - 1  1 -  -16  1
Penrith        - 1  1 -  -21  1
Central Coast  - -  2 -  -68  -
Norths         - -  2 -  -82  -
SW Syd Academy - -  2 - -144  -


Weekend Feb 27
NSWRL U18 SG Ball Cup Round 3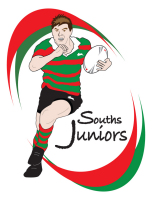 v Balmain, Redfern Oval, Sat Feb 27 1:30pm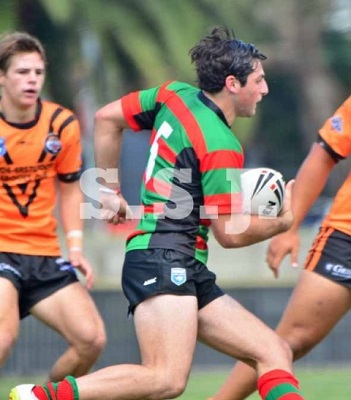 WIN 24-8
South Sydney's SG Ball (under 18s) defended their way to victory against the Balmain Tigers at Redfern's Simply Energy High Performance Centre on Saturday, while the Club's Harold Matthews side went down to the visitors. The Matt-King coached under 18s made it three wins from three starts with Saturday's 24-8 victory – downing the highly fancied Tigers in committed fashion. "Our defence was outstanding," said King. "The boys really worked hard for each other and that showed in the way we kept the Tigers to eight points. I'm really pleased with the effort – it's a positive position that we can build on now." But it wasn't just the side's defence that had coach King pleased. Centre, Mawene Hiroti, had a good day in the outside backs, picking a hat-trick of tries and four goals to contribute a total of 20 points. King was pleased with his centre's performance, citing his level of commitment to improving his game. "It's pleasing to see players achieving goals," said King. "He – like all the boys in the team – has been working on a lot of different aspects of his game and some of the rewards are starting to show. "Two of his tries came off kicks –one off a high-ball – and his ability to leap and bring the ball down is certainly improving. "I also thought that our halves – Kurtis Preece and Dean Hawkin – kicked and controlled the game really well. "

18 min  6-0
25 min 10-0
31 min 10-4
39 min 16-4
46 min 18-4
57 min 18-8
69 min 24-8

M.Hiroti 3, E.Guler tries
M.Hiroti 4 goals

Other U18 Matches

66-4  Cabr Parramatta   b W Syd Academy
30-18 Hens Syd Roosters b West Coast
24-16 Camp Wests        b Canterbury
40-6  Cess Newcastle    b Norths
28-18 Wind Penrith      b Cronulla
34-10 Brok Canberra     b Manly
34-16 Woll Illawarra    b Central Coast
     
               W D  L B Diff PT
ILLAWARRA      3 -  - -  +88  6
CANBERRA       3 -  - -  +86  6
PARRAMATTA     3 -  - -  +76  6
SOUTHS         3 -  - -  +66  6
PENRITH        3 -  - -  +36  6
CRONULLA       2 -  1 - +116  4
NEWCASTLE      2 -  1 -  +52  4
CANTERBURY     2 -  1 -  +36  4
Wests          1 -  1 1  -54  4
Syd Roosters   1 -  2 -  -32  2
Manly          - -  2 1  -48  2
St George      - -  2 1  -54  2
W Syd Academy  1 -  2 -  -80  2
Balmain        - -  3 -  -38  -
Central Coast  - -  3 -  -58  -
Norths         - -  3 -  -82  -
West Coast     - -  3 - -110  -


NSWRL U16 Matthews Cup Round 3
v Balmain, 12:00 noon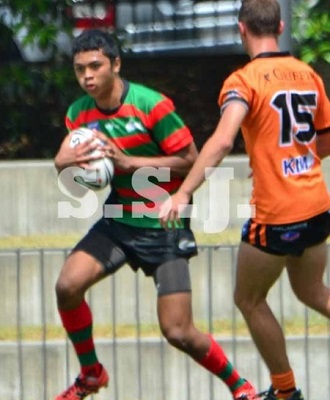 LOSS 10-26
Meanwhile in the under 16s, the Rabbitohs went down fighting against Balmain. Coach Jason Peterson was ultimately proud of his side's efforts despite the loss. "I can't fault the effort from the boys – it was certainly there," said Peterson "The systems were working for us, but unfortunately we had a few too many errors and a low completion rate that kept the Tigers in the lead.

 1 min  0-4
 5 min  4-4
21 min  4-10
28 min  4-16
40 min  4-22
45 min 10-22
48 min 10-26

R.Leuii 2 tries
J.Taumoepeau goal

Other U16 Matches

46-0  Cabr Parramatta   b W Syd Academy
34-26 Hens Syd Roosters b SW Syd Academy
28-12 Camp Wests        b Canterbury
60-6  Cess Newcastle    b Norths
28-28 Wind Penrith      d Cronulla
28-18 Brok Manly        b Canberra
22-6  Woll Illawarra    b Central Coast
     
               W D  L B Diff PT
PARRAMATTA     3 -  - -  +98  6
NEWCASTLE      3 -  - -  +85  6
CRONULLA       2 1  - - +122  5
ILLAWARRA      2 1  - -  +40  5
CANTERBURY     2 -  1 -  +20  4
MANLY          1 -  1 1    0  4
WESTS          1 -  1 1  -24  4
CANBERRA       1 1  1 -  +52  3
Souths         1 1  1 -  +42  3
Balmain        1 1  1 -  +12  3
Syd Roosters   1 1  1 -   +2  3
St George      - 1  1 1  -16  3
W Syd Academy  1 1  1 -  -40  3
Penrith        - 2  1 -  -21  2
Central Coast  - -  3 -  -84  -
Norths         - -  3 - -138  -
SW Syd Academy - -  3 - -146  -


---