2018 South Sydney Rabbitohs SOO I Selections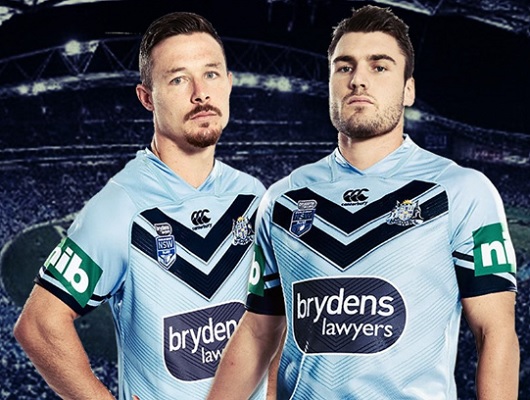 Cook and Crichton New South Wales SOO I Selections
28th May 2018
New Brydens Lawyers NSW Blues coach Brad Fittler has tonight named a record number of 11 debutants for Game One of the 2018 Holden State of Origin Series at the Melbourne Cricket Ground next week (6 June). Damien Cook and Angus Crichton have been seen reporting for State of Origin duty ahead of their expected first call ups for New South Wales. "To be honest with you it was an emotional time last night and I'm just really excited," Cook said. "There were a few actually, a little bit, between me and my partner it was a happy time one I've worked hard for and I'm just looking forward to getting in there." Angus Crichton said: "I was sitting with my family and coach gave me a buzz, was a pretty short conversation but obviously very stoked."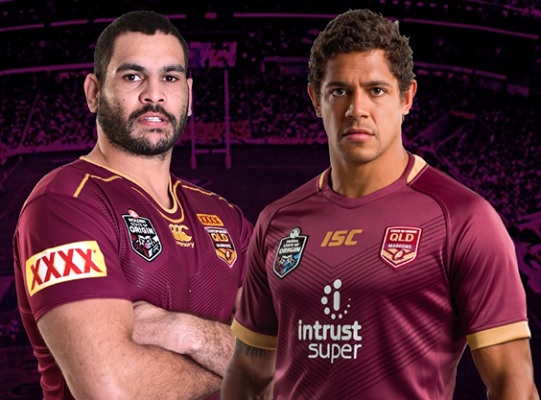 Inglis Queensland State of Origin Captain Selection
28th May 2018
The Queensland Rugby League has today confirmed the appointment of Greg Inglis as the new captain of the Queensland Maroons for the 2018 Holden State of Origin series. Inglis assumes the leadership role from Cameron Smith, who announced his retirement from representative football. Inglis has 30 Origin appearances to his name and a record 18 tries. Queensland Head Coach Kevin Walters believes Greg Inglis will be 'an inspirational leader' when he leads out the Maroons for the first time in the 2018 State of Origin series. "That was a really special moment for for Greg. I think he's ready for the challenge that the job demands. He'll be a different captain to Cameron [Smith] in many ways but he's got the great experience of Origin football. He missed all of last year's series because of injury and you can just see the last two or three weeks, with Greg's form at South Sydney, that he's ready for the challenge that Origin provides and on top of that, being the captain. I think he's going to be an inspirational leader and I really see he's been really excited about the last couple of weeks. I think you'll see a team lead very strongly by Greg Inglis. I could see the excitement in him and in his voice. It's a challenge he's really looking forward to. We've got great leaders in our Maroons line up. Himself, Billy Slater, they are two guys that have got great experience at this level. Greg can influence a game physically, with his attitude, the way he carries the ball, defensively, and with his efforts. He's quite an imposing man. I think that's where he'll be different." The South Sydney Rabbitohs congratulate club captain Greg Inglis on his appointment as the captain of the Queensland State of Origin team." said coach Kevn Walters.
Inglis, who has captained the Rabbitohs for the past four seasons, has been captain of the Indigenous All Stars and Australian Prime Minister's XIII representative sides, and will now captain his state in the 2018 State of Origin series. Inglis will be the first state captain from South Sydney since Bob McCarthy captained the New South Wales side in 1971, and will be the first South Sydney player to captain Queensland State of Origin team. "We could not be any more proud of Greg. This is a great honour for him and his family and we're all very happy for them," Mr Richardson said. "Greg is a natural leader of men due to his actions on the field, but the progression he has made as a leader off the field has been inspiring for everyone at our Club. He writes another chapter in a career full of highlights with this captaincy appointment and everyone at the Rabbitohs, including our Members, supporters and sponsors, are looking forward to seeing Greg lead his state in the upcoming State of Origin series." "This is fantastic recognition for Greg and it's well deserved recognition as well," Coach Seibold said. "He's doing a great job leading the team at the Rabbitohs and I have no doubt he will lead the Queenslanders just as well during the upcoming series. As a Queenslander, and as his coach at club level, it makes me proud to see him get this opportunity and he certainly won't let anyone down."
Gagai Queensland State of Origin Selection
28th May 2018
Queensland RL has also confirmed teh selection of Dane Gagai on the wing for SOO I. Maroons winger and Rabbitohs centre Dane Gagai has enjoyed one of the most explosive starts to an Origin career in interstate history with a stunning seven tries in as many games since his 2015 debut.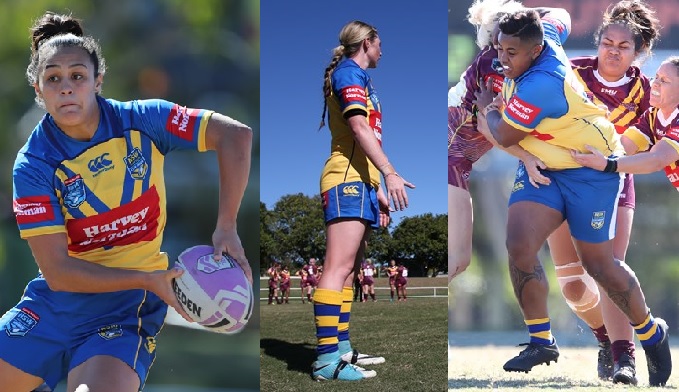 O'Mealey, Simon, Studdon, Caldwell, Riley, Uliburutu NSW City - Womens Championship Selections
16th May 2018
The NSWRL has today named an extended Women's City squad for the upcoming Harvey Norman Women's National Championship, to be played on 1-3 June. The 22-player squad, featuring seven Harvey Norman NSW Women's incumbents, will take part in the tournament on the Gold Coast, competing against NSW Country, Queensland Country, Queensland City, the Australian Defence Force and the Combined Affiliate States. Players from the NSW City and Country teams will compete for places in the Holden Women's State of Origin, to be held on Friday, 22 June at North Sydney Oval. Congratulations to Lavina O'Mealey, Taleena Simon, Maddie Studdon, Chloe Caldwell and Rebecca Riley on their selections.
Grace Uliburutu was a late inclusion into the squad also.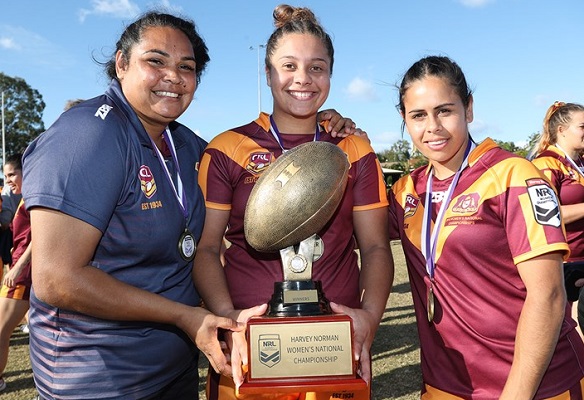 Grimes, Nean, Davis-Welsh, McGrady NSW Country - Womens Championship Selections
26th April 2018
Country Rugby League has announced their representative side for the inaugural Women's National Championships to be played at Owen Park, Southport between 1-3 June. The NSW Country side features Australian Jillaroos Isabelle Kelly, Kezie Apps, Nakia Davis Welsh, Bec Young, Ruan Sims, Sam Bremner, Caitlin Moran and Vanessa Foliaki along with some of the brightest emerging talent from Regional NSW. The Women's National Championships will feature NSW Country, NSW City, Queensland Country, Queensland City, Affiliated States and the Australian Defence Force; with all sides to play three games each across the tournament. Country Rugby League CEO Terry Quinn believes the Women's National Championship provides a great opportunity for female players from Regional NSW to test themselves against the best players in Australia. "We're extremely proud to be a part of the inaugural Women's National Championship and we're excited to see the best players from Country NSW competing on a national stage," said Quinn. Congratulations to Eunice Grimes, Nyara Nean, Nakia Davis-Welsh, Sharon McGrady on their selections.
---