Jennings has pulled out with hamstring injury and Brittain were trimmed 24h before the match. Turner and Britt were 18th and 19th men.
Damien Cook has lit up ANZ Stadium and rubber-stamped himself as the next Australian hooker as South Sydney came from behind to beat Melbourne 30-20 in a see-sawing, finals-like clash on Friday night. And the result could have ramifications for Melbourne with Cameron Smith hobbling from the field with five minutes left with a right ankle injury. The battle of the No.9s dominated the talk pre-game with Cook going head-to-head with incumbent Australian hooker Smith, who has now retired from rep football, for the first time this season. But in the end it was Cook who came up with the big play to deliver Souths an eight-point advantage, splitting the Storm defence up the middle in the 62nd minute before weaving his way around Billy Slater and Josh Addo-Carr to the line. It was 45 metres of magic from the NSW Origin winner, now destined for higher representative honours it seems. Minutes earlier play was stopped for Cook as he battled an ankle complaint, but there was no denying the hooker's 173 metres and 39 tackle-effort against the defending premiers. It was an emphatic win for the Rabbitohs, who dusted off their lacklustre month of form to make a statement against a Storm outfit who were in control at halftime 16-12. In the only sour note, the win looks to have come at a cost with Rabbitohs rookie Adam Doueihi suffering a suspected ACL injury. Doueihi's left knee buckled after placing a kick and he was stretchered from the field. But the night belonged to Cook, who drew first blood against his opposite number in the third minute with a quick dart earning a penalty in front of the posts - the Rabbitohs opting for a two-point lead early. Smith was next to respond with a deft pass sending Dale Finucane over close to the line as the Storm forward wrestled his way to plant the ball down in-goal. Melbourne veteran Ryan Hoffman fumbled the ball from the restart and the Rabbitohs were creating enough half chances to strike next. The Bunnies went down their favoured left edge with Cody Walker delivering a cut-out pass for Hymel Hunt to dive over in the corner. South Sydney looked to have the visitors on the ropes with Tom Burgess (96 metres) and George Burgess (108 metres) strong in their first stints, but in typical Storm fashion the defending premiers struck twice to jump to a 16-6 lead. A slick backline movement with Cameron Munster and Billy Slater send Josh Addo-Carr over in the corner, before the NSW flyer broke through some clumsy defence from Cameron Murray to send Curtis Scott over under the posts. Confusion occurred on halftime with Referees' Bunker incorrectly ruling a 'Try' on the big screen despite replays clearly showing a knock-on by Souths winger Campbell Graham – the match officials quick to communicate to the players it was human mistake of not pressing the right button. But there was no confusion as Cook came to the party once more to send Sam Burgess over from close range and ensure the Rabbitohs went into the break with the momentum (16-12) despite trailing by four. An incorrect play-the-ball from Nelson Asofa-Solomona after halftime put further pressure on the Storm as the Rabbitohs muscled up in defence to starve the defending premiers of any territory. Melbourne's uncharacteristic night of errors were continuing with halfback Jahrome Hughes caught on the last tackle in the middle of the paddock. The Rabbitohs' confidence grew as the second half went on and Adam Reynolds, who admitted to a below-par game last week against the Eels, stepped up to help send Doueihi over the line. Rookie teammate Graham was enormous for the Bunnies against strike weapon Addo-Carr, who had the final say late in the game with an acrobatic try of his own – his second of the night.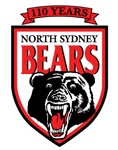 Reserve Grade - Intrust Super NSW Premiership - Round 21
v Wyong, North Sydney Oval, Sat Aug 4 1:00pm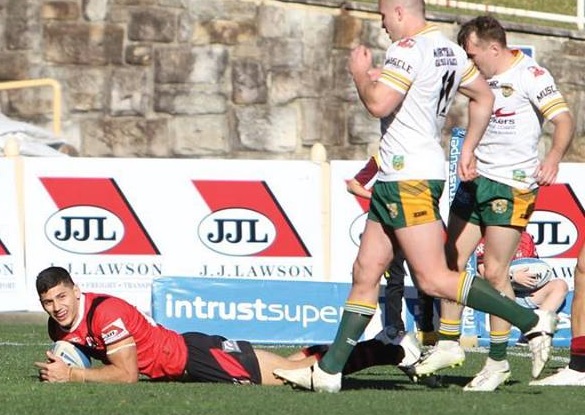 WIN 36-22
Late Changes - Burns is out. Hiroti starts centre, Curtis Johnston on the wing, Illett added to the bench. The North Sydney Bears halves pairing have steered them to an important 36-22 victory at North Sydney Oval. Connor Tracey scored two tries and set up a further two in a sublime performance, while Hawkins repeatedly took the ball to the line and set up a brace of tries himself in what was a dominant day out for North Sydney. Kyle Turner also had a big day out for the Bears, saving a try with a wonderful tackle and also crossing for a double. The Bears had the majority of good ball to start the game, but a penalty to Wyong on halfway put them on the front foot which led to the first points of the match. On second tackle after the penalty, Brock Gray ran onto a Mitch Cornish short ball, and Luke Sharpe as usual was backing up to stroll over underneath the posts. An incredibly strong effort from one of the smaller players on the field locked the scores up at 6-all for the Bears. Connor Tracey slipped past Lachlan Lam who managed to hold on, but despite two of his Wyong teammates helping to get him down, the Bears' five-eighth muscled his way to the try line and somehow planted the ball down. Kyle Turner made a try-saving tackle in the 30th minute when some great vision from Cornish out of dummy-half gave Paul Momirovski an opportunity - but he dropped the ball as he reached out for the line, thanks to a good tackle by the 2014 premiership winner. Tracey was instrumental in the next try when he put a grubber in that forced a drop-out to give his side the next opportunity. He then took the ball to the line on the ensuing set, drew the defender and put Dean Britt through a huge hole, who went over untouched to take a 12-6 lead into half-time. Tracey picked up where he left off after a dominant first half when a set play with his halves partner got him his second try of the afternoon. Dean Hawkins forced a drop-out which gave the Bears an opportunity, before he took the ball to the line on the next set and put a kick in for Tracey. The five-eighth knew what was coming, charged through and easily won the race for the ball. A penalty in front of the posts gave the Bears an important 14-point lead, and Wyong simply needed to be next to score. They did exactly that thanks to some Mitch Cornish brilliance, who threw a pass which any judge would score a 10 out of 10 - straight onto the chest of Matt Ikuvalu, who reduced the deficit to 20-10 after the kick was missed. The Bears' halves taking the ball to the line seemed to be the theme of the match and it certainly worked in their favour, as Hawkins put in a perfect grubber in the last available millisecond, for Turner to pounce on a well-deserved try. North Sydney sealed the game thanks to one of the slickest tries of the season when Tracey, Hawkins, Viliami Kaveinga and Tyrell Fuimaiono all linked up for four of the quickest string passes you'll see. It was Fuimaiono's 'blink-and-you'll-miss-it' final pass to Mawene Hiroti that was the most impressive, allowing his winger to score in the corner to take the score to 30-10. Lam and Butcher combined for a 'meat pie' after a short kick-off was regathered by the Wyong Roos, as the crafty half threw a brilliant short ball to his forward who ran a perfect line to stroll over, before a Lam show-and-go saw him score almost immediately afterwards for back-to-back tries. Tracey put Kyle Turner over for a try to finish the game, which blew the score out to 36-22 to keep the Bears' season alive.

 8 min  0-6
21 min  6-6
36 min 12-6
44 min 18-6
56 min 20-6
58 min 20-10
65 min 24-10
68 min 30-10
71 min 30-16
75 min 30-22
79 min 36-22

Tracey 2, Turner 2, Britt, Hiroti tries
Hawkins 6 from 7 goals

Penalties   8-6
Scrums      6-5

Final Line Up -
                                 Min Tac Pe MT LB  Rn  DR    m Er OL   K TA  T  G/A  FG

Flbk -  1 - Kaveinga, Villami     80   2  1  2  -  12   1  119  -  -   -  -  -  -     -
LWng -  5 - Kennar, Richard       29   1  -  -  -   6   2   60  1  -   -  -  -  -     - 
LCtr -  4 - Gagan, Jacob          80   5  -  2  1   6   -   65  -  -   -  -  -  -     -
RCtr -  2 - Hiroti, Mawene        80  16  -  3  1  11   1  105  -  -   -  -  1  -     -
RWng - 14 - Johnston, Curtis      80   4  -  1  -  10   1   84  1  -   -  -  -  -     -
5/8  -  6 - Tracey, Connor        80  15  1  4  1   5   -   55  -  -   8  2  2  -     -
Half -  7 - Hawkins, Dean         80  19  -  6  -   9   -   50  1  -  12  2  -  6/7   -
Prop -  8 - Koloamatangi, Keaon   65  20  -  2  -  12   -  120  1  1   -  -  -  -     - 
Hook -  9 - Brittain, Billy       69  29  -  3  -   6   2   54  -  -   -  -  -  -     - (c)
Prop - 10 - Johnstone, Sam        37  17  -  2  -   8   -   70  -  -   -  -  -  -     - 
SRow - 11 - Britt, Dean           80  33  1  1  1  15   -  169  -  -   -  1  1  -     -
SRow - 12 - Fuimaono, Tyrell      80  17  1  2  -   9   2   92  -  1   -  1  -  -     -
Lock - 13 - Turner, Kyle          80  29  -  1  1  10   -  106  -  -   -  -  2  -     -

Int  - 15 - Leuluai, Vincent      19  11  -  1  -  10   -  113  -  -   -  -  -  -     - 
Int  - 16 - McIlwrick, Matt       52  23  1  1  -   5   2   45  -  -   -  -  -  -     - 
Int  - 17 - Rodwell, Ky           38  17  1  1  -  10   -   99  1  -   -  -  -  -     - 
Int  - 19 - Ilett, Brock          11   3  -  -  -   2   -   14  -  -   -  -  -  -     - 

                                     261  6 32  5         1429  5  2  20  6  6  6/7   -

Completion Rate      - 27 / 35  77%

Opposition Offloads  - 5

Effective 1st Tackles

 0 min  12m Hawkins kick COF
 2 min  13m Tracey kick COF
 5 min  12m Tracey kick
 7 min  69m Tracey kick COF 24m / NS P(Fuimaonon) / (Wy TRY)
10 min  10m KO
12 min   5m Hawkins kick
14 min  20m Tracey kick SCR
17 min  31m P / NS Err(Kolomatangi) SCR
19 min  37m Hawkins kick DIG
21 min   0m Wy Err SCR / TRY
25 min  19m Hawkins kick SCR
26 min  22m Hawkins kick
29 min   8m Hawkins kick
31 min  86m P / NS Err(Brittain) SCR 24m / NS P(Tracey)
34 min   0m Wy Err SCR / P / Tracey kick CIG
36 min   0m TRY
39 min  13m Tracey kick SCR

half time

40 min  21m KO
42 min  28m NS Err(Tracey)
43 min   0m Wy Err / Hawkins kick CIG
44 min   0m Hawkins kick TRY
47 min  89m Tracey kick COF 6m / NS P(McIlwrick) 50m / NS P(Fuimaono)
51 min  57m P / NS P(Rodwell)
53 min  13m Wy Err / Hawkins kick
56 min   0m Wy Err SCR / P GOAL
57 min  19m Hawkins kick / (Wy TRY)
60 min  20m KO
63 min  59m Hawkins kick OOF
65 min   0m Wy Err SCR / Hawkins kick TRY
68 min   0m P / TRY
71 min  88m NS Err(CJohnston) / (Wy TRY)
72 min  18m KO
74 min  85m Wy Err SCR NS P(Kavinga) / (Wy TRY)
76 min  20m KO
77 min  26m Wy Err SCR / NS P(Britt)
79 min   0m P / TRY

Average effective 1st tackle location
- 26.0m - for the whole match

- 21.7m - 1st half  
- 30.3m - 2nd half  

Other Reserve Grade - NSW Intrust Premiership Matches

16-6  NISC Newcastle  b Mt Prtchrd
15-14 Woll St Geo-Ill b Canterbury
26-24 Hens Blacktown  b Newtown
38-10 Penr Penrith    b Wests
BYE        Warriors
BYE        Wntwrthvll
      
                W D  L B Diff PT
PENRITH        14 1  4 2 +134 33
MT PRITCHARD   11 -  8 2  +92 26
ST GEO-ILL     12 -  8 1  +54 26
NEWTOWN        10 2  8 1 +132 24
CANTERBURY     10 -  9 2  +81 24
WESTS          10 -  9 2  +22 24
WARRIORS        9 - 10 2  -10 22
WYONG           9 2  9 1  -73 22
Blacktown       8 1 10 2   -6 21
Norths          7 2 10 2  -31 20
Wentworthville  7 - 12 2 -151 18
Newcastle       4 2 14 1 -224 12


NSWRL Women's Premiership - Preliminary Final
(2v3) v Cabramatta, Leichhardt Oval, Sat Aug 4 2:00pm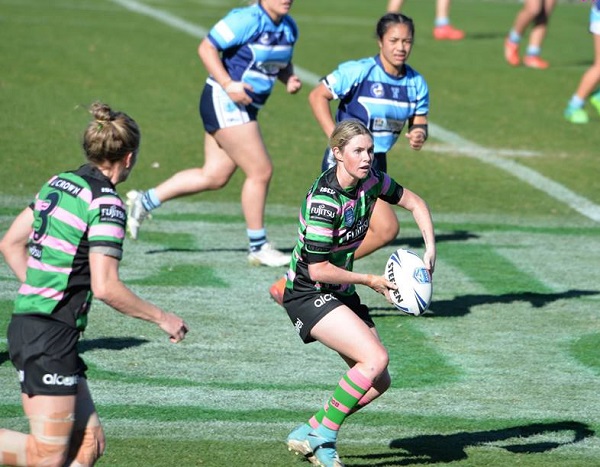 WIN 26-12
Late Changes - Johnson dropped off the bench. The South Sydney Rabbitohs have bounced back from last week's defeat to storm into the Harvey Norman NSW Women's Premiership Grand Final, beating Cabramatta 26-12 at Leichhardt Oval. A hat trick to fullback Nakia Davis-Welsh and a double to winger Taleena Simon did the damage for the Red and Green as they romped past their opponents brushing off last week's defeat. It was a lightning start from the Rabbitohs women as they got on the board early through Davis-Welsh. A short inside ball from five-eighth Lavina O'Mealey split the Cabramatta defence to allow Davis-Welsh an easy passage way to the line as she scored next to the posts in the 5th minute. Halfback Maddie Studdon nailed the easy conversion to give Souths an early 6-0 lead. However, Cabramatta bounced back almost immediately through their number 1 Botille Vette-Welsh, who sped past the Rabbitohs defence to score in the corner. The conversion was unsuccessful with the score now reading 6-4. The majority of the second half was an arm wrestle with either side being unable to break through. Taleena Simon went close in the corner with an acrobatic finish but was deemed to have stepped out of the field of play before planting the ball down. However, the winger wouldn't be denied as she scored shortly after in the 25th minute running on to a lovely short ball from Studdon. The halfback then slotted the the conversion to extend Souths' lead to 12-4. The Red and Green then got themselves even further in front on the next set, as Davis-Welsh once again put on her dancing shoes and weaved her way through traffic to score right on half-time. Studdon was once again sharp with the boot to give the Rabbitohs an 18-4 lead at the break. The late first half flurry clearly had a big impact on the game, with the Rabbitohs coming out flying in the second half. Taleena Simon grabbed her double shortly after kick off to stretch her side's lead out to 22-4. Moments later, Davis-Welsh had her hat trick as she was once again too quick for an exposed Cabramatta defence. Studdon could quite convert but the Red and Green now had a big 26-4 lead in the just the 37 minute. To Cabramatta's credit, they never gave up and were rewarded with two late tries back-to-back. Up first was Victoria Latu, who powered her way over from close range to reduce the deficit to 26-8. She was then followed by centre Aaliyah Fasavalu-fa'amausili, who crossed over in the corner. Both conversion were unsuccessful. Both sides continued to give it their all for the remaining few minutes of the match to make for entertaining viewing for the crowd. However, in the end, the Rabbitohs were too strong and held out the late Cabramatta flurry to book their place in the Grand Final next week and ANZ Stadium .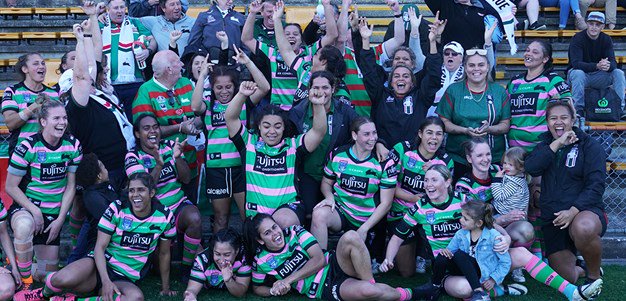 3 min  6-0
11 min  6-4
29 min 12-4
30 min 18-4
35 min 22-4
40 min 26-4
46 min 26-8
51 min 26-12

Davis-Welsh 3, Simon 2 tries
Studdon 3 from 5 goals

Final Line Up -
                                     T  G/A  FG

Flbk -  1 - Davis-Welsh, Nakia       3  -     -
Wing -  2 - Simon, Taleena           2  -     -
Cntr -  3 - Gillogly, Emma           -  -     -
Cntr -  4 - Doyle, Kari              -  -     -
Wing -  5 - McGrady, Sharon          -  -     -
5/8  -  6 - O'Mealey, Lavina         -  -     - (c)
Half -  7 - Studdon, Maddison        -  3/5   -
Prop -  8 - Nean, Kyara              -  -     -
Hook -  9 - Potter, Jessica          -  -     -
Prop - 10 - Kershaw, Kimberley       -  -     -
SRow - 11 - Caldwell, Chloe          -  -     -
SRow - 12 - Waters, Meleanna         -  -     -
Lock - 13 - Wilson, Nikitah          -  -     -

Int  - 14 - Grimes, Eunice           -  -     -
Int  - 15 - Vunakece, Eloise         -  -     -
Int  - 16 - Riley, Rebecca           -  -     -
Int  - 19 - Moale, Monique           -  -     -

                                     5  3/5   - 

Other Women's NSW Premiership Matches

BYE        (1)   Mt Prtchrd


---