2019 - The Cyber View from the Hill
19th June 2019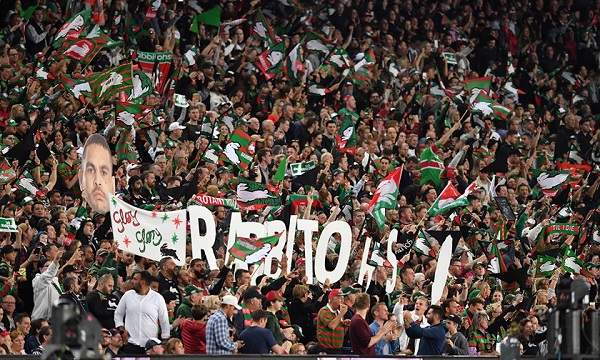 Need to improve Game Control
That was our third another Origin period loss in a row. Our 2019 season continues to be derailed. After a great defensive effort and a try of season by Roberts and Gagai we were able to get back in front. But once again we struggled to control the game at the most critical moments of the game and were not able to seal the game when it mattered most. The loss of Adam Reynolds is hurting us. With a week off for the representative weekend will give the boys a chance to freshen up. Still 4 more wins to qualify for the semis.
Amone steps up
Tom Amone a nuggety wrecking ball style of player, got his chance on the weekend. He stepped up in a tough forward battle and was able to maintain our forwards momentum. He will have a bright future.
Reggies backline clicks
With our reserve grade left side backline all having played first grade along with fullback Corey Allan, they caused havoc in thesecond half with Allan, Tracey and Hiroti all making regular breaks out wide, as we went on a 28 nil demolishion of the competition leaders in the second half.
Stowers power
Under 20s was a tough contest with the boys inching teir way back into the game after being 14 points down. Then in midway through the second half Stower came back on for his second stint, and he monstered his way in a powerful up the middle to put Souths in the lead with a try under the posts. Illias a cool as a cucumber nailed the vital fieldgoal as we sealed a great come from behind win.
Greek Rugby League #Let Greece Play
The ongoing events over in Greece continue to be a ongoing issue for the RLIF. Greece are moving into the final rounds of qualification for the Rugby League World Cup and still cannot play a match on home soil. Matches are being scheduled in secret and then we have Referees and players getting arrested for trying to play sport. So what has gone on. The former president of Greece RL has caused many issues and was removed from his RLIF affiliation. So he setup a rebel World RL body. Locally a replacement RL body was setup and aligned with the RLIF and was fully endorsed and has been running their international and domestic program with great success. But the former RL president then was voted into running Modern Pentathlon and used his political power to aligned the local RL with him. However the RLIF does not recognise his authority. So now he has been using his inflence to stop the game locally by calling in Police to arrest referees and players. The situation needs to be sorted out in Greece so players can grow the game aligned with the recognised RLIF body and participate on the world stage along with over 60 other RL nations.
Round 14 - Stat Attack
Statistically it was a another poor game. Completion dropped to a shocking 63% from 65% last week. Our worst all year. Errors were steady at 16 again this week. Our worst all year. We gave away 7 penalties from 6 last week. Souths Effective 1st tackle improved but still in a poor level of 39.5m from 41.7m last week. Our missed tackles improved to a very good level of 18 missed tackles from 26 last week. Opposition offloads dropped to 12 from 5 last week.
Looking at our left side defence - Graham-Turner-Walker-Sutton/Britt (0-2-3-2) dropped to 7 from 4 missed tackles last week. On the right side Gagai-Roberts-Doueihi/Sutton-Lowe (1-0-1-3) was improved to 5 from 11 missed tackles last week. Ruck defence Tatola/Amone/Kennedy-Cook-Knight/Nicholls-Murray/Britt (4-1-0-1) improved to 6 from 10 missed tackles last week.
Our go forward improved to 1335m from 1285m last week. Nicholls, Amone, Roberts and Gagi made 10+m per run. Britt, Gagai, Roberts, Graham and Johnston making 100+m in the match. Defensively Lowe was our best in the tackling raking up 41 tackles. Knight, Murray, Nicholls, Kennedy, Doueihi, Graham and Johnston didn't miss a tackle.