Reynolds was out with a fractured back, Walker and Sironen was trimmed 24 hours before the match. Nicholls and Britt were 18th and 19th men.
A prodigal Rabbitoh returned, Mitch Pearce stated his claims for the same at Origin level and the biff was back with four players sin-binned in a wild Newcastle win over South Sydney at ANZ Stadium. A 20-12 Knights triumph exploded a minute before halftime as Tom Burgess allegedly headbutted opposite number Daniel Saifiti and the pair then traded punches, some landing, others not. Replays showed Burgess making contact with Saifiti's head using his own to start the melee. Both big men were sin-binned by referee Grant Atkins, while Newcastle back-rower Lachlan Fitzgibbon and Rabbitohs skipper Sam Burgess were also marched for joining the rumble. "Sam Burgess comes in a dog shots him from behind when no oneís looking, our boys are just breaking it up, so thatís two from them thatís got to go," Pearce remonstrated. "Oneís got to get sent off. If he headbutts him heís got to go". In the end all four cooled their heels for 10 as the Knights took a 12-4 advantage into the sheds. The match review committee may yet take issue with Tom Burgess, after Manly's Corey Waddell just this week was given a two-match striking ban for headbutting Penrith's Liam Martin. Burgess will have a tripping charge to answer, too, after sticking his leg out as Connor Watson pressed the line with three minutes to go. Nathan Brown preferred to focus on his pack's "pleasing" effort against their star-studded South Sydney opposites than dissect the brouhaha, while Wayne Bennett said the occasional boilover will always remain in rugby league even with the game's no punching edict. "Well we're playing a man's game, both sides were involved in it," Bennett said. "Both sides had players sent to the sin bin. So I accept what happened, it's not what you want to happen. "[There was] a bit of frustration [from] both sides, one guy throws a punch, the other guy responds. That's never going to go away. "I saw Sam come in, I didn't see Sam headbutt [Fitzgibbon]. But I'm sure they'll sort it out before the week's out." Before the big boys started belting each other, it was Elton John's 'Benny and the Jets' appropriately belting out over the ANZ Stadium PA system to mark James Roberts's first game since reuniting with Bennett. Whoever was pressing the play button only needed to wait nine minutes, Roberts on the scoresheet with his second involvement of the match. But it took Newcastle even less time to successfully target him for points of their own. It was another ex-Rabbitoh in Hymel Hunt who stole the star attraction's spotlight, barging through the former Bronco for an early 6-0 lead. Roberts' last trip to the Olympic Stadium five weeks ago doubled as his last outing in first grade, not least the beginning of his end at the Broncos. He took flight soon enough after Hunt had him backpedalling, a chip kick by Adam Doueihi turning Edrick Lee around with Roberts sneaking through for his first try in red and green since late 2011. Out the other side of a Mason Lino penalty Pearce took charge of the storyline and the contest, in a manner his under fire NSW successor Nathan Cleary is yet to do in the Origin arena. First a forced drop out to set it up. Then the double pump to put South Sydney's defence in two minds, Lino doing likewise as he piloted Mitch Barnett through a yawning gap after 28 minutes. For the best part of 10 minutes Newcastle grimly knocked any Rabbitohs' attacking raids on the head. Then came the headbutts and fists following soon after, plus halftime too, before anything else could be tossed into the mix. With 11 playing 11 upon the resumption Watson scurried over from dummy-half, stretching the Knights' lead to 18-6. Souths struggled to get going without their star scrumbase pairing of Adam Reynolds and Cody Walker. The Knights, too, could have done with Origin stars Kalyn Ponga (rested) and David Klemmer (out for four-to-six weeks with a broken wrist). Saifiti meanwhile revelled in the rough stuff in Klemmer's absence when he got back out there, while drama continued to follow the Burgess brothers wherever they went. George's night ended early when his head clashed, accidentally this time, with Saifitiís, while Sam gave his side just a sniff of an unlikely comeback with five minutes to go, tucking the Steeden in and charging through a tired Knights goal-line defence. But for all the fisticuffs and familiar faces, the final margin told the most compelling tale. Newcastle now have a sixth straight win, and a genuine foothold in the top eight for the first time in Nathan Brown's time at the club.
Tom Burgess has been charged with a Grade 1 striking charge from the 39th minute scuffle which carries a base penalty of 200 points and a two-match suspension. Tom Burgess has taken the early guilty plea so with no loading he will incur a 150 point charge missing one game with 50 carry over points. Tom Burgess was placed on report for a trip in the 78th minute, but no further action was taken.
Sam Burgess has received a grade 1 contrary conduct charge from the 39th minute scuffle, which carries a base penalty of a $1500 fine. He has since take the early guilty plea and will receive a $1350 fine.
Reserve Grade - Canterbury NSW Premiership Round 12
v Newcastle, Redfern Oval, Sat Jun 8 2:00pm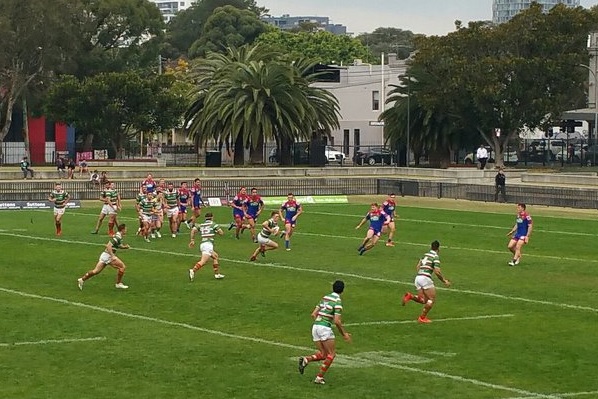 WIN 26-6
Late Changes - Jurd is out. Nicholls starts at lock, Gray on the bench. The South Sydney Rabbitohs' Canterbury Cup side have come away with a dominant 26-6 win over the Newcastle Knights at the Metricon High Performance Centre at Redfern Oval on Old Boys' Day. From the outset the Rabbitohs looked to do their predecessors proud, dominating their opponents for a majority of the match as young outside back Jaxson Paulo starred with a double. A number of changes saw the side bolstered by the inclusion of Mark Nicholls, with captain Billy Brittain backing up from his stint in the NRL the previous night. And Brittain's inclusion was a welcome addition to the side, as the rake took advantage of a scrambled Newcastle defence to go over for the first try of the match after just three minutes. The Rabbitohs defence muscled up to force their opponents into making basic errors, and with a penalty gifting the side territory and a deft kick from halfback Blake Taaffe forcing an error from the Knights, but a dropped ball from Rhys Kennedy alleviated pressure. The Knights looked to gain some momentum, forcing a drop-out with a well-placed kick, but the brutal defence shown from the Red and Green wall forced an error. Souths looked to employ some razzle-dazzle, with a Kennedy offload setting up second rower Dean Britt to make a break through and hand the ball to Taaffe, but the young halfback's pass to his outside men was intercepted by the Knights. The structured defence from the home side continued to shine through, this time with an error forcing a pass to go out. With the forwards making inroads downfield and the halves forcing errors through their deceptive kicking, the Rabbitohs looked destined to go over again, but a penalty in front saw Levi Dodd add two points to give the side an eight-point buffer with just under a quarter of the match gone. The work of outside backs Jaxson Paulo, Jacob Gagan and Dodd saw the Rabbitohs gaining easy territory, and young winger Kane Allan nearly added his name to the scoresheet, only to drop a high kick close to the line. But the Red and Green were on the attack soon again having forced yet another error, and after a clothesline tackle on Bayley Sironen from Tautau Moga gave the side another set of six, with the five-eighth going off the field for a HIA. However, the Rabbitohs soon gained the advantage as Jaxson Paulo crossed in the corner after a left-side shift. A break from Moga saw the centre nearly go over for the Knights' first, but a try-saving tackle from Allan prevented him from going over. However, the young winger was sin binned for holding too long. But try as they might, Newcastle's attack continued to get found out by the Cardinal and Myrtle brick wall, first with a try-saving tackle forcing an error, and then Billy Brittain intercepting a would-be pass to score. After a dominant first half from the Rabbitohs, it was the Knights who scored first as a break down the left side saw fullback Tex Hoy score after just two minutes of the second forty. True to their nature, however, the Rabbitohs defence made amends, forcing an error from the kick-off, and soon it was Jacob Gagan who cut through the defence to score with a quick reply. An error from Dean Britt gave the Knights an opportunity to return serve, but Blake Taffe employed some silky skills, making a one-handed pick up to gather in a grubber kick. Tom Amone nearly saw his name on the scoresheet, but in a contentious call from the referee, the hulking prop was deemed to be held up over the line. On the ensuing set, a Knights break through the middle of the field set up a line drop-out, with another dubious call made with a Newcastle player kicking a ball ahead with an offside player gathering it. Despite back-to-back penalties favouring their opponents, the Rabbitohs defence held strong, forcing yet another error. A strong carry from Yileen 'Buddy' Gordon got the Red and Green back on the front-foot, and with a penalty for a strip going against the defence, it was the perfect time to strike again. Another head-high tackle from Moga, this time on Trent Peoples, saw the second sin-binning of the day, with the Newcastle centre given his marching orders. From there, the side looked eager to go over again, showing some extravagant offloading and frantic passing and unable to take advantage of their one-man advantage. And soon enough Paulo was over for his second, deputising at fullback and chiming inside a Dean Britt break to score under the posts. With the wind behind their backs, the Rabbitohs continued their dominance, shutting down everything Newcastle had to throw at them, taking home a dominant 20-point win.

 2 min  6-0
18 min  8-0
28 min 14-0
HT     14-0
42 min 14-6
46 min 20-6
68 min 26-6

Paulo 2, Brittain, Gagan tries
Dodd 5 from 5 goals

Scrums     11-5 (1H  7-1 )
Penalties   8-7 (1H  4-2 )

35 min 10 min Sin Bin Allan, Kane    Professional Foul

Final Line Up -
                                 Min Tac Pe MT LB  Rn  DR    m Er OL   K TA  T  G/A  FG

Flbk -  1 - Higgins, Leigh        80   2  -  -  -  18   1   92  -  1   -  -  -  -     -
LWng -  2 - Paulo, Jaxson         80   -  -  1  1  10   -  120  -  1   -  -  2  -     -
LCnt -  3 - Gagan, Jacob          80   6  1  1  1  14   -  151  -  -   -  1  1  -     -
RCnt -  4 - Dodd, Levi            80   4  1  3  -  15   1  157  -  2   -  -  -  5/5   -
RWng -  5 - Allan, Kane           70   2  1  1  -   5   1   28  3  -   -  -  -  -     -     [0-35,45-80]
5/8  -  6 - Sironen, Bayley       33   9  -  -  -   6   -   39  -  -   1  -  -  -     -     [0-33]
Half -  7 - Taafe, Blake          80  13  -  3  -  14   -   62  4  -   7  1  -  -     -
Prop -  8 - Amone, Tom            59  25  1  1  -  15   -  126  -  -   -  -  -  -     -     [0-26,41-74]
Hook -  9 - Brittain, Billy       80  34  -  2  1  23  16  117  1  2   8  -  1  -     - (c)
Prop - 10 - Kennedy, Rhys         52  29  1  5  -  13   -   98  1  1   -  -  -  -     -     [0-24,52-80]
SRow - 11 - Britt, Dean           80  21  -  -  1  25   -  265  3  -   1  1  -  -     - 
SRow - 12 - Koloamatangi, Keaon   41  14  -  -  -   9   -  100  -  1   -  -  -  -     -     [0-41]
Lock - 20 - Nicholls, Mark        72  37  -  2  -  24   -  225  -  -   -  -  -  -     -     [0-52,60-80]

Int  - 13 - Gray, Brock           36  15  -  1  -  10   -  101  -  -   -  -  -  -     -     [24-54,74-80]
Int  - 14 - Johns, Jack           47  11  -  2  -   6   1   38  -  2   1  -  -  -     -     [33-80]
Int  - 15 - Peoples, Trent        34  11  -  3  -   7   -   68  1  -   -  -  -  -     -     [26-60]
Int  - 17 - Gordon, Yileen        26  11  2  3  -   5   -   53  -  -   -  -  -  -     -     [54-80]

                                     244  7 28  4         1848 13 10  18  3  4  5/5   -

Completion Rate      - 29 / 41  71%

Opposition Offloads  - 7

Other Reserve Grade Matches

18-12 Camp Mt Prtchrd b Wests
28-6  MtSm St Geo-Ill b Warriors
22-10 Hens Newtown    b Wntwrthvll
32-0  Penr Penrith    b Norths
30-20 Belm Canterbury b Blacktown

                W D  L B Diff PT
PENRITH         9 -  3 -  +64 18
MT PRITCHARD    8 1  3 - +102 17
CANTERBURY      7 1  4 -   -5 15
ST GEO-ILL      6 2  4 - +108 14
NORTHS          7 -  5 -  +29 14
SOUTHS          7 -  5 -  +20 14
WESTS           5 2  5 -  +27 12
NEWTOWN         5 1  6 -  -36 11
Wentworthville  5 -  7 -   +1 10
Warriors        2 2  7 -  -59  8
Newcastle       4 -  8 -  -90  8
Blacktown       1 1 10 - -161  3


U20 NSW Jersey Flegg Cup - Round 10
v Newcastle, Redfern Oval, Sat Jun 8 12:15pm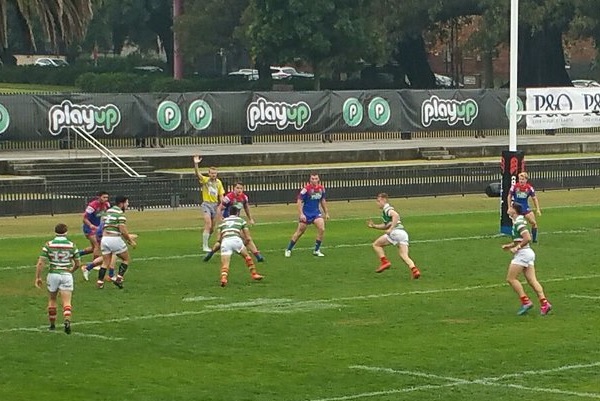 LOSS 16-28
Late Changes - Frasca and Gale are out. Angianga startedo n the wing, Fepulini at centre, Zaurini on the bench. The South Sydney Rabbitohs Jersey Flegg side have been defeated 28-16 in an error-riddled contest against the Newcastle Knights at the Metricon High-Performance Centre at Redfern Oval. In a losing side, centre Nick Mougios was busy in attack and defence, shutting down a number of raids and scoring a try, while halfback Lachlan Ilias stood tall scoring himself and adding plenty of spark to the side with the ball in hand. It was a positive start for Ben Rogers' men, who weathered the early attacking onslaught from the Knights to go close to scoring through Ky Rodwell, only for the prop forward to be held up. But an error following a wayward Newcastle kick went out on the full, it was Newcastle who scored first under the posts after a weight of possession. A slew of penalties, including one for a late hit on five-eighth Brad Zampech, gave the home side a chance to strike back, but were unable to bypass the Newcastle defence. But it was the Knights who would convert their opportunities, with a penalty in the ruck putting them in the Rabbitohs' half, seeing them score in the corner after a left-hand shift. But the Cardinal and Myrtle got on the board seemingly out of nowhere, as a break on the right saw centre Nick Mougios burst through to put young halfback Lachlan Ilias over for his first try of the season. A number of elementary errors would cruel the Rabbitohs, and it was the Knights who took full advantage, scoring in the corner once again. And their opponents landed another blow with a try just minutes before the break, giving the Rabbitohs a fourteen-point mountain to climb in the second half. Unfortunately the Red and Green left off where they started, with an error in the first set back giving the Knights possession in their red zone. Not to be deterred, Nick Mougios looked to inspire his size, crashing into his opposite centre with a perfectly timed hit on last tackle to prevent any further damage. Playing a more positive brand of football, the Rabbitohs looked to score their second as a deft kick into the backfield opened an opportunity, only for the bounce of the ball forcing an error. On the Knights' next set, it was the forwards' turn to muscle up, bundling them into touch and gaining possession just 20 metres from the line. But again, the Red and Green failed to convert their chances, dropping the ball with the try line begging. With their opponents looking to build their lead, the Rabbitohs continued to absorb wave after wave of defence, and were rewarded as second rower Matt French took a loose pass to streak 40 metres downfield. On the next set, it was Mougios who athletically hurdled over the line to score a spectacular four-pointer. But the joy was short-lived, with the Knights regathering a short kick-off to catch the Cardinal and Myrtle napping to extend their lead with a try under the posts. Not to be deterred, the Rabbitohs continued to question the Knights' defence, with halfback Lachlan Ilias showing good footwork to get through the line. After a penalty on the 19-year-old for a spear tackle gave the side much-needed territory, his halves partner Brad Zampech sliced over to give the side a glimmer of hope with just over ten minutes remaining. Zampech nearly went over again regathering from a kick on last tackle, only for the five-eighth to be held up in a telling tale of the tape.

 5 min  0-6
12 min  0-10
20 min  6-10
24 min  6-14
33 min  6-20
HT      6-20
46 min 10-20
49 min 10-26
56 min 10-28
59 min 16-28

Ilias, Mougios, Zampech tries
Ilias 2 from 3 goals

Scrums      6-11(1H  2-5 )
Penalties   5-5 (1H  4-3 )

Final Line Up -
                                  Min   T  G/A  FG

Flbk -  1 - Tautaiolefua, James    70   -  -     -
LWng -  2 - Bijorac, Zane          70   -  -     -
LCnt -  3 - Mougios, Nick          70   1  -     - (c)
RCnt - 18 - Fepuleai, Josh         70   -  -     -
RWng -  4 - Angianga, Tallis       70   -  -     -
5/8  -  6 - Zampech, Bradley       70   1  -     - 
Half -  7 - Ilias, Lachlan         70   1  2/3   - 
Prop -  8 - Rodwell, Ky            59   -  -     -     [0-42,53-70]
Hook -  9 - Cook, Josh             37   -  -     -     [0-37]
Prop - 10 - Bain, Luke             23   -  -     -     [0-23]
SRow - 11 - Aluni-Chanfoon, Maila  70   -  -     - 
SRow - 12 - French, Matt           70   -  -     -     
Lock - 13 - Gardner, Brock         38   -  -     -     [0-27,42-53]

Int  - 14 - Mamouzelos, Peter      47   -  -     -     [23-70]
Int  - 15 - Puru, Luke             27   -  -     -     [27-42,58-70]
Int  - 16 - Stowers, Augustine     16   -  -     -     [42-58]
Int  - 19 - Zaurini, Marc          33   -  -     -     [37-70]

                                        3  2/3   -

Other U20 Jersey Flegg Cup Matches

22-0  Camp Wests-Tig  b Canberra
12-12 MtSm Warriors   d Victoria
34-10 Ende Cronulla   b Parramatta
30-16 BAnd Manly      b Norths
24-14 Penr Syd Rstrs  b Penrith
22-20 StAu Canterbury b St Geo-Ill

                W D  L B Diff PT
CRONULLA        9 -  1 - +160 18
SYD RSTRS       7 1  2 -  +76 15
NEWCASTLE       7 -  3 - +178 14
PENRITH         7 -  3 - +167 14
CANBERRA        6 1  3 - +123 13
ST GEO-ILL      6 1  3 -  +98 13
SOUTHS          5 2  3 -  +51 12
CANTERBURY      5 1  4 -  +20 11
Warriors        4 2  4 -  +16 10
Wests-Tigers    4 1  5 -   -6  9
Parramatta      3 -  7 - -111  6
Victoria        - 2  8 - -262  2
Manly           1 -  9 - -288  2
Norths          - 1  9 - -222  1


Womens NSWRL Premiership - Round 8
v Newcastle, Redfern Oval, Sat Jun 8 3:50pm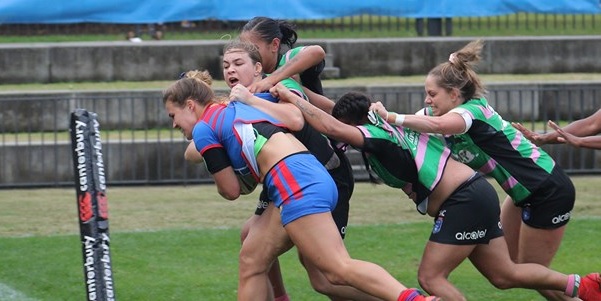 LOSS 6-24
Late Changes - Allende, Fonokalafi, Stojanovska, Davis-Welsh are out. Barker starts on the wing, Vunakece at second row, Gordon at lock, Dann on the bench. The South Sydney Rabbitohs Harvey Norman Women's Premiership side have been defeated 24-6 against Newcastle CRL at the Metricon High Performance Centre at Redfern Oval on Old Boys' Day. Compounded by errors from both sides, the low-scoring affair saw the return of experienced fullback Sharon McGrady in the Red and Green, while also marking the team's first game in 2019 on the hallowed turf. In a tense first ten minutes, it looked like Newcastle would be the first to score through winger Alicia Martin, only for the final pass to be called forward. But they would soon go over through a few sets later to open the scoring and with the conversion successful, CRL held an early 6-nil lead. A Sharon McGrady fumble close to the line was alleviated by the middle defence's efforts to hold CRL up over the line to prevent a certain try. And on the next play, the right-hand side managed to force their opponents into touch, courtesy of a Karri Doyle tackle sparking the side to get possession back. A cruel bounce of the ball saw the Steeden bypass the Rabbitohs' defence, with winger Martin scoring the easiest of tries. On the back-foot, the Red and Green failed to lay down, with five-eighth Lavina O'Mealey looking to inspire her teammates with a big hit in defence. The Rabbitohs looked to make inroads at the end of the first half, with strong running from captain Rebecca Riley looking to get her side on the scoreboard, but an error after the last pass fizzled out any momentum. The halftime chat from coach Danny Allende seemed to work, as the Rabbitohs forced an error from Newcastle CRL with a kick close to the line. With the added possession it was Moniqca Mo'ale who added to her try-scoring record for the season to crash over next to the posts. Inspired by their teammates' effort, the Red and Green began to make easy ground, with the forwards laying the platform through the middle and the outside backs combining well to earn a number of repeat sets. Lavina O'Mealey nearly went over with a trademark show and go, with her experience then shining through with a classy grubber to force a drop-out. However, a tackle to force Emily Young out of the field of play to deflate the side's momentum. The class of Newcastle CRL was too much however, with Australian representative centre Isabelle Kelly crossing soon after. Despite their opponents looking to build on their lead, the Rabbitohs aimed up in defence with a number of try-saving tackles and crunching hits with the match turning into an old-fashioned arm wrestle. In a period that saw a number of errors from both sides, with Kelly scoring another double to complete her hat-trick.

10 min  0-6
18 min  0-12
HT      0-12
32 min  6-12
40 min  6-16
54 min  6-20
59 min  6-24

Moale tries
Clay 1 from 1 goals

Final Line Up -
                                  T  G/A  FG

Flbk - 16 - McGrady, Sharon       -  -     -
Wing -  5 - Young, Emily          -  -     -
Cntr -  1 - Doyle, Kari           -  -     -
Cntr -  4 - Pilley, Tayla         -  -     -
Wing - 10 - Barker, Ngalika       -  -     -
5/8  - 21 - O'Mealey, Lavina      -  -     - 
Half -  7 - Kelly, Akira          -  -     - 
Prop -  8 - Nean, Kyara           -  -     - 
Hook -  9 - Riley, Rebecca        -  -     - (c)
Prop - 14 - Sutherland, Rhianna   -  -     - 
SRow - 11 - Kennedy, Kandy        -  -     - 
SRow - 17 - Vunakece, Eloise      -  -     - 
Lock - 13 - Gordon, Kyla          -  -     - 

Int  -  2 - Dann, Summer          -  -     - 
Int  -  3 - Waters, Meleanna      -  -     - 
Int  - 15 - Clay, Candice         -  1/1   - 
Int  - 18 - Mo'ale, Monique       1  -     - 

                                  1  1/1   -

Other Womens NSW Premiership Matches

26-8  WSS  Wests-Tig  b Cabramatta
 8-6  SMry St Marys   b Norths
Frft  Hick Canterbury b Penrith-Br (+15)
32-12 Ring Cronulla   b Wntwrthvll
BYE        Mt Prtchrd
     
               W D  L B Diff PT
MT PRITCHARD   6 -  1 1 +108 14
NORTHS         7 -  1 -  +50 14
NEWCASTLE      6 -  2 - +130 12
CRONULLA       6 -  2 -  +96 12
WENTWORTHVILLE 3 -  4 1  +28  8
SOUTHS         3 -  4 1   +2  8
WESTS-TIGERS   3 -  4 1  -20  8
ST MARYS       3 -  4 1  -28  8
Cabramatta     2 -  5 1  -42  6
Canterbury     1 -  6 1  -95  4
Penrith-Br     - -  7 1 -229  2


---
© 2019 SSR Almanac / HOME / RETURN