Benji Marshall Retires
6th October 2021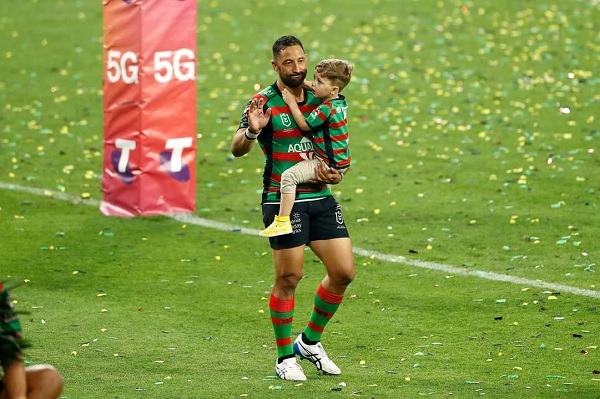 Modern day legend of Rugby League, Benji Marshall, has called time on his incredible career, retiring from the sport today. Marshall, Rabbitohs first grade player number 1167, played 19 seasons in the NRL, making his debut for the Wests Tigers in 2003 and playing his final game in the 2021 Grand Final for South Sydney against the Penrith Panthers at Suncorp Stadium. Marshall inspired Rugby League players young and old with his mesmerising style of play. His ability to step off both feet at pace, his ability to throw no-look cut-out passes to open teammates, his willingness to put his body on the line in defence and his charismatic personality, have made him a favourite player to thousands of Rugby League players, Members and supporters from all clubs and nations alike. Marshall is regarded by many as one of the next New Zealand-born candidates to be named in the NRL Hall of Fame and is in line to become the first New Zealander to be awarded Immortal status in the sport.
Marshall reflected on his amazing career this week. "I feel privileged and grateful to have had the career that I have had," Marshall said. "I started as just a young kid from Whakatane who was chasing his dreams and will leave as a better man who reached those dreams. I cannot thank Rugby League enough for everything it has given me. But the thing of which Iím most proud is the countless times I have had to pick myself up and fight back from the many setbacks that were thrown at me throughout my career. I want to thank the Wests Tigers, the St George Illawarra Dragons, the Brisbane Broncos and, of course, the South Sydney Rabbitohs for the opportunity to play for those great clubs. Thank you to South Sydney for allowing me this opportunity to finish my career this way on a high and to go out on my terms. Thanks to all of the referees and volunteers of our great game. Thank you to all of the players I have played with and against. Thank you to all of my coaches over my career, especially Tim Sheens and Wayne Bennett, who have had the biggest impact on me. I want to thank the fans. It has been a pleasure to be able to play for you guys. Thank you for embracing the way that I played the game. To show my stuff on the big stage in front of you guys is the greatest feeling ever. To run out to a roaring crowd, there is nothing like it. Thatís what I will miss the most, playing for you guys. I would like to thank my family. My parents Mick and Annalie Doherty and my mum Lydia Marshall, my brothers Jordan and Jeremy, my extended Marshall family and my friends. I would like to thank my kids, Fox and Ever, who are my Ďwhyí. Most importantly, I want to thank my wife Zoe who has been my rock, my constant source of support, for always believing in me and riding the highs and lows next to me. She has always sacrificed so much in order for me to continue living my dreams. Iíve got no doubts that I could have played on again next year, but now is the right time for me to call time on my football career and move on to the next adventure. Now itís time for me to put my family first."
Rabbitohs CEO Blake Solly paid tribute to one of the greats of the game. "Benji Marshall has left an indelible mark not only on our Club, but on the entire sport over the past two decades. Iím sure he has left a positive imprint on the Tigers, Dragons and Broncos too, particularly the Tigers where he spent so many years captaining their club, guiding them to the 2005 premiership," Mr Solly said. "He has proudly captained his country, captained at club level and represented his Maori heritage. Itís not only the quality football that he has played on the field for us in 2021, but itís the knowledge he has passed on to everyone in our squad, from the seasoned veterans to the rookies. He hasnít put a foot wrong off the field either, connecting deeply with our Members and corporate partners throughout the year, despite the tyranny of distance at times due to the COVID-19 pandemic. He brought everything that we envisioned he would bring to our Club and more, and I know South Sydney has also left a mark on him too. We wish Benji, Zoe, Fox and Ever all the best with whatever comes next for him and his family. He will always be welcome at the Rabbitohs and they will always be part of the Rabbitohsí family."
---
© 2021 SSR Almanac / HOME / RETURN