2022 - The Cyber View from the Hill
11th May 2022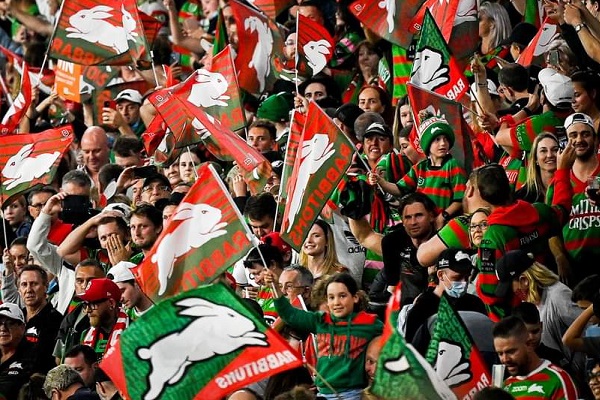 Second Half Woes
Handling continues to our 2022 achielles heel as we try to find our lost form from last year. In a game where our old captain dominated, we lost the game through significant errors that resulted in tries, with the last twenty minutes our worst performance for some time. Our bench rotation also added pressure to our team when we effectively only used 15 players in the game. The loss of Murray for 4 weeks who injured his shoulder just rubs salt into the wound as we fall out of the Top 8. Now its back up to Lang Park Stadium for the Magic Round under heavy footing after all of the recent heavy rains in Queensland.
Peoples strong debut
One shinning light on poor evening was the debut and quality performance by Trent Peoples. He has been one of our most consitent performers in resrve grade. His defence was first rate and ran onto the ball well almost scoring a try on debut. He will have a bright future in the game. Only concern was the offfield issue being reported that he was not approved to play by the NRL.
Thompson 4 try Destruction
Izaac Thompson put his hand up for a first grade spot on the weekend with a great 4 try performance. Scoring two on the end of backline plays, a third in a great set move on the right and his fourth a 70 metre blockbusting run through 5 defenders, that reminded me of Terry Fahey. Won't be long before he gets a chance.
Kaho doing his job
In a team that looks good and then fades Carson Kaho has stepped up from U19s and continues to impress out on the wing. He scored another quality try and has speed to break the line. Its still early stages but he is progressing well.
Seli Mailangi Double
After a week off Seli Mailangi returned to hooker and showed he quality in and around the ruck. She setup a try and scored a double herself and was rewarded by being called up into the NSW City womens team. Well done.
Bring back City v Country
Its City v Country weekend in NSW and we really miss the annual origin clash. The NRL should look to return the clash in a 2 fortnight rep period. With the first weekend being a NSW and Queensland City v Country clash, following by the 3 State of Origin clashes on a Tuesday evening. You can then run a Oceania 4-Nations Cup with New Zealand, Tonga, Fiji and PNG and say a Pacific Shield with Samoa, Cook Island, Canada and USA. Then for the players who don't make these rep teams you have the opportunity to run a Midweek Cup series on Thursday and Friday nights.
Rabbitohs TV - Weekly Segment
The boys recap Round 9 game
Round 9 - Stat Attack
Statistically it was a poor game. Completions dropped to 72% from 80% from last week. Errors improved to 11 from 13 last week. We gave away 6 penalties and no 6-again calls from 5 last week. Souths Effective 1st tackle dropped to a poor level of 36.0m from 34.2m last week. On the back of our worst half of football this year in the second half. Our missed tackles improved to a very good level of 22 from 32 last week. Opposition offloads dropped to 8 from 4 last week.
Looking at our left side defence - Johnston-Tass-Walker-Arrow/Peoples (2-2-4-3) dropped to 11 from 6 missed tackles last week. On the right side Milne-Graham-Ilias-Koloamatangi/Arrow (0-2-1-1) improved to 4 from 15 missed tackles last week. Ruck defence Tatola/Havili/Arrow-DCook-Moale/Knight/Koloamatangi-Murray (3-1-0-1) improved to 5 from 8 missed tackles last week.
Our go forward dropped to 1486m from 1827m last week. Tatola and Peoples made 10+m per run. Havili, Peoples, Tatola, Milne, Ilias and Graham made 100+m in the match. Defensively Cook was our best in the tackling raking up 43 tackles. Tatola, Moale, Knight and Milne didn't miss a tackle.