2022 - The Cyber View from the Hill
18th May 2022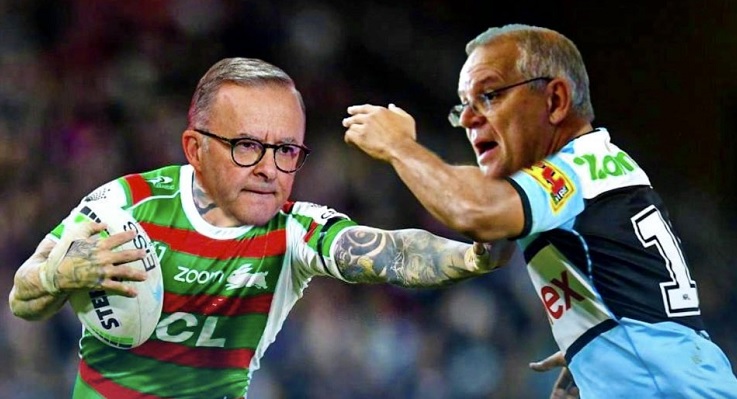 Great First Half then
A wet Magic weekend really tested the ability of a single to host the event this year. For Souths who were the third game on the weekend we got off to a great start. By the 30 minute mark we had put on 26 points to nil, to completely dominate the game. But the reports during the week that a number of players had the flu and were backing up, this was on top of losing Host in the first tackle with a reoccurance of his dislocated shoulder. Souths then faded as a big momentum shift allowed in 30 points. 6 in the last minute of the first half and 26 in the last 20 of the second half. But we hung on to win and moved back into the 8. Now its off to Dubbo for for Western NSW country match against Canberra.
Milne Double
Our right side attack is working well in 2022 and Taane Milne continues to benefit from this. This week he was on the end of another two tries, taking his tally to 5 for the season. Combinations with Ilias, Taaffe and Walker are working well.
Mitchell US rehab
This week we saw Latrell Mitchell jet off to Philedelphia to participate in a special rehab fortnight session for his injured hamstring. We are watch this with a lot of interest to see how these mega professional physio's handle him and how he return's. We will need him fit a raring to go if we are going to challenge this year.
Giles leads from the front
Thomas Giles is starting to make a name for himself with his regular strong performances in the Flegg team. He is giving the team much needed go forward and is acting as a steading influence on the flashy young players around him.
Ultimate Political Football
Well its arrived the ultimate political football match, former Rabbitoh Group 14 board member, and now leader of the opposition, Anthony Albanese versus Cronulla's #1 fan, season ticket holder and prime minister Scott Morrison. Australia goes to the vote on Saturday to determine who will lead the country for the next 4 years, with a real posibility of a Souths tragic taking the role. Good luck to Anthony this weekend.
Rabbitohs TV - Weekly Segment
The boys recap Round 10 game
Round 10 - Stat Attack
Statistically it was a game of two halves. Completions improved to 79% from 72% from last week. Errors were steady at 11 again this week. We gave away 7 penalties and 4 6-again calls from 6 last week. Souths Effective 1st tackle dropped to a poor level of 36.0m from 34.2m last week. On the back of our worst half of football this year in the second half. Our missed tackles dropped to a average level of 31 from 22 last week. Opposition offloads were steady at 8 again this week.
Looking at our left side defence - Johnston-Graham-Walker-Host/Arrow (0-0-1-5) improved to 6 from 11 missed tackles last week. On the right side Milne-Paulo-Ilias-Koloamatangi (0-2-2-2) dropped to 6 from 4 missed tackles last week. Ruck defence Knight/Havili/Tatola-DCook-Burgess/Moale-Tatola/Havili/Nikorima (3-1-6-5) dropped to 15 from 5 missed tackles last week.
Our go forward improved to 1787m from 1486m last week. Tatola, Burgess, Kolomatangi, Arrow, Moale, Johnston and Nikorima made 10+m per run. Tatola, Burgess, Arrow, Havili, Kolomatangi, Knight, Paulo, Johnston, Milne, Taaffe and Graham made 100+m in the match. Defensively Cook and Arrow were our best in the tackling raking up 43 tackles. Graham, Johnston, Milne and Host didn't miss a tackle.