Rabbitohs Cricket Fan Day
7th January 2007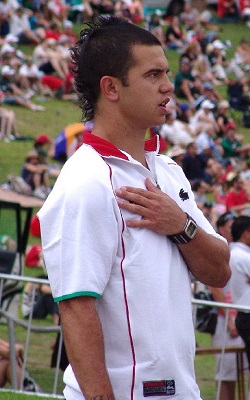 Some of the world's best cricketers have confirmed they will be taking part in the Rabbitohs' Twenty20 Cricket match and Member Day, presented by Members Equity Bank, on Sunday 7 January at Alan Davidson Oval in Alexandria, helping to raise money for Souths Cares. Players taking part in the Twenty20 cricket match include current Australian players Shane Warne, Glenn McGrath and Shane Watson; former Australian Test and ODI opener Michael Slater; former England Test cricketers Ian Botham and Allan Lamb; Channel Nine cricket commentator Mark Nicholas; former NSW representatives Richard Chee Quee, Neil Maxwell and Wayne Holdsworth; international golfers Michael Campbell and Peter O?Malley; Rabbitohs players David Peachey, John Sutton, Peter Cusack and Germaine Paulson; NRL CEO David Gallop and former NRL referee Bill Harrigan; with the teams to be captained by former New Zealand captain and Rabbitohs director Martin Crowe and Rabbitohs Executive Chairman Peter Holmes a Court.

The Ashes urn will also be on display at the Rabbitohs Twenty20 cricket match with the keeper of the urn Adam Chadwick also playing in the match.

Former Bulldogs Rugby League player, NSW cricketer and 2SM Radio personality Graeme Hughes will host the day and conduct interviews with the players and guests.

"It is fantastic to see some of cricket?s finest players of recent times taking time out to join us to support Souths Cares and provide a wonderful day of entertainment for our Members, Sponsors and supporters," Martin Crowe said. "It will be interesting to see how the Rugby League players and golfers go with a cricket bat and ball in their hands!"

The Rabbitohs Member Day will begin at 1pm at Alan Davidson Oval with the full Rabbitohs squad available to meet and speak with Members so bring your autograph books and cameras to get up close with your favourite Rabbitohs. Rides will be available for kids, and the whole family will be entertained at the Rabbitohs Member Day. The Twenty20 Cricket match is scheduled to begin at 2:30pm. Entry on the day is absolutely free for the general public with special prizes on offer for Members of the South Sydney Football Club.

Red and green seats from Redfern Oval will also be on sale at the Member Day so Rabbitohs fans can take home precious memories from the Club's former home ground.

Money raised on the Member Day will go towards Souths Cares, the Rabbitohs? community initiative committed to helping initiate and encourage charitable works for disadvantaged young people, and aiming to promote the benefits of education and a healthy lifestyle. Corporate hospitality is also available for the match if you would like to watch the game in style. A three-course meal and beverage package is available in the air conditioned Club House with a full view of the playing pitch for just $200 per head. Tables of 10 are also available at the discounted rate of $1800. To book a table call the Rabbitohs Football Office on (02) 8306 9900.

Members are encouraged to bring along a picnic blanket, chairs and sun cream on the day as grandstand seating is limited. Shaded marquee areas will be available on a first come, first served basis. Limited parking is available at Alan Davidson Oval at Sydney Park in Alexandria, so Members are encouraged to use public transport to attend the match. A shuttle bus service will also be running from South Sydney Leagues Club to Sydney Park from 12:30pm.

At South Sydney - where little has changed on the paddock for nearly two decades - that riddle was emphatically solved yesterday, Souths somehow had both Warne and McGrath in their corner. Warne and McGrath's twin retirements have made them the most in-demand duo in the country.

Two days after exiting the Test arena, both were entitled to be anywhere but shaking hands with the eclectic red and green faithful. But They were, just down the road from Redfern at Alan Davidson Oval, for a star-studded cricket match to mark the Rabbitohs' annual fan day. Seeing Warne, cricket's most celebrated wicket-taker, stroll through the 3000-strong crowd to sign autographs was almost as mind-boggling as watching him pull on a Souths jersey. A committed AFL fan, he is more at home with a Four 'N' Twenty than a 40/20. "Who do you support in the NRL, Shane?" a Souths fan asked as Warne scribbled away. "Um . . . aah . . . um . . . I suppose it will have to be the Rabbitohs now mate," came the sheepish reply. McGrath too has never been a Souths man. "When I grew up in the country I always supported Manly, but now I'm in Cronulla I go for the Sharks," he revealed. But cardinal and myrtle credentials mattered not yesterday.

If Souths are to move ahead, they must dump all emotional baggage at the threshold and grab directions from anyone who has ever tasted success about the way forward. They have been building towards it since the Russell Crowe/Peter Holmes a Court take-over last March, and yesterday the first dividends appeared. By luring former Australian cricket team physio Errol Alcott and ex-Bulldogs recruitment supremo Mark Hughes to Redfern, Souths have massaged the pressure points of status and credibility. It was the Alcott connection that delivered Warne, McGrath and celebrity couple Shane Watson and Lee Furlong. English greats Ian Botham and Allan Lamb, as well as the genuine Ashes urn, enhanced the cricket theme to unthinkable levels.

Hughes was instrumental in adding the likes of Roy Asotasi, David Kidwell and Nigel Vagana to this season's roster ? all of whom were reporting for duty in Rabbitohs colours for the first time yesterday. However, on a day when uniformed and undercover police were on hand to oversee the celebrities, the trio took a rare back seat. "Remind me later on ? I have to get something signed?" Kidwell joked. "It's great to see Warnie and McGrath here, but I already knew Souths were headed in the right direction when they pitched their thing to me. "My wife said she could see it in my eyes that I was really excited."

Holmes a Court uncouthly swept Warne's first post-career ball for a single, but was not about to be swept up in the excitement. "People have got to understand we've come a huge way, but we're coming from 35 years behind," he said. "We've got to do things differently and shoot for the stars as a club. We don't take from this anything but progress. It's not a match, we haven't won a match today. Some days are like this 'a bit of fun' and some days are tougher and more focused on what we have to do to be a winning football team again."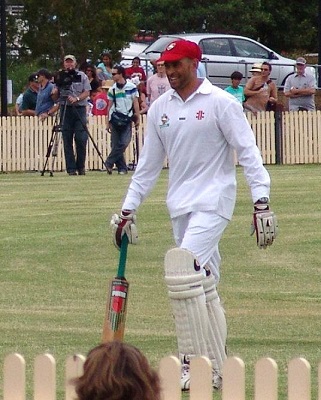 ---