Matches at Gosford
10th January 2007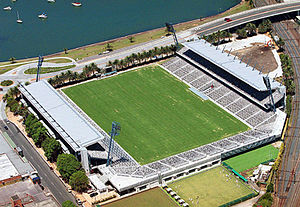 In season 2007, the Rabbitohs will be pursuing a strategy to enhance its position of having the most widely spread supporter base of all Sydney based clubs in the NRL. The Club will be hosting two of its home fixtures, the matches against the Storm and the Knights, at Gosford's Central Coast Stadium. We will also play a jointly promoted trial with the Sharks in February to kick off our season.
The reasons your Club has made this decision, apart from the financial incentives, are:
The Central Coast is home to one of the most concentrated group of registered supporters of the Club, with nearly 10% of our total registered supporter base
This arrangement gives the Club the opportunity to expand its Membership base into a growing region of supporters.
We will create a new market of corporate supporters, as well as enhancing the increased exposure required by our major sponsors.
We are able to showcase our newly formed relationship with the North Sydney Bears in an area where there is still great support and respect for that Club.
We assist our preferred home ground of Telstra Stadium with the maintenance of its scheduling throughout the season.