Dein Perry Joins Rabbitohs as Game Day and Special Events Producer
3rd February 2007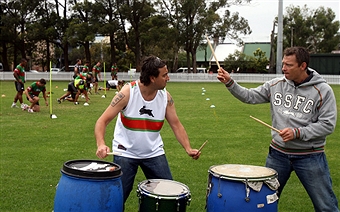 The South Sydney Rabbitohs will be taking game day entertainment in a new direction and to a new level in 2007 with Dein Perry now taking the role of Game Day and Special Events Producer. Dein is one of the most respected figures in the entertainment industry and is regarded as the premier choreographer in the country. Dein's most famous work has been directing and choreographing Tap Dogs, Australia's highest grossing theatre production of all time, in over 300 cities worldwide, as well as choreographing the 2000 Sydney Olympics Opening Ceremony. Dein won the Olivier Award for Best Choreographer in 1995 and 1996, the youngest ever recipient of the award. He has received four Mo Awards for Best Dance Performer of the Year, and has won two Australian Green Room Awards for Best Supporting Role and Best Original Choreography. He also received the Choreography Award at the Australian Dance Awards in 1998, a New York Drama Desk nomination and a New York Obie Award. Dein will be producing the game day entertainment for Rabbitohs home games as well as producing the Rabbitohs' big events such as the annual Red and Green Ball and Season Launch.
"It's very exciting times at the Rabbitohs and I'm glad I can play a part in bringing the best entertainment to the Rabbitohs Members and fans," Mr Perry said. "The Rabbitohs have expressed to me that they want to make each and every home game an event not to be missed and that is what we will be endeavouring to do. We have some innovative ideas for the upcoming season so we urge all Rabbitohs fans to get out to the games this year and enjoy a full day of entertainment along with some fantastic football action on the field." Rabbitohs Executive Chairman Peter Holmes a Court said, "I've had the honour of working with Dein for five years taking Tap Dogs to the world, and I'm rapped to be able to have him reinvent our game days. "Nobody in Australia does rhythm like Dein and were blessed to find a dance choreographer who is a League nut."
The first initiative is the introduction of a Rabbitohs Drum Squad for games. The Drum Squad will entertain the crowd with their rhythmic beats throughout the game and during the breaks on game day. Dein Perry will be joined by his long time drumming collaborator Joe Accaria in putting together the Rabbitohs Drum Squad "The Rabbitohs, Joe and I want to do things differently and uniquely, and we think the Drum Squad will help create an electric atmosphere at the games," Mr Perry explained. "We're looking for young, energetic, healthy, enthusiastic and fit drummers with a good sense of movement to join our squad and we will be holding auditions in February to find the best talent that Sydney has to offer. "It's a chance for them to show their talents to thousands of people every week and we can show people that the mould of traditional entertainment at the footy can be broken. We need people who are great drummers that can move as well with high energy!" Auditions for the Rabbitohs Drum Squad will be held on Monday 12 February.
---