Kidwell and Cusack Named Co-captains for 2007
17th February 2007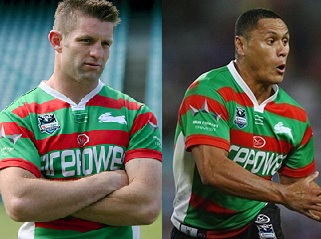 The South Sydney Rabbitohs will have co-captains for the 2007 NRL season, with Rabbitohs coach Jason Taylor announcing that Peter Cusack and David Kidwell will lead the side this year. Cusack was the Rabbitohs captain in 2006, having led the team from the front throughout the season. Kidwell was a member of the Melbourne Storm;s leadership group in 2006, captaining the side throughout the season, as well as captaining the New Zealand test side. "We are blessed with a lot of experience in our squad this season," Taylor said. "We have a number of players who have been part of leadership programs at their previous clubs, captains of their country, and experienced players, and I felt that the best two men to lead our players were Peter and David. Both players have a wonderful rapport with their team mates, are fantastic leaders of men, and I?m proud to be able to announce their appointments as captains." Taylor made a particular point about Cusack's re-appointment. "Peter hasn't been made captain because he was captain last year," Taylor said. "I actually took the captaincy from Peter back in November when we started training because I wanted to start with no captain and have the captain, or captains, earn their position. He has earned his captaincy role through wonderful leadership and he will do a great job in conjunction with David."
Cusack says he enjoys the captaincy role. "I'm really happy that I get to lead this Club again this season," Cusack said. "I enjoyed the role last year and feel that I play my best football when I can lead by example. I?m looking forward to this season and to a more successful period at the Club."
Kidwell says it is an honour to captain a Club such as the Rabbitohs. "This Club has a grand history and I'm honoured to have the opportunity to captain the team and help lead this group of players," Kidwell said. 'Everyone is very upbeat about the season ahead and we will be giving everything we've got every week to make this Club successful again."
---