NRL Blocks Tuqiri Signing
2nd March 2007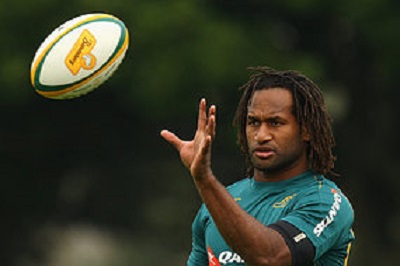 NRL officials have blocked the involvement of two multi-national companies in attracting Lote Tuqiri to South Sydney.
Souths co-owner Peter Holmes a Court last night boasted two corporations had offered to give Tuqiri rich endorsement deals if he returned to league next year.
"Since this broke, we've got two sponsors who've come to us and said 'can I have the number of (agent) Les Ross please because I want to sponsor Lote coming back to rugby league'," Holmes a Court said. "They're not sponsoring him at Souths. They're not Souths sponsors. They're people who want to get involved with Lote. "They're multi-nationals."
But NRL chief executive David Gallop said Souths' role in putting the companies in touch with Tuqiri would come under scrutiny. He said clubs introducing players to sponsors could be seen as "one way of getting around the cap". "There can be an artificiality to third parties doing that sort of thing, linked to one club. "Club X can say 'you're not a sponsor of us but you can pay this player'."
Holmes a Court and Ross met Gallop on Wednesday night with the participants insisting it was merely a briefing on mechanics of the salary cap. But it's understood Souths also want access to the NRL's stable of owners and sponsors, including News Limited, publishers of The Daily Telegraph, Channel 9 and Telstra.
A figure of less than $200,000 is involved but it's a mechanism - used to keep Andrew Johns and Mark Gasnier in the game - that rankles with some clubs. Gallop said: "We've done it before but the opportunities are not that widespread. Favourable treatment for Tuqiri would be the thin edge of a very nasty wedge for the game." The other two prongs in Souths' armoury are a $50,000 third party arrangement with a current Rabbitohs sponsor and convincing Tuqiri's current backers that moving to league would be in their best interests
Tuqiri Offer tabled
12th March 2007
South Sydney co-owner Peter Holmes a Court will this morning officially table his club's massive offer to Lote Tuqiri, a bold five-point plan to lure him back to league. Souths will reportedly offer Tuqiri a base contract worth $500,000 with the help of sponsorship agreements from Channel 9 and News Limited. Holmes a Court said four other companies - Reebok, a second apparel company, a car dealership and a financial services group - also want to financially aid Souths' offer. That, Holmes a Court believes, could take Souths' offer to around $1 million a season.
Souths' five-point plan to sign Tuqiri is as follows:
Lifestyle: Souths will point out Tuqiri would play seven matches in New South Wales playing rugby union and 20 playing rugby league. "He would be closer to his family," Holmes a Court said.
Life After Football: Souths claim the media companies involved in their bid would enable Tuqiri to have more chance of after-football employment.
Class Divide: Souths claim rugby union still has a "private school environment" not enjoyed by league players.
League v Union: Souths will tell Tuqiri he will have more ball in space playing league as a fullback or centre than the rare chances he receives in union.
Money: There is a gap between Souths' base offer of $500,000 and Tuqiri's potential earnings but Souths are adamant he should reach the $1 million a season mark.

"The offer will be culmination of all these facets," Holmes a Court said. "We always knew we would start from behind. "Rugby union has placed a deadline on this so they are determining the timeframe. But we believe the lifestyle option is significantly better in league than union. "We have shaken every tree. Had we had more time I'm sure Lote's advisor could have found more opportunities. "We just want to make sure we're there and have done the best we can. But rugby union has made Lote look bad at times. It hasn't all been about money. Lote has made that clear. "Lote had copped some flak but anyone who knows Lote, knows he isn't a greedy person." Asked about his media backers, Holmes a Court said: "Nine and News Limited would love to see Lote back in rugby league."

NRL chief executive David Gallop added: "It would certainly be nice to have him back but we won't be devastated if it doesn't happen."

Tuqiri has later chosen to stay with Rugby Union.
---