Telstra Stadium Rabbitohs Members Bar and Post Match Function
29th March 2007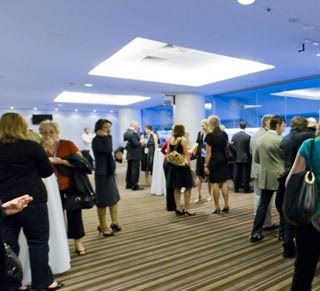 A new post match venue for this year is now in place at Telstra Stadium within the the Members Bar. It is a safe, enjoyable and enthusiastic environment where SSFC Members can enjoy time together socialising after the game. The post match SSFC Members area bar and reception will remain open for 90 minutes after the match for this purpose. The Members Bar is located on the North West Terrace, Level 2 West of Telstra Stadium. There will be an MC that will go over MVP, player stats, some great Club video footage (as it becomes available throughout the season), highlights from the previous match and of course conclude with highlights of the match just played.
There will not be any players available to appear after the match due to their rigorous warm down and recover sessions that last up to two hours after each game. Errol Alcott, Director of Athletic Performance, requests that fans understand that although they want to greet the fans after each game, the first priority must be in maintaining their peak physical condition and giving their bodies the greatest chance of recovering after each game, especially in regards to small injuries that can build up over time if proper warm downs and recoveries are not completed. We all know you want to meet and greet the players and we will have certain special opportunities at Fan Days throughout the year where you can meet the players, get signatures and share in the Pride of the League.
We thank each and every Member and fan for their continued support and ask that they double that support in the upcoming weeks and months by getting as many young, new and returning fans to come along to each and every game. Better yet, if you or your friends are not a Member, there is not a better time to be one. So join up, join others up and hold on because the ride has just begun!
---