Rabbitohs and CFMEU Working Together Again
8th May 2007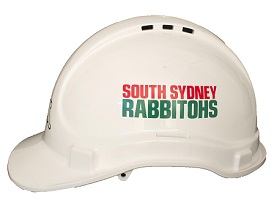 South Sydney Football Club Executive Chairman, Peter Holmes à Court, and Assistant State Secretary of the Construction, Forestry, Mining and Energy Union (CFMEU), Brian Parker, have 'buried the hatchet' to form a united front to help raise membership numbers for the South Sydney Rabbitohs. Mr Holmes à Court and Mr Parker have been working together to patch up any previous differences and to work on an offer for members of the CFMEU.
Mr Parker joins a number of high profile Members who have returned to the Club, including South Sydney great Bob McCarthy. "Brian and I have butted heads publicly in the past on a number of issues, more specifically relating to the ownership structure of the Club, but that is behind us now and we are working together to help bring the CFMEU and Rabbitohs connection back to where it was," Mr Holmes à Court said. "The team at South Sydney are working tirelessly to bring this club back to greatness both on and off the field. The work that the CFMEU members contribute to the projects and improvements in the broader South Sydney area matches these efforts. To this end, the CFMEU have thrown their support behind the Club again, with a great offer for CFMEU members who are, or wish to become, SSFC Members. Our Membership is up 15% on last year and we are pursuing various channels to further bolster our Member base. With the help of strong partners such as the CFMEU we know we can do that."
The offer Mr Holmes à Court speaks of is that every CFMEU member who is, or signs up to be, an SSFC Member will receive a free Rabbitohs Hard Hat. The Rabbitohs Hard Hats are made to Australian Standards in the red and green colours of the Rabbitohs, so all of those CFMEU members who wish to display their loyalty to the Rabbitohs on the job site can now do just that. Mr Parker says he hopes that all CFMEU members will consider this offer from the South Sydney Club. "I think this is a great initiative from Peter and his team and I hope all CFMEU members get behind the Club and become a Member of SSFC," Mr Parker said. "I can now see that the Club is moving in the right direction, and I hope that everyone connected with the Club who may have previously been against the involvement of Peter and Russell at this level, will now come back to the Club and help in its success. We understand more than anyone how important membership is to an organisation such as ours, and the South Sydney Football Club, and to be able to show the colours this way will look great on construction sites everywhere. I know I'll be wearing my Rabbitohs hard hat at every opportunity!"
CFMEU members who are already SSFC members simply need to provide both their membership cards at the new SSFC Official Merchandise Shop at 104 George Street (off Redfern Street) to receive their Rabbitohs Hard Hat. CFMEU members wishing to sign up for SSFC membership to take up this offer should contact Rabbitohs Membership Services on (02) 8306 9953 or membership@souths.com.au, or visit Level 1, 104 George Street, Redfern during normal business hours. Alternatively CFMEU members should come to the Rabbitohs home game against the Raiders 7:30pm this Saturday 12 May to take up the offer at the main merchandise outlet.
---