NFL College Coach Lloyd Carr Visits Redfern
15th May 2007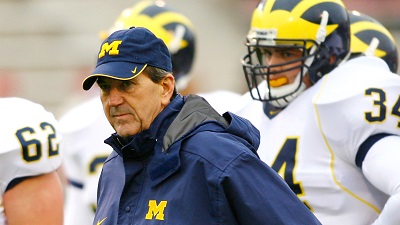 AZING up at a huge locker-room poster of John Sattler, Lloyd Carr shakes his head as he's told the story of a 1972 grand final so fierce the bloody Souths captain was chaired off with a ripped Rabbitohs badge and a broken jaw. "So the jaw is broken in this photo?" Carr asks. "Boy."
As a career coach of 28 years, Carr mentally stores the tale, perhaps to recall when he returns to his domain at the University of Michigan. Like any visiting American football coach or player, Carr is amazed by the ferocity of league and the absence of helmets. But the Sattler story is something else. "There is no question the thing I marvel at is the aggressiveness with which they play without pads. You have to understand, I grew up watching and playing with pads. It's part of your psyche. It's hard to imagine the game without them," Carr adds. But this week Carr has done just that, after spending seven days with Souths at the invitation of co-owner Russell Crowe. Most Australians have probably never heard of Lloyd Carr. Not unless you are a fan of American college football. There, in the wildly popular arena of US college sports, Carr is nothing short of a living legend.
As head coach of the University of Michigan Wolverines since 1995, Carr is the "winningest" college football coach in the States and as big a name as they come. Think Wayne Bennett in Brisbane. Then multiply by 20. In any given home game at Michigan Stadium, Carr can expect to see his 45 players and 20 assistants in front of a full house. The team has now had more than 200 of them in a row ? and the capacity of the stadium is a mere 112,000. Michigan football alone generates $50 million a year ? roughly a third of the entire NRL. So it's been a slight change of pace for Carr and two of his college stars strolling around Erskineville Oval this week, shadowing Souths coach Jason Taylor. "It was one of those wonderful surprises that life presents sometimes," Carr says of his trip.
"One day my assistant came in and said, 'Coach, Russell Crowe is on the phone'. I thought she was teasing." Crowe delivered Carr the spiel on his new Souths, and rugby league. Carr admits he knew "less than zero" on the game prior to the call but came to realise the similarity of the "history, community and tradition" of football at Michigan and Souths. Carr has sat in on training, video sessions and on Thursday delivered a talk on success to the side. "It comes down 'in business and sport' it begins with the kind of people you recruit. If you, the coach, surround yourself with good people who are passionate, who are unselfish, who are highly motivated, who are willing to be part of a team, you have a great chance to be successful," he summarises.
Carr says he is "highly impressed" with Taylor, who in turn said yesterday he had greatly appreciated the American's visit. "I've got a lot more out of it than I thought I would, actually," Taylor said. "Because he doesn't know the game, it's been more general. "Philosophical and personal things about coaching and winning, and consistency of success in a football environment. "He's been doing this for 28 years. It helps put the week-to-week highs and lows in perspective."
Apart from the no padding, Carr has picked up on the "high tempo" and conditioning of NRL footy. "The biggest surprise is that on TV the players look much bigger than they are, but they are much faster than they look like on TV," Carr said.
Two of his promising football stars, defensive end Jeremy Van Alstyne and fullback Brian Thompson, trained with the Rabbitohs squad this week. Though big and fast, the pair admit the fitness session left them gasping. "It was rough on us, I'm not going to lie. They showed us the ropes," Van Alstyne says diplomatically. Thompson added: "But if you are going to compare any game in the world to gridiron, it's league. "Running fast and hard and charging into people."
Carr and his players will watch the game tonight before heading home. With a few Souths recruits perhaps? "One of my goals is to get an Australian kid to Michigan. I will tell you this, there is no doubt there are a few kids here who could play American football," Carr says. "But I don't want to recruit 'em because Russell might get mad at me." At least not without padding.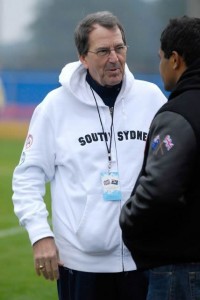 ---