There is plenty more to come – that's the message from the quietly spoken Nathan Merritt upon hearing last round's try against the Sharks was his 50th NRL four pointer in just 80 first grade games. In fact the unassuming Merritt didn't even know about the milestone until it was pointed out to him. "I knew I was close but didn't know that it was my 50th try," he said of his eighth try in 2007, another effort in which he showed his lightning speed, this time chasing down a Ben Rogers grubber. "It's good to know, but as long as I'm helping out the team and we are winning that is the main thing." Last season Merritt was the first player in the game's history to be the season's leading tryscorer despite playing for the side that collected the wooden spoon. The Rabbitohs have fared far better this season but things have been a big tougher for Merritt who scored seven tries in the opening seven rounds but had to wait until round 15 to celebrate his 8th try of the year. Merritt scored 22 tries in 24 matches last year. Of Merritt's 50 tries eight were scored for the Sharks when he played there in the 2004 and 2005 seasons. Merritt's tryscoring strike rate of 63 per cent compares very favourably with some of the other leading attacking players in the NRL. The leading tryscorer in 2007 North Queensland's Matthew Bowen has scored 79 tries in 146 career games at 54 per cent while the Broncos Justin Hodges has scored 63 tries in 126 at rate of one try every second NRL game. Storm whiz kid Greg Inglis has scored 28 tries in 43 games at a strike rate of 65 per cent. After his return to the tryscorer's circle Merritt said he would like to continue to pile on the four pointers. "It has been a little bit frustrating but things have turned around and hopefully that will continue," he said. "I would love to score a lot more tries before my career is out." Merritt has passed two other milestones this year. The 24-year-old Alexandria Rovers junior has notched up 250 career points and 200 points for the South Sydney Rabbitohs already this season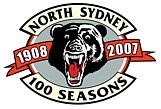 Reserve Grade - NSW Premier League - Round 15
v Cronulla-Sutherland, North Sydney Oval, Sat Jun 23
WIN 31-12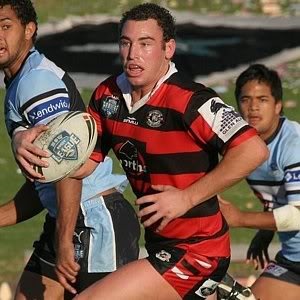 A great win to Norths 31-12. The starting line-up was as per programme, although Fetuli Talanoa was wearing the number 23 jersey. Conrad Ta'akimoeaka, Ben Lowe, Lawrence Enosi and Eddie Paea (who played hooker) were the 4 bench players. Ben Lowe was playing his first game after signing mid week in a Qld Cup transfer. Norths scored first when Beau Champion put Yileen Gordon through. It looked like Gordon would be tackled short but he managed to get the ball over the try-line. Joe Williams converted. Fifteen minutes later Eddy Pettybourne broke through the middle and scored. Joe Williams converts. Cronulla hit back a few minutes later. Just before halftime Joe Williams kicked a field goal to extend Norths lead to 13-6 at half-time. Cronulla narrow the gap to 1 point when they score just after halftime. Jardine Bobongie is able to score from a great offload by Beau Champion. Joe Williams converts. Cronulla do a poor pass in the mid-field and Ben Lowe races up to put pressure on and manages to get the ball and he passes out to Troy Boston who races 40m to score. Joe Williams converts. Norths score again through Grant from a grubber by Joe Williams. Williams converted the try. It was a strong performance overall by the team after a string of losses. They went close to scoring a few other times but the referee disallowed them. They defended well when Cronulla were in possession.

 5 min  6-0
20 min 12-0
22 min 12-6
39 min 13-6
43 min 13-12
50 min 19-12
65 min 25-12
72 min 31-12

Y.Gordon, Boston, Grant, Pettybourne, Bobongie tries
Williams 5 from 5 goals
Williams fieldgoal

Final Line Up
                             T  G/A  FG
Flbk - Simmonds, Reece       -  -     -
Wing - Talanoa, Fetuli       1  -     -
Cntr - Gordon, Yileen        -  -     -
Cntr - Nicholls, Greg        -  -     -
Wing - Boston, Troy          1  -     -
5/8  - Champion, Beau        -  -     -
Half - Williams, Joe         -  5/5   1
Prop - Grant, Luke           1  -     -
Hook - Irvine, Daniel        -  -     -
Prop - Falemaka, Joe         -  -     -
SRow - Pettybourne, Eddy     1  -     -
SRow - McPherson, Shannon    -  -     -
Lock - Bobongie, Jardine     1  -     -

Int  - Ta'akimoeaka, Conrad  -  -     -
Int  - Lowe, Ben             -  -     -
Int  - Enosi, Lawrence       -  -     -
Int  - Paea, Eddie           -  -     -

                             5  5/5   1

Other Reserve Grade Matches

28-26 Hens Canterbury b Newtown      (Rescheduled Rd 13 match played mid week)



Jack Gibson Shield - A Grade Distrist Challenge
v Cronulla-Sutherland, Stadium Australia 12:05pm
WIN 8-4
The Cronulla Sutherland Jack Gibson Shield team, a side made up of local district A Grade players, have gone down by just 8-4 to Souths in a match played at Telstra Stadium in the curtain raiser to the Sharks v Souths match. In slippery conditions, the Cronulla team battled hard but were unable to breech their opponent's defence, with Souths surviving a few anxious moments late in the game before holding on for the win. The only score of the first half came courtesy of a try to De La Salle centre Matt Sears who gladly accepted a fumble from the Souths winger to touch down out wide. As a result the Cronulla side were able to go into the break with their noses in front. The second half however started badly from Cronulla, with Souths going over for two tries in the first 10 minutes of the half to grab an 8-4 lead, an advantage which, despite the best efforts of the Sharks, they would be able to hold until the finish. Due to his recent ill-health, Jack Gibson, the man the after which shield contested by the two junior leagues is named, was unable to attend the match. Gibson coached both Cronulla and Souths during an illustrious coaching career.


Cavanna, Falemanu tries
no goals


---