Kidwell Seasons Over
9th April 2007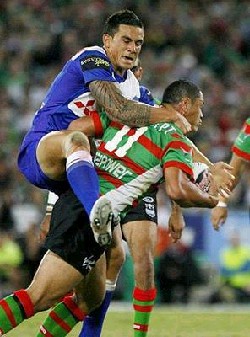 South Sydney co-captain David Kidwell expects to miss the rest of the NRL season after a freak accident at his Sydney home. Kidwell fell over his two-year-old daughter, Zali, at a family barbecue last night and Rabbitohs medical staff believe he has ruptured both the medial and cruciate ligaments in his left knee. The 29-year-old will have scans tomorrow which are likely to confirm he will require season-ending surgery. "That's definitely my season," Kidwell said. "I'm pretty shocked. Ten years of first grade and no knee problems and something like this happens at home. "But I'm a positive person and I will come back from this bigger and better next year." The loss of Kidwell will be a massive blow to the Bunnies who had started 2007 with three successive wins.
As disappointing as it is that we may have lost David Kidwell for the season playing wise, we look forward to David continuing his leadership role off the field. A blow such as losing a player of David's calibre in the past may have been fatal, but not so with the new Souths. The depth we have is excellent and to be able to bring a player of Joe Galuvao's calibre into the side is a great example of our depth. Joe was not in the top 17 because his form was poor; quite to the contrary; it was the fact that other players' form had been so good. Joe has played well in Premier League and has earned his chance. David'd injury has given Dean Widders the opportunity to start and I know he is excited by the opportunity. Similarly, Yileen Gordon has got the start due to Paul Mellor's injury. Yileen's pre-season was interrupted by an ankle injury but anyone who has seen him play in Premier League, or at training, can vouch for the fact that he is in the best condition of his career. The clash between Yileen and Adam MacDougall will be worth the price of entry alone! Finally, Jaiman Lowe's elevation is a tribute to his form in Premier League and the fact that the coaching staff is monitoring that form closely. So in summary, we are pushing ahead and looking forward to the challenges. Our recruitment strategy has been to ensure we have more depth than we have had in the past. It will be a challenge without David but one that we are equipped to handle. Can't wait for Newcastle on Sunday! Shane Richardson, Chief Executive Officer.
12th July 2007
A Potentially deadly golden staph infection has crushed David Kidwell's bid to return for South Sydney this year. The devastating news of Kidwell's setback emerged just hours after Rabbitohs coach Jason Taylor had addressed senior players on the club's decision to dump former New Zealandstar Joe Galuvao to the Queensland Cup. After injuring his left knee in a freak accident while playing with daughter Zali in April, Kidwell was expected to miss the rest of the season. But the inspirational Rabbitohs co-captain never lost sight of returning to help break Souths' 18-year finals absence. Kidwell was on track to begin running again two weeks ago, when doctors noticed unusual "swelling and hardness" in his injured knee. The condition was quickly diagnosed as a golden staph infection - the ailment that saw St George-Illawarra back rower Dean Young miss the entire off-season's training. "It was caused by the screw in the knee and the doctors had to operate to take out the screw," Kidwell, 30, said. "They diagnosed the infection as golden staph and I'm still on antibiotics. It's another setback and there's basically nothing I can do about it. "I'll just have to keep going and hope to be back in time for next year." While he was not relying on Kidwell to return this year, Taylor explained the Kiwi star's positive effect on his younger men. "David was training with a few of the younger guys who are out with knee injuries and he was having a really good effect by showing them the value of not giving up, of ripping in," Taylor said. "His attitude in trying to make it back was rubbing off on everyone else."
---