2007 NRL Premiership - Round 18
South Sydney v Parramatta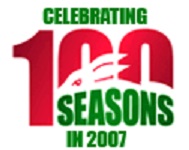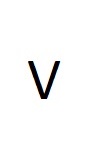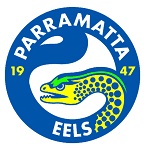 Parramatta Stadium
Sun Jul 15, 5:30pm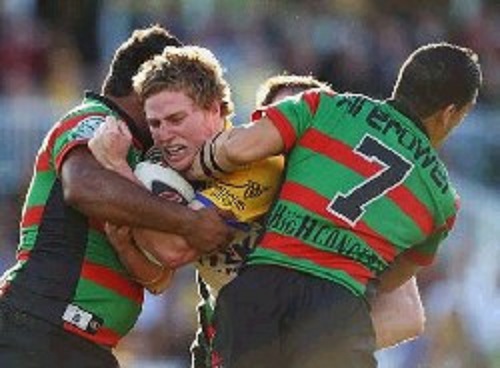 LOSS 12-18
The South Sydney Rabbitohs nearly stole the game, in the final minute of play, away from the Parramatta Eels at Parramatta Stadium today (Sunday), when 15,202 fans watched the home side record an 18-12 win. The Eels led at half time 14 points to nil, having taken advantage of a lion's share of the possession and the field position, but the Rabbitohs fought back in the final ten minutes of the game, nearly taking the game into extra time. It was a tight game early with penalties being traded between the teams, therefore making for an end-to-end battle. Luke Stuart pulled off a try-saving tackle on Mark Riddell in the sixth minute of play, and the Rabbitohs were standing very deep in attack trying to give their outside backs some room to move. The Rabbitohs' kicking game was very effective, something which couldn't be said for the Eels in general play. But the Eels hung on to win 18-12. The Eels took first points when Krisnan Inu kicked a penalty goal in the 13th minute. In the 21st minute, the video referee awarded a try to Nathan Cayless, when a Brett Finch bomb was spilled by Inu but cleaned up by Cayless to touch down. Inu's conversion stretched the lead to eight. Five minutes later Timana Tahu scored next to the uprights, beating four defenders to post the four-pointer. Inu converted again to give the home side a 14-nil lead which they carried to the break. The Rabbitohs looked like breaching the Eels' line late in the half except for a try-saving tckle by Eric Grothe on Jaiman Lowe. The Rabbitohs defended stoutly in the first stanza, except during the Tahu try, and performed well to be down only 14-nil at the intermission. The Eels were camped in the Rabbitohs half for the first 40 minutes, with the Rabbitohs lax ball-control letting them down more often than not. The Rabbitohs were the first to strike in the second half, making the most of three repeat sets on the Eels' line when Shane Rigon crossed for his first try for the season in the 51st minute, burrowing through three defenders to score from dummy half. The video referee gave the try the green light with benefit of the doubt. Nathan Merritt converted to reduce the margin to eight. The Eels struck back 11 minutes later when Joel Reddy scored in the left hand corner, taking advantage of the numbers they had created on the left hand side. The Eels had extended their lead to 12 but the Rabbitohs weren't out of the game with 17 minutes still remaining. Grothe was denied a try in the 67th minute when he spilled a bomb over the line. Then Nigel Vagana pulled out a try-saving ankle tap on a rampaging Fui Fui Moi Moi in the 71st minute to stop another Eels' four-pointer. The Rabbitohs had a sniff of hope in the 75th minute when try-machine Nathan Merritt crossed for his tenth try of the season. Ben Rogers made a long break up the middle of the ruck and set up Merritt on his outside to score. Merritt converted to bring the Rabbitohs within six with only four minutes on the clock. Brett Finch missed a field goal attempt with only two minutes left. The Rabbitohs threw the ball around and made 80 metres downfield to set up an exciting last 90 seconds. The Rabbitohs went close with Manase Manuokafoa being held up over the line with only 37 seconds left, and the Rabbitohs couldn't cross to take the game into extra time. The Rabbitohs showed great resilience to be in the game at the death, considering the weight of possession and field position in favour of the Eels. Roy Asotasi carried his team forward and Ben Rogers sparked the attacking raids in the final ten minutes. Jaiman Lowe has suffered a hand injury which will require an x-ray early this week, and Stuart Webb has sustained an ankle injury that will be monitored.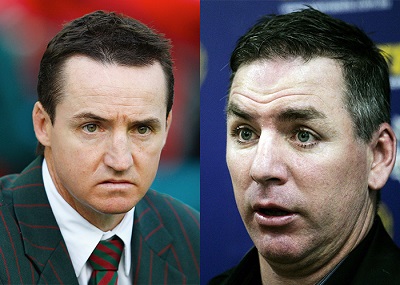 Rival coaches Michael Hagan and Jason Taylor were involved in a heated, in-your-face confrontation laced with expletives that questioned each other's coaching ability after Parramatta knocked off South Sydney at Parramatta Stadium yesterday. The verbal brawling later extended to include chief executives Denis Fitzgerald and Shane Richardson, with Fitzgerald declaring that Taylor's outburst was an example of the "immaturity and petulance" that swayed the Eels not to offer him the job there for this year. Taylor took over as coach of the Eels midway through last season, replacing Brian Smith, who had resigned. But the then Newcastle coach, Hagan, already had the Eels job for this year. Smith had the coach's position at Newcastle tied up and Taylor got the job at Souths. As he entered the post-match media conference, Taylor was still yelling at Hagan, who was 15 metres away. Taylor was asked at the conference to shed light on what had happened, but declined. There was no shortage of witnesses and they painted an explosive picture of what had gone on. Souths had been denied permission to do their pre-match warm-up on the training field immediately behind the southern end of the stadium and as Hagan left the area of the media conference and Taylor came past, the feathers flew. "He asked me how our warm-up was and I said, 'Good thanks. How was yours?' " Hagan said. "It escalated from there." Witnesses told the Herald that Hagan had said to Taylor, "We won without Joey," in reference to a line from Taylor last year about Hagan's record of rarely winning without Andrew Johns at Newcastle. Taylor said soon after, "How f---ed are you? You're living off what Brian Smith built here while he's up in Newcastle trying to rebuild what you f---ed up". Hagan was also heard to tell Taylor, "Why don't you work on catching the ball instead of wrestling all f---ing game?". Taylor also said, "Thanks for the f---ing warm-up." Parramatta five-eighth Brett Finch couldn't resist adding a line as he left the Eels dressing-room, saying: "He [Taylor] didn't have oranges at half-time, he had sour grapes." Taylor did a great job in lifting Parramatta to the finals after Smith's mid-season departure last year and had been keen on getting the Parramatta job. Fitzgerald claimed yesterday that it was Taylor's attitude that cost him. "I thought it was a display of immaturity and petulance by 'JT'," Fitzgerald said. "I think it was a big build-up for him, coming back here to Parramatta today, and the immaturity he showed is one reason he didn't get the job here." Taylor was later asked again, as he was leaving the ground, whether he wished to say more, but again declined. "I don't want to say anything," he said. Richardson took up the baton then, firing back at the Eels for allegedly going back on an agreement to let Souths warm up on the field behind the stadium and answering Fitzgerald's criticism of Taylor. "We made arrangements to warm up on the top field and when we got up there to warm up they said no," Richardson said. "We had done the right thing. It was a slap in the face from Parramatta. It isn't about what happened last year [with Taylor not getting the Eels job]. It's a matter of courtesy. They said we could warm up on the main field, but we never wanted to do that. The guys had to jump the fence and warm up on the cricket pitch to the west of the stadium. "As far as what Denis said about JT is concerned, I thank my lucky stars every day when I wake up that Denis got rid of him because of his supposed petulance, because what he's actually got is a tremendous will to win and he's the best thing that has happened to Souths for a long time." NRL chief operating officer Graham Annesley said he would ask for a report on the incident today. "From what I have been told there was some sort of verbal exchange but I am not aware of the full details or what was said, so it is something we will seek to find out," he said.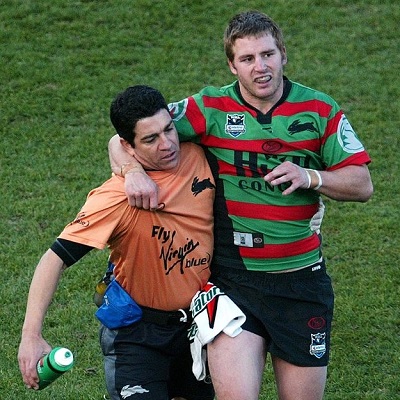 Hooker Stuart Webb may have played his last game for Souths after he was ruled out for the rest of the season after suffering ankle ligament damage against Parramatta last Sunday.

HT    
Rigon, Merritt tries
Merritt 2 from 2 goals

Crowd      15,202
Referee    T.Archer

Penalities  9-8
Scrums      7-8

           Min Tac Pe MT LB HU DR   m Er OL  K
Peachey     80   6  -  3  1  9  - 107  3  -  -
Merritt     80   9  -  3  -  7  1  42  1  -  1
Vagana      80  23  2  1  -  7  1  69  -  2  -
Hegarty     80  15  -  -  - 11  7  86  1  4  -
Mellor      80   4  -  2  - 12  2  89  -  3  -
Rogers      80  20  1  3  1 10  -  99  1  2  2
Smith       80  18  1  8  -  8  2  60  -  2  5
Cusack(c)   56  26  -  2  1 10  -  92  -  1  -
Webb        33  20  -  1  -  3  3  27  -  -  1
Asotasi(c)  80  36  1  2  - 15  - 132  1  1  -
Stuart      51  26  -  2  - 12  - 102  1  -  -
Faalogo     68  25  1  3  - 10  -  68  1  1  -
Widders     57  28  -  1  -  7  -  52  1  -  1

Rigon       47  20  -  1  1  7  5  53  1  -  1
Gordon      35  14  1  2  - 11  -  91  1  1  -
Manuokafoa  41  23  -  1  - 11  -  89  1  1  -
Lowe        12   5  1  1  -  4  -  30  -  -  -

TOTAL          318  8 36  4           13 18 11

Completion Rate - 25/38


Other FG Matches


Judiciary News
Rabbitohs halfback Jeremy Smith will miss this Sunday's game against the Cowboys after submitting an early guilty plea to a grade one striking charge. Smith was charged by the NRL match review committee with striking the head of an Eels player in the 11th minute of last weekend's game won 18-12 by Parramatta. As a result of the early guilty plea Smith received 112 penalty points, which means he will miss the Cowboys game through suspension (100 points equals a one game suspension) and he will have 12 carry over points.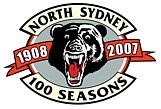 Reserve Grade - NSW Premier League - Round 18
v Canberra, Bruce Stadium, Sun Jul 15 12:00pm
WIN 30-26
Late Changes Simmonds, Sutton were out. The North Sydney Bears fought back from behind three times in the second half to record a 30-26 win over the Canberra Raiders at Canberra Stadium. The winning try was scored in the corner by Beau Champion just two minutes from fulltime, and converted by Joe Williams to maintain his 100 percent record for the afternoon. There was not much between the sides all match. Canberra took a 6-0 lead after ten minutes, but the Bears equalised midway through the half following a try by Troy Boston and took the lead after 30 minutes when Conrad Ta'akimoeka was put through a gap by Joe Williams. At half time, North Sydney led 12-6. The Raiders got the first two tries of the second half, both unconverted, to take a 14-12 lead. At the 20 minute stage, The Bears got possession from a scrum on their 10 metre line. Two tackles later, and North Sydney moving the ball well, XXXXX made a great break down the far side. With players in support, he put a nicely weighted kick into the in goal. Isaac Gordon (I think) won the race to the ball to score just beside the posts to regain the lead for the Bears, 18-14. Just when it looked as if North Sydney was getting on top, a simple knock on at dummy half put the Bears under pressure almost immediately. The scrum packed at half way and the Raiders scored three tackles later. However, the Bears did not lie down. With ten minutes to go, they were attacking the Canberra line. Strong runs from Michael Greenfield were troubling the Canberra defence. A kick behind the line of defenders resulted in an in goal scramble which the Raiders failed to clear, and Ben Lowe scored near the post to help North Sydney regain the lead 24-20. Norths look set to score almost immediately when Champion made a great break, but the final pass was loose, and Canberra gathered possession. Had it been clean, Isaac Gordon would have run 40 metres to score. Canberra again went ahead just eight minutes from time, with some woeful defence near the line. Only minutes remained and it looked as if the Raiders had done enough, but again Norths hit back, and Champion finished off a fine attacking move by scoring in the corner. But it wasn't over yet. North Sydney almost threw it away when Canberra opted for a short kickoff, and Norths played at the ball before it went the required 10 metres. From the resulting penalty, and another just 11 seconds from time, the Bears were under immense pressure. The clock showed 4 secs remaining, and Canberra threw the ball wide only to see the winger bundled into touch as the siren went. The North Sydney team went wild, and it was a great win for the Bears, a game where they stood up and showed that they are contenders for action in September. The win leaves North Sydney just out of the eight on points difference.

 9 min  0-6
17 min  6-6
31 min 12-6
47 min 12-10
51 min 12-14
59 min 18-14
63 min 18-20
68 min 24-20
72 min 24-26
78 min 30-26

I.Gordon 2, Boston, Champion, B.Lowe, Ta'akimoeaka tries
Williams 5 from 6 goals

Final Line Up
                             T  G/A  FG
Flbk - Talanoa, Fetuli       -  -     -
Wing - Gordon, Issac         2  -     -
Cntr - Paulson, Germaine     -  -     -
Cntr - Nicholls, Greg        -  -     -
Wing - Boston, Troy          1  -     -
5/8  - Champion, Beau        1  -     -
Half - Williams, Joe         -  5/6   -
Prop - Geddes, Scott         -  -     -
Hook - Irvine, Daniel        -  -     -
Prop - Falemaka, Joe         -  -     -
SRow - Lowe, Ben             1  -     -
SRow - Pettybourne, Eddy     -  -     -
Lock - Bobongie, Jardine     -  -     -

Int  - Ta'akimoeaka, Conrad  1  -     -
Int  - Verlinden, Ryan       -  -     -
Int  - Greenfield, Michael   -  -     -
Int  - Wynyard, David        -  -     -

                             6  5/6   -

Other Reserve Grade Matches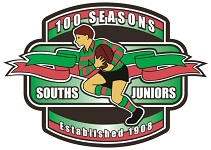 NSWRL Jersey Flegg - Under 20's - Round 18
BYE


Other U20 Matches

10-12 NSO  Manly     b Norths   (Rd13 postponed match)



Midweek - July 18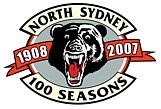 Reserve Grade - NSWRL Premier League - Round 13 - Postponed Match
v Penrith, North Sydney Oval, Wed Jul 18
WIN 34-16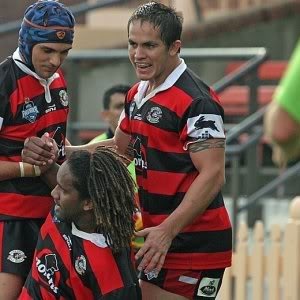 Norths won Premier League 34-16. Norths were leading 10-nil at the break after Isaac Gordon finished off two backline movements, first in the 13th minute and then in the 35th minute. Joe Williams converted the second try. Norths had a great first 10 minutes to the second half. Beau Champion scored after a strong run and then offload from Scott Geddes. Reece Simmonds scored from a great ball by Beau Champion. And Troy Boston scored in the right corner after good lead up work from Yileen Gordon and Jardine Bobongie. Joe Williams converted the Champion and Simmonds tries to give Norths a 26-nil lead in the 50th minute. In the 59th minute Joe Williams kicked a penalty goal (and i have no idea why we took a shot at goal when we had such a big lead). Then in the 63rd minute Troy Boston scored a great try when he managed to get the ball and race about 80m down field, outsprinting the cover defence to score in the left corner (the opposite side to where he got the ball). Norths maintained their 34-nil lead until the final 10 minutes of the match where Penrith scored 3 tries. Final score 34-16.

13 min  4-0
35 min 10-0
42 min 16-0
46 min 22-0
50 min 26-0
59 min 28-0
63 min 34-0
70 min 34-6
74 min 34-12
78 min 34-16

I.Gordon 2, Boston 2, Champion, Simmonds tries
Williams 5 from 7 goals

Final Line Up
                             T  G/A  FG
Flbk - Simmonds, Reece       1  -     -
Wing - Gordon, Issac         2  -     -
Cntr - Paulson, Germaine     -  -     -
Cntr - Gordon, Yileen        -  -     -
Wing - Boston, Troy          2  -     -
5/8  - Champion, Beau        1  -     -
Half - Williams, Joe         -  5/6   -
Prop - Geddes, Scott         -  -     -
Hook - Irvine, Daniel        -  -     -
Prop - Falemaka, Joe         -  -     -
SRow - Lowe, Ben             -  -     -
SRow - Greenfield, Michael   -  -     -
Lock - Bobongie, Jardine     -  -     -

Int  - Ta'akimoeaka, Conrad  -  -     -
Int  - Verlinden, Ryan       -  -     -
Int  - Wynyard, David        -  -     -
Int  - Baird, Bladen         -  -     -

                             6  5/6   -


---