Craig Wing Signs and Returns Home for 2008-11
20th July 2007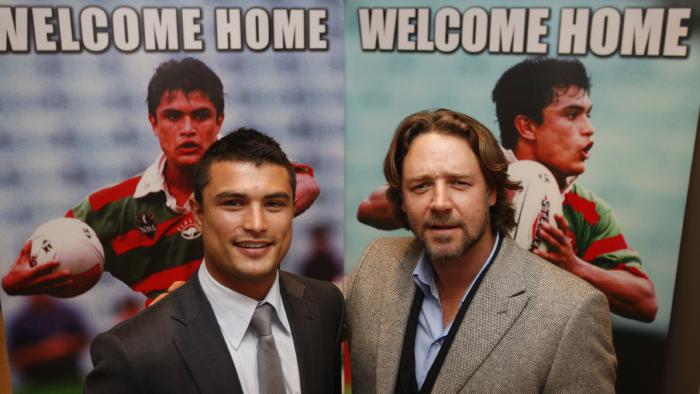 One of the leading players in the NRL Craig Wing will return to the Rabbitohs in 2008 on a four season deal. Wing, 27, came up through the junior representative grades with the Rabbitohs and burst on to the NRL scene in 1998 and 1999 with South Sydney, playing 41 first grade games for the Rabbitohs prior to the Club being omitted from the NRL competition in 2000 and 2001.The NSW and Australian representative has played 217 NRL games in a glittering career which has featured four grand finals including a premiership win in 2002. A Coogee Randwick junior from the South Sydney Juniors stable, Wing has represented Australia in 16 Tests from 2002 to 2005 including a Kangaroo Tour in 2003 and Tri-nations tournaments in 2004 and 2005. He has also represented NSW on 10 occasions from 2003 to 2006, and City Origin in five matches in 2001, 2002, 2003, 2006 and 2007. Craig was the 933rd first grade player for the Rabbitohs.
"To be able to bring home one of the best players the South Sydney Juniors have ever produced is a testament to where our Club is placed at the moment," Rabbitohs CEO Shane Richardson said. "Craig is one of the most talented players in the game today and can play in a number of the key positions on the field, be it five-eighth, halfback or hooker. He's even represented in the centres, so he is the ultimate utility player with the experience that we need to guide our side around the field each week. It is also a tribute to Craig that he has asked to return to the Rabbitohs after many years of success with his current Club, and we look forward to welcoming him back in to a red and green jersey for the 2008 season. The Roosters rushed out an announcement earlier this week that had a number of mistakes in it and claimed that Craig was a promising junior when he joined them. In reality he was already a seasoned first grader with the Rabbitohs when he was forced to leave."
Wing said he was looking forward to returning to the Rabbitohs. "I'm very excited about it, actually I'm trying not to get too excited about it," he said. Craig Wing described his impending return to South Sydney as "destiny" after accepting a personal invitation from Rabbitohs co-owner Russell Crowe to rejoin the fold. Wing today put pen to paper on a four-year deal which will see the Sydney Roosters hooker return to the club where he made his NRL debut in 1998. The 27-year-old was unveiled as a Rabbitoh at a lavish gathering at Sydney Airport today, which came fully equipped with a one minute highlights package from his junior days with the Coogee Wombats. Wing revealed he gave serious consideration to accepting an offer to switch to rugby union before electing to join Souths. "I was close to going somewhere else but I really had to know in my heart the Rabbitohs didn't want me," Wing said. "As it turned out, it wasn't true. "I do see it as my destiny to finish in the red and green."
Wing thought he had dashed all hope of ever playing in the famous jumper, the jumper he last wore on the steps of Sydney Town Hall during a rally to help get the Bunnies re-admitted to the competition. When Souths were allowed back into the competition in 2002 Wing was already starting to carve out an impressive career with the Roosters. He had a clause in his contract allowing him to return to Souths if they were re-admitted, but he elected not to exercise it - a move he thought put paid to any future return. "I was under contract with the Roosters and I had an option to go back, but I always had in my mind that I was going to fulfil that contract," Wing said. "I was always re-signed by the Roosters well before I came off contract and it never really became an option. "I was led to believe that there wasn't an opening (at the Rabbitohs) but I had to find out for myself." So he rang co-owner and Hollywood star Crowe, who today recalled his conversation with Wing.
"He said 'when I left in 1999 I said that if Souths get back in the competition I'll come back and play for Souths, all you have to do is ask, but it's been eight years now and nobody's asked.' "There was a little bit of silence and I said 'Craig, would you like to come play for South Sydney?' And he said yes."
Wing, who went on to represent NSW and Australia during his stint with the Roosters, is likely to play in the halves at the Bunnies. Despite playing hooker for most of his tenure at the Roosters, Rabbitohs coach Jason Taylor forecast a move out of the pack. "Nothing has been locked in but he will be coming to Souths as more than just a hooker ... the options are open there," Taylor said. "He's won a grand final at halfback so playing in the halves at out club is a a big option for us."
Crowe described Wing's signing as equal in significance to the club's snaring of prop Roy Asotasi last year, and was hopeful that it would lead to more South Sydney juniors returning to the club. "Very definitely - if anybody's got Reni Maitua's phone number just drop it on the desk," Crowe said
---