Souths call for league summit
26th July 2007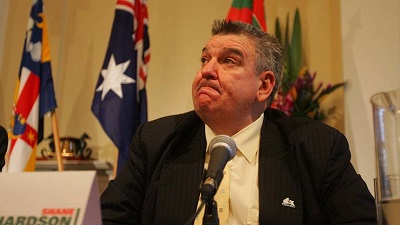 South Sydney chief executive Shane Richardson has upped the ante in his bid to drive rugby league towards a single administration with a call for a summit of key stakeholders involved in the game - including those most at risk of losing their power. Following revelations that a group of clubs - Souths, Brisbane, Wests Tigers, St George Illawarra and the Storm - were pushing for an AFL-style commission to assume control of the game, Richardson also backed NRL chief executive David Gallop to continue running the game if it agreed to come under the single banner.
"I'd like to see a clear road forward to the game having its independence," Richardson said yesterday. "We need to have a summit, with the people and organisations that matter in the game all being represented. I'm talking about the NRL clubs, the ARL, the states, country league, indigenous groups, News Limited and other media, if they wanted to be involved - and the fans. "The best model for league to go forward is with one executive board to run it. Some people want to criticise the English Super League, but they are making profits every year, and that's because they made all of these hard decisions several years ago."
Whether one of those hard decisions involves News Ltd's exit from the game remains unclear - although Brisbane chief executive Bruno Cullen and his Parramatta counterpart, Denis Fitzgerald, last night said the media giant should not and could not be removed from the game. Apart from sharing ownership of the NRL with the ARL, News Ltd owns the Storm and Cowboys and is a majority shareholder in the Broncos. "I know we are a club that's owned and controlled by News Ltd, but that doesn't sway my opinion," Cullen said. "Personally, I don't think the game can afford News to get out now. They bring stability and integrity to the game. "I do agree that the structure of the competition is very dated and cumbersome. There needs to be one administration - not the ARL and the NRL. But News Ltd must stay involved ?"
There have been rumblings in league circles for some months that News Ltd would hand over control of the game next year - in the game's centenary season - as a goodwill gesture. But Fitzgerald scoffed at the idea. "It won't happen at the end of this season and it won't happen at the end of the next," he said. "I certainly think they should move that way. But News is too heavily involved to get out now. And to be honest, it is News Ltd's decision. They will do what they want." Asked if he backed Richardson's call to arms for a summit involving the game's stakeholders, Fitzgerald said: "No. There's too many stakeholders, and it wouldn't achieve anything." Richardson said he believed News Ltd would be prepared to withdraw from the game if it felt it was in good hands.
He was adamant that getting the key people involved in the game to discuss the situation face-to-face was the only way forward. "Clandestine meetings and stabbing people in the back doesn't help," he said. "Open and frank discussion does. I'm not putting any time limit on when I think a summit should be held, because these things aren't easy to try to pull together, and if it was as big as it needed to be then it would probably take several days to run, but the sooner the better, obviously."
Gallop said: "I've not heard of any summit. If all the game's stakeholders wished to have a meeting then we would arrange that. But it would need to be something that everyone is comfortable with, rather than a small group."
---