Crowe loves Dean Widders
2nd August 2007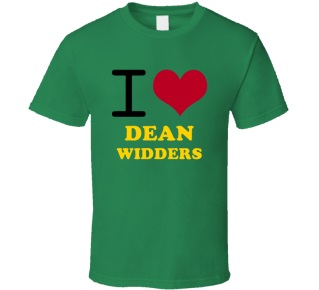 Gladitorial movie star Russell Crowe introduced a "love-in" to South Sydney's early-season training in an attempt to inject passion to the battling team. Crowe, part-owner of the club with multi-millionaire businessman Peter Holmes a Court, told the players "love will make the difference" and then singled out forward Dean Widders for a hug. "I love you, Dean Widders," said Crowe, who went on to extol the virtues of the footballer.
"I totally, fundamentally believe this (love) is my core," the actor told the players. "The thing that will make the difference is love . . . actually accepting the family environment, the brotherhood. I don't see everything has to be about crash, bash and negativity. We're going to achieve a lot more if you actually have higher ideals." The Rabbitohs bonding session makes interesting viewing in the second episode of the ABC documentary South Side Story that debuts on Tuesday night. The six-part series follows behind-the-scenes developments within the famous club as it reinvents itself under private ownership.
Holmes a Court yesterday admitted he and Crowe had "taken some risks" and used unconventional methods to revitalise the club. "We were prepared to talk to the players about some things that were relatively unconventional," he said. "You mention the word 'love', and it's a pretty charged word. "But it's the best word for what these guys feel for each other after playing together and going through what they do. We had to establish bonds and build attitude quickly to become competitive." Holmes a Court, who admitted the first year of ownership had been much more difficult than he envisaged, said the players had responded well to a cultural change. "It has been an extraordinary experience in that regard, when you think about the clash of cultures that has come. We've dressed our guys in Italian suits and they've embraced that whole concept," he said. "Their involvement in the community has increased dramatically, and we've not had an incident of misbehaviour off the field.
"We think the players are the stars and should be celebrated. "It's giving them respect as sports people and they've embraced that. We started the ball rolling, but now it's in the hands of the players and coach.
"Only yesterday the players had a function with 50 former players for a few beers and a chat on what it means to play for Souths. That initiative came from the present players."
Souths tough men headed by John Sattler say they were stunned by Oscar winner Russell Crowe's attempt to revive the club by telling players he loved them. "It's a lot of bull***t," Sattler said. Souths stars who lived through eras when physical force rather than love was the weapon of choice, were stunned. "Imagine me walking up to John O'Neill (another Souths iron man) and saying I loved him and giving him a hug. "He'd run. We had coaches like Clive Churchill and Bernie Purcell. "They never said they loved us even when we won four premierships."
Crowe says his support of Souths dates back decades and his push to take over the club was sparked by a request for $100,000 to pay club wages.
---