Manese Manuokafoa has been drafted into the Souths squad as suspended David Fa'alogo's replacement. But Jason Taylor is unsure who is going to start at this stage. While Kidwell has been again training with the squad this week as he continues his recovery.
The South Sydney Rabbitohs have bowed out of the 2007 premiership race with the Manly-Warringah Sea Eagles winning the third qualifying final 30 points to 6 in front of 19,785 fans at Brookvale Oval. The Rabbitohs fought bravely throughout the match but a slick Sea Eagles side made the most of their opportunities to earn a week off in the second week of the finals. The game started at 100 miles per hour with both teams ripping in early. The Rabbitohs got the better of field position in the opening exchanges courtesy of some solid hit ups from the forwards and some infringements by the Sea Eagles. The Rabbitohs posted first points through five-eighth Joe Williams kicking a penalty goal in the eighth minute of play. The Sea Eagles were denied two tries by the video referee, with desperate South Sydney defence and some Rabbitohs luck holding them out. In the 12th minute Steve Menzies was tackled centimetres short of the line and one minute later Brett Stewart was denied when the ball hit the referee in the in-goal area. Menzies wasn't to be denied for much longer, crossing the stripe in the 16th minute. He split Joe Williams and Ben Rogers in defence to score a good individual try. Matt Orford converted to give the Eagles a six-two lead. In the 18th minute Rabbitohs hooker Shane Rigon was knocked out when his head came into contact with Jason King's arm whilst affecting a tackle. The Rabbitohs endured a mountain of pressure in the first 25 minutes of the game, and then they started to apply some pressure of their own. In the 28th minute, centre Nigel Vagana smashed Manly replacement forward Jack Afamasaga on his own line, jolting the ball free and saving a certain try. David Kidwell made his return to the field in the 29th minute, showing plenty of aggression with his torrid defence and powerful runs. Neither side could cross for the remainder of the half, leaving the scores at six points to two at the break. For the Rabbitohs, John Sutton was looking particularly dangerous on the right hand side, and Roy Asotasi and Luke Stuart were making good metres up the middle. Issac Luke added some spark when he entered the play, Michael Greenfield got through plenty of work and the Rabbitohs were doing well to only be down by four points at the break. They gave the Sea Eagles too much ball and too much field position, putting themselves under pressure. For Manly, Adam Cuthbertson was making good metres and Matt Orford looked dangerous with ball in hand. The Rabbitohs started the second half in fine fashion, scoring in the 44th minute through veteran winger Paul Mellor. Joe Williams called the ball left then kicked right towards Mellor's wing, with Mellor leaping over the top of Michael Robertson to score. Manly struck back seven minutes later when second-rower Anthony Watmough scored to the right of the posts. Menzies offloaded and gave Watmough some space, slipping on the outside of Issac Luke to cross. Orford converted to give the home side a six-point advantage with 28 minutes left on the clock. In the 58th minute of play, Matt Orford went down he ran into the back of Ben Rogers. Rogers was penalised for a late tackle, when clearly Orford ran into him. The penalty was given on the back of a touch judge report which seemed to come from crowd reaction more than the incident itself. On the back of this penalty, the Sea Eagles scored through fullback Brett Stewart. The field position given from the penalty and the following repeat set gave the Eagles the perfect opportunity to score and they took it. Matt Orford converted to give the Sea Eagles an 18-six lead with 17 minutes left on the clock. In the 65th minute, Manly winger Chris Hicks was doubled over in a tackle and suffered what looked like a dislocated right ankle. In the 68th minute, the Rabbitohs' defence held up a flying Steve Matai, only to have Brett Stewart score his second try two plays later off an inside ball from Steve Bell. Orford's conversion extended the lead in 24-6 with less than 10 minutes on the clock. The Rabbitohs continued to defend bravely for the final 10 minutes, holding out a number of Manly raids on their line, before Steve Menzies scored his second try with only one minute left on the clock. Brett Stewart made a break down the right hand side and kicked inside to find Menzies. Orford kicked his fifth conversion to take the final scoreline to Manly 30 - South Sydney six. Tonight's loss means the Rabbitohs go no further in the 2007 premiership, finishing as of the lowest two teams to be defeated in the first week of the finals.
No one was charged out of the match.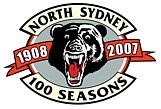 Reserve Grade - NSW Premier League - Quarter Final
(5v4) v Newcastle, Newcastle International Sports Centre, Sun Sep 9 3:00pm
WIN 26-0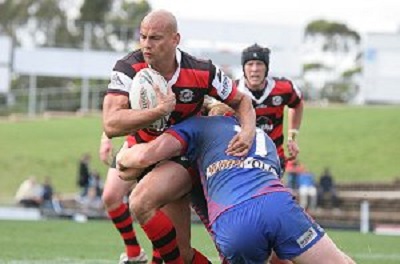 Late Changes Shannon Hegarty started in place of Greg Nichols, Scott Geddes started in place of Manase Manuokafoa. Ben Lowe uses some nice footwork to get through the defence out wide on the right. 36 minutes to go in the half Reece Simmonds dives over in the corner after Daniel Irvine threw a cut-out pass from dummy half. Jaiman Lowe offloads to Beau Champion who breaks through and sprints to the corner to score. Eddie Paea kicks a great goal from the sideline. Jaiman Lowe barges over and Eddie Paea converts. David Peachey uses footwork and a fend to score from close range. Eddie Paea converts. Norths defence was great. This is the first time the Bears have kept a team scoreless all year. With Souths losing last night a number of Souths players will not be able to continue in the Bears finals campaigns.

 4 min  4-0
24 min  8-0
46 min 14-0
58 min 20-0
70 min 26-0

B.Lowe, Simmonds, Champion, J.Lowe, Peachey tries
Paea 3 from 5 goals

Final Line Up
                             T  G/A  FG
Flbk - Peachey, David        1  -     -
Wing - Simmonds, Reece       1  -     -
Cntr - Paulson, Germaine     -  -     -
Cntr - Hegarty, Shannon      -  -     -
Wing - Boston, Troy          -  -     -
5/8  - Champion, Beau        1  -     -
Half - Paea, Eddie           -  3/5   -
Prop - Geddes, Scott         -  -     -
Hook - Irvine, Daniel        -  -     -
Prop - Lowe, Jamian          1  -     -
SRow - McPherson, Shannon    -  -     -
SRow - Pettybourne, Eddy     -  -     -
Lock - Lowe, Ben             1  -     -

Int  - Bobongie, Jardine     -  -     -
Int  - Verlinden, Ryan       -  -     -
Int  - Falemaka, Joe         -  -     -
Int  - Nichols, Greg         -  -     -

                             5  3/5   -

Other Reserve Grade Matches

15-14 Leic (3v6) Balmain-Ryde b Canberra
28-10 Penr (7v2) Parramatta   b Penrith
46-12 Belm (1v8) Bulldogs     b St Geo-Ill


Weekend - Sep 15 - Semi-Finals
NRL Premiership - Semi-Finals

BYE        (1) Melbourne
BYE        (2) Manly
25-6  StAu (4v5) Parramatta b Bulldogs
49-12 Town (3v6) Nth Qld    b Warriors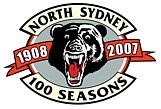 Reserve Grade - NSW Premier League - Semi-Final
(4v5) v Penrith, Leichardt Oval, Sat September 15 4:00pm
WIN 24-20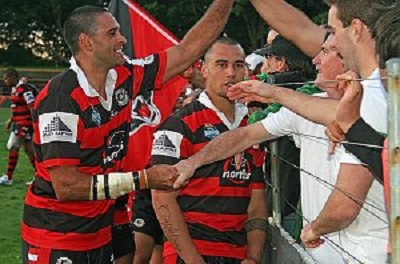 The North Sydney Bears are one win away from a Grand Final appearance after holding out a fast finishing Penrith 24-20 at Leichhardt Oval. The Rabbitohs premier league side will meet the Balmain-Ryde Eastwood Tigers at Campbelltown Stadium this Sunday September 23, kick-off at 3.30pm. The winner will progress through to the grand final. The Bears were supported by one of their biggest crowds of the season, and welcomed back Michael Greenfield, Yileen Gordon, and Joe Williams to the starting line up after the Rabbitohs premature exit from the NRL finals. Norths signalled their intentions early with Beau Champion and Ben Lowe hammering the Panthers with some huge defence. The Bears looked the more dangerous side, and opened the scoring after seven minutes through Lowe. The lock forward took the ball close to the line and despite the attention of Penrith's defence, was able to plant the ball one handed for a 4-0 lead. Joe Williams converted from out wide for 6-0. Five minutes later, Norths received a penalty and David Peachey made 30 metres from the kick. On the third tackle, the ball was spun wide and Champion looked like giving a short ball but instead gave it to Peachey coming around the back who threw a beautiful cut out pass to Boston to score just inside the touch line after fourteen minutes. Williams converted from the touchline to give Norths a deserved 12-0 lead. The kicking game of Williams and fantastic chasing game from the Bears continually had Penrith working it off their try line. After twenty minutes, Penrith made a break up the right hand touch line and appeared certain to score but a last ditch tackle from Williams forced the ball loose. Three minutes later, Daniel Irvine crossed next to the post, but the last pass was ruled forward and the try was disallowed. Penrith worked their way up field on the back of a penalty and looked certain to score, but Greenfield made a try saving tackle on the winger just as he was about to cross. Just as the siren sounded, Peachey went into dummy half and ran it down the blind side and sliced through, he drew the full back and gave a perfect ball to Williams to streak away and score. Williams converted his own try from out wide and at half time North Sydney led 18-0. Penrith got straight back into the game two minutes after the break with a try to Liam Campbell. It was the first try Norths had conceded in almost 200 minutes of football. Craig Trindall converted to bring the score to 18-6. Suddenly, the Bears began falling off tackles and Penrith were making easy yards. The Panthers were able to force three repeat sets, and the pressure finally told on the Bears when Matthew Forwood crossed with half an hour to play. Trindall's wobbly conversion attempt never looked like going over, and the score remained 18-10. Just six minutes later, it was a two point ball game when Geoff Daniela crossed. Trindall converted and it was 18-16 with twenty three minutes to go. Penrith looked to have all the momentum despite being down to a one man bench. Norths needed something to turn the match back their way, and that something came 17 minutes from time when Williams kicked a 40/20. From the resulting set of six, Eddie Paea drifted across field and gave a great short ball to Jardine Bobongie who busted through and ran the ball around under the posts. Williams converted to extend the lead to eight. Minutes later, Paea made a long break down field, but referee Ben Cummins ruled the pass forward, bringing the play fifty metres back down field for a Panthers scrum. Penrith were now in possession in the Norths 20m zone, and three sets in a row, Cummins detected a knock-on by the Bears on the fifth tackle. In the 72nd minute Campbell crossed for his second try to bring Penrith back to 24-20. Trindall failed to convert leaving the difference at four. With four minutes remaining, Williams ran the ball on the last tackle, passing to Greenfield who tried to keep the ball going right, but the Panthers intercepted the pass and looked set to score before Peachey came from no where and dived at the Penrith centre just grabbing onto him with one had and dragging him to the ground. The Bears survived the set and headed back up field trying to close the game out. By this stage, no one in Leichhardt Oval was sitting down, on the last Irvine kicked for the corner and Boston almost trapped Penrith in-goal. With one minute to go, Penrith spun it right, then left and as the ball got back to the left wing Campbell was away down the left touch line, as Peachey came across Campbell bombed in field and on the spot to take the kick was Bobongie who made another twenty metres up field. Norths took it up from dummy half in the dying seconds, and Leichhardt erupted as the siren sounded with the Bears through to face Balmain Ryde in next weekend's preliminary final. All of the Bears had good games, Greenfield's hard running and off loads were huge bonus, as were the tireless efforts of Scott Geddes. Gordon's one on one defence was fantastic and he snuffed out several try scoring opportunities from the Panthers. The scrambling defence of Norths is one of their huge strengths. It was a great win and another big week of finals footy awaits for the Bears.
David Peachey last night kept his career alive with a match-saving tackle to ensure another week of football for him and the Bears. With only 4 minutes remaining in the thrilling Premier League match against the Panthers, Peachey sprinted 20m to cut down flying centre Maurice Blair with the game on the line at 24-20. The tackle in front of 2000 diehard fans at Leichhardt Oval puts the Bears just one win away from the grand final and a fitting farewell for the veteran of 257 first-grade games. That's semi-finals football, Peachey said. "I left nothing in the tank and I had to give it my all. I guess I was there at the right time and the right place, and the rest is history." Peachey said the thought of his career ending on the historic suburban ground did not cross his mind. "I guess it could have been the end but I wasn't thinking about anything like that, I was just putting in for the boys and doing my best to make sure we won," he said. "I'm having a lot of fun playing with these boys." The prospect of finishing his career with a premiership, albeit a Premier League title, has Peachey excited. "We have to take it one game at a time but it would be great to finish like that," He said. "This is what you play football for but I'm just enjoying myself." In one of his last games for North Sydney, departing halfback Joe Williams described Peachey's try-saving tackle as one of the best he's seen. "It was unbelievable," Williams said. "I turned and started to give chase but I didn't have the pace." "To see Peachey in full flight and pull him down was just awesome. He's been one of the best players in the last 13 years and to see his desperation in a match like this was just inspirational." Williams, who a fortnight ago signed with Penrith, said he would be doing all he could to send Peachey out a winner. "Peachey's just been such a champion, he deserves to go out a winner," he said.

 8 min  6-0
14 min 12-0
39 min 18-0
43 min 18-6
50 min 18-10
56 min 18-16
65 min 24-16
72 min 24-20

B.Lowe, Williams, Boston, Bobongie tries
Williams 4 from 4 goals

Final Line Up
                             T  G/A  FG
Flbk - Peachey, David        -  -     -
Wing - Simmonds, Reece       -  -     -
Cntr - Paulson, Germaine     -  -     -
Cntr - Gordon, Yileen        -  -     -
Wing - Boston, Troy          1  -     -
5/8  - Champion, Beau        -  -     -
Half - Williams, Joe         1  4/4   -
Prop - Geddes, Scott         -  -     -
Hook - Irvine, Daniel        -  -     -
Prop - Greenfield, Michael   -  -     -
SRow - McPherson, Shannon    -  -     -
SRow - Pettybourne, Eddy     -  -     -
Lock - Lowe, Ben             1  -     -

Int  - Bobongie, Jardine     1  -     -
Int  - Verlinden, Ryan       -  -     -
Int  - Falemaka, Joe         -  -     -
Int  - Paea, Eddie           -  -     -

                             4  4/4   -

Other Reserve Grade Matches

BYE        (1) Bulldogs
BYE        (2) Balmain-Ryde
32-10 StAu (3v6) Parramatta b Newcastle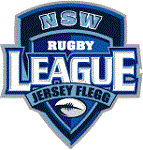 NSWRL Jersey Flegg - Under 20's - Semi Finals

BYE        (1)   Penrith
BYE        (2)   Bulldogs
20-8  StAu (3v6) Parramatta b Balmain
44-12 Ring (4v5) Canberra   b Newcastle


Weekend - Sep 23 - Preliminary Finals
NRL Premiership - Preliminary Finals

26-10 StAu (1v4) Melbourne  b Parramatta
28-6  SFS  (2v3) Manly      b Nth Qld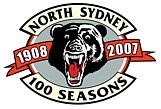 Reserve Grade - NSW Premier League - Preliminary Final
(3v2) v Balmain-Ryde Eastwood, Campbelltown Stadium, Sat Sep 23 3:30pm
WIN 22-16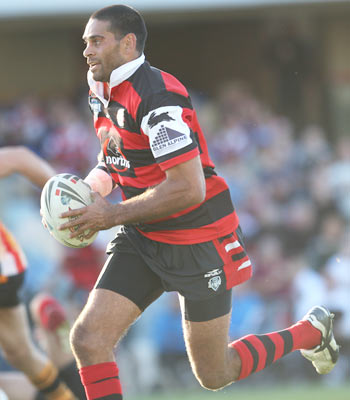 North Sydney Bears beat Balmain Ryde Eastwood Tigers 22-16 at Campbelltown Stadium today to move into the NSWRL Premier League grand final against Parramatta Eels. The Bears, South Sydney's Premier League team, scored late in the game to seal victory against a very gallant and gutsy Tigers outfit. Balmain Ryde Eastwood Tigers opened the scoring in the second minute through a try to second-rower Jarrod Saffy for a 4-0 lead. Saffy missed the Tigers' first semi-final win through injury. Centre Ben Jeffery converted the try for a 6-0 lead after three minutes. The Bears, South Sydney's Premier League team, hit back two minutes later with a try to winger Troy Boston after the ball was spread right through full-back David Peachey. Half-back Joe Williams converted from the sideline for a 6-6 scoreline after eight minutes. Balmain Ryde Eastwood Tigers hooker Stuart Flanagan has been heavily involved and is looking very dangerous in attack. The Bears went to a 10-6 lead 17 minutes from half-time when Boston scored his second try in the corner from a Williams crossfield kick. Williams missed the conversion attempt. Bears hooker Daniel Irvine is making some easy yards up the middle of the ruck from dummy half runs. Balmain Ryde Eastwood Tigers lifted in defence to withstand some heavy pressure from the Bears after back to back sets. Referee Jared Maxwell ruled a forward pass against the Bears that would have led to a try after a Williams grubber kick bounced off a Balmain Ryde Eastwood player six minutes before half-time. Young Tigers full-back Rhys Hanbury is having a fine game, having defused several raids from the Bears. Tigers captain Lee Bennett took a timely intercept pass 10 metres out from his line two minutes before half-time before racing 50 metres to be tackled. The Tigers received six again in that set which led to centre Matt Parata scoring in the corner 30 seconds before half-time after good work by prop Luke Harlen. Jeffery missed the conversion for a 10-10 scoreline at half-time in front of an appreciative crowd. After restarting the second half, Bennett appeared to receive an injury to his nose seven minutes in the second half but the Tigers captain stayed on the field. Both sides have lifted their intensity. Replacement hooker Lewis Brown is having a strong game for the Tigers, making some good yards up the middle with his strength. His short kicking game has also proved beneficial. The Tigers kicked a penalty goal through Jeffery for a 12-10 lead after 53 minutes after the Bears were penalised for holding Brown down too long in a tackle. A smart kick by Lazarus on the last tackle from 30 metres out saw Peachey trapped in goal to give the Tigers a repeat set of six with 24 minutes remaining. From that, the Tigers capitalised when the ball was spread left for Saffy to score his second try out wide. Jeffery missed the conversion attempt for a 16-10 lead with 22 minutes remaining. A grubber kick in goal on the last by Flanagan after a strong run by Brown saw the Tigers get a repeat set with 19 minutes remaining. An offside penalty to the Bears saw them keep the pressure on. Two plays later, forward Michael Greenfield charged over to score next to the posts. Williams converted for a 16-16 scoreline with 13 minutes remaining. A break on the last tackle by replacement Eddie Paea saw him run 30 metres to beat several defenders before offloading a desperate one handed for Jardine Bobongie to score under the posts. Williams converted for a 22-16 lead with five minutes remaining. In the final 30 seconds, Lazarus put up a high bomb but the experienced Peachey flew high to defuse it to give Norths victory. As the teams shook hands, the Norths fans jumped the fence and waved their red, white and black flags on the field. North Sydney will now play Parramatta in the Premier League grand final.

 3 min  0-6
 8 min  6-6
23 min 10-6
39 min 10-10
53 min 10-12
58 min 10-16
67 min 16-16
75 min 22-16

Boston 2, Greenfield, Bobongie tries
Williams 3 from 4 goals

Final Line Up
                             T  G/A  FG
Flbk - Peachey, David        -  -     -
Wing - Simmonds, Reece       -  -     -
Cntr - Paulson, Germaine     -  -     -
Cntr - Gordon, Yileen        -  -     -
Wing - Boston, Troy          2  -     -
5/8  - Champion, Beau        -  -     -
Half - Williams, Joe         -  3/4   -
Prop - Geddes, Scott         -  -     -
Hook - Irvine, Daniel        -  -     -
Prop - Greenfield, Michael   1  -     -
SRow - McPherson, Shannon    -  -     -
SRow - Pettybourne, Eddy     -  -     -
Lock - Lowe, Ben             -  -     -

Int  - Bobongie, Jardine     1  -     -
Int  - Verlinden, Ryan       -  -     -
Int  - Ta'akimoeaka, Conrad  -  -     -
Int  - Paea, Eddie           -  -     -

                             4  3/4   -

Other Reserve Grade Matches

32-28 Camp (4v1) Parramatta b Bulldogs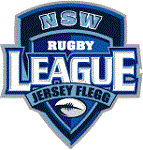 NSWRL Jersey Flegg - Under 20's - Preliminary Finals

46-6  Camp (1v4) Penrith    b Canberra
17-16 Camp (3v2) Parramatta b Bulldogs


Weekend - Sep 30 - Grand Finals
NRL Premiership - Grand Final

34-8  StAu (1v2) Melbourne b Manly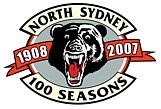 Reserve Grade - NSW Premier League - Preliminary Final
(2v1) v Parramatta, Stadium Australia, Sun Sep 30 3:55pm
LOSS 15-20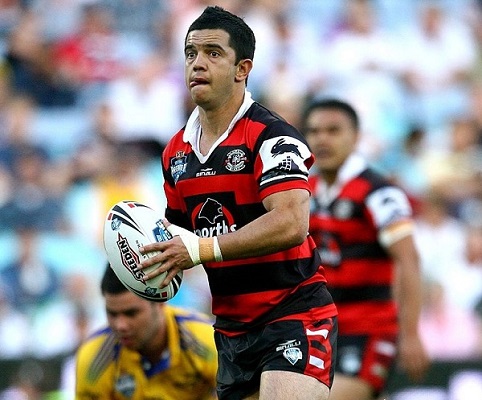 Even David Peachey couldn't conjure a final fairytale in today's Premier League grand final as the veteran fullback's North Sydney side were beaten 20-15 by Parramatta. The 33-year-old magician bowed out of rugby league for the South Sydney feeder club after 14 seasons when the Eels snatched an 80th minute victory with a barge-over try to forward to Weller Hauraki at Telstra Stadium. The Bears had celebrated three minutes earlier when Penrith-bound halfback Joe Williams wobbled over a field goal that had given Norths a 15-14 advantage, and a hand on the premiership trophy. But that quickly turned to despair when the Eels knocked back the opportunity to shoot for two points with a penalty and Hauraki smashed through the defence to plant the premiership winner. "I thought it was gone but the boys hung on, kept trying," Hauraki said. "We just said to each other we didn't train all year for this so we dug in." The try gave the Eels an historic premiership from seventh position and their third straight Premier League title. Earlier, Peachey had played a superb second half, highlighted by a cut-out pass to winger Reece Simmonds in the 64th minute to put the Bears ahead 14-10 after they had been behind 10-4 at halftime. "This will probably be one of those games that you probably don't go home and watch," Peachey said of Norths' error-riddled effort despite the presence of 10 established NRL names. "I'm very heartbroken inside but I'll hold my head high with a lot of dignity and walk out of here and I'll go home and reflect on what's happened this whole year." That year fizzled for Peachey, who debuted for Cronulla in 1994, when he was dropped mid-season after linking with the Rabbitohs last year. But the first day of the rest of his life will begin tomorrow morning when he boards an 8am flight for hometown Dubbo and runs a coaching clinic for kids at 9.30am. "I'm pretty lucky I've landed on my feet with Peter Holmes a Court and Russell Crowe," he said of his ongoing community liaison role with the Rabbitohs. "I honestly love this game and that's something that I've done since I played on my Nan's front lawn right through to the 50-, 60,000 here at Telstra Stadium. "I've enjoyed it. Along with the downs I've had a lot of ups, that's the beauty of this game and you've seen here today it can be so kind and yet so cruel." On a day Sydney tried to decide whether it could put history aside and support Manly against Melbourne in the main game, the Rabbitohs' "Warren" turned up to support Norths and even the Manly fans cheered on former arch rivals the Bears against another sworn enemy, Parramatta. But there were no questions about unity when both teams and the crowd observed a minute's silence before the match as a mark of respect for broadcasting great and former North Sydney grand final captain Frank Hyde, who passed away last Monday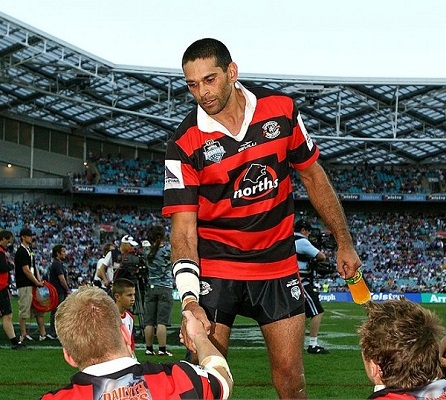 5 min  4-0
10 min  4-6
36 min  4-10
48 min  8-10
61 min 10-10
66 min 14-10
70 min 14-14
77 min 15-14
80 min 15-20

Y.Gordon, Boston, Simmonds tries
Williams goal
Williams fieldgoal

Final Line Up
                             T  G/A  FG
Flbk - Peachey, David        -  -     -
Wing - Simmonds, Reece       1  -     -
Cntr - Paulson, Germaine     -  -     -
Cntr - Gordon, Yileen        1  -     -
Wing - Boston, Troy          1  -     -
5/8  - Champion, Beau        -  -     -
Half - Williams, Joe         -  1/3   1
Prop - Geddes, Scott         -  -     -
Hook - Irvine, Daniel        -  -     -
Prop - Greenfield, Michael   -  -     -
SRow - McPherson, Shannon    -  -     -
SRow - Pettybourne, Eddy     -  -     -
Lock - Lowe, Ben             -  -     -

Int  - Bobongie, Jardine     -  -     -
Int  - Ta'akimoeaka, Conrad  -  -     -
Int  - Verlinden, Ryan       -  -     -
Int  - Falemaka,Joe          -  -     -

                             3  1/3   1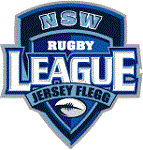 NSWRL Jersey Flegg - Under 20's - Grand Final

19-14 StAu (1v2) Penrith    b Parramatta


---