Community and Rabbitohs to share Redfern Oval
10th September 2007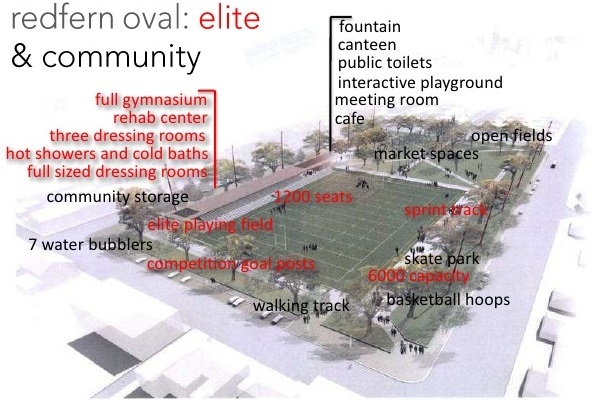 The Community and the South Sydney Rabbitohs will share Redfern Park Oval under a draft licence agreement which Sydney City Council endorsed for public exhibition. The (2 x 10 year) 20 year licence agreement, between the City and South Sydney District Rugby League Football Club, will ensure Redfern Park Oval continues as the Rabbitohs' spiritual home. The Club has played or trained rugby league at the Oval since it was founded in 1908. The Sydney City Council's $20 million upgrade of Redfern Park, now underway, includes a state of the art sports field and a new low rise grandstand with change rooms, a kiosk/café and meeting room. Under the proposed licence agreement, included in the Redfern Park Plan of Management adopted by Council in 2006, the Rabbitohs will have:
exclusive use of clubrooms within the grandstand which will comprise change rooms, gymnasium, physio room, toilets, store room and offices;
use of the oval and grandstand for the purpose of playing and training rugby league;
use of the public amenities and public areas; and
priority use of the playing field for 10 hours per week during the pre-season and 20 hours per week during the competition season.

The Club's use of the field will be primarily limited to week days and will depend upon its condition and capacity. This will ensure the grounds are also available for passive recreational activities and other sporting events such as school and junior sports. The Sydney City Council will be responsible for managing bookings and access to the grounds, and maintaining the playing field at a professional standard. The Agreement is modelled on the existing agreement between the Council and Souths for the use of Erskineville Oval as a training ground until the Redfern Park Oval is completed.

Redfern Oval Rabbitohs Licence Agreement

The Licence Agreement will be between the Council of the City of Sydney and the South Sydney District Rugby League Football Club (Rabbitohs). It will cover a term of 10 years with an option for a second term of 10 years. Council will manage maintenance and use (bookings) of the site. The details of the consultation and the Redfern Oval Licence Agreement is on exhibit with the Exhibition period closing on 8th February 2008.
---