2015 - The Cyber View from the Hill
11th February 2015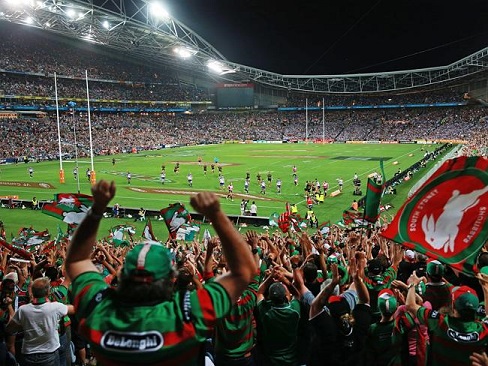 Rabbitohs Retain Shield
It was a tough day in the office at the Charity Shield. Souths field a team as if it was our first trial of the year resting a large number of key first grade team for this game. With Inglis, Sutton, G.Burgess, T.Burgess, Stewart, Lowe and Reynolds all missing. While we took on a full strength Dragons outfit. But when people are out there are opportunities and our next generation players did a great job especially in defence. So while the game ended in a draw, it meant that the Rabbitohs retained the Charity Shield.
Grevsmuhl All Star
Congratulations to Chris Grevsmuhl with a great 9s and Charity Shield he has been called up into the Indigenous All Stars squad. After arriving last year with a major knee injury. He has been carefully taken through rehab and a season in reserve grade. He is now looking teh goods for a season ahead and pressing for a spot on the NRL bench.
Arizona Headlines
You cannot go past this week without hearing about the issue in the US that occured with Sutton and L.Burgess which resulted in both being repremanded. Its a timely reminder that as players we have a image on and off the field, we need to maintain. The media will swoop on anything, at the moment, as they try to distabalise Souths in a classic Tall Poppy Syndrome attack or try to unsettle the non media owned NRL management.
Goolagong good start
Damon Goolagong made his debut in Souths colours this week in U20s and immediately he has shown a impact. He has size and speed and showed his skills by scoring the match winning try. Looking for more him in the coming weeks. There is a NRL wing position up for grabs and he is already putting his hand up.
Additional Officials
4 touch judges and 2 in-goal touch judges made it a nice round 10 for match officials. In watching the game the added people on the field added to the communication process especially when a try was scored. With the video referee used correctly to check on a try. For the sideline officials I thought the policing of the 10m was much better with the 2 extra touch judges setting the mark for all to see. And we saw dummy half forward passes nabbed. Also the 40-20 kick was much better managed as the touch judge was closer than normal to judge the location. So overall a thumbs up on this experiment.
Signing off for another week - the midweek Cyber View from the Hill
---