2015 - The Cyber View from the Hill
1st July 2015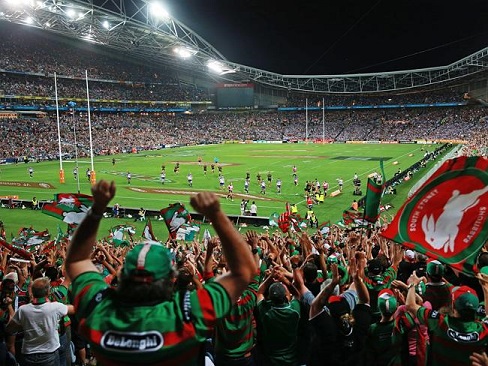 Equal Third
Another good win over arch rivals Manly has moved Souths up into equal 3rd but 5th overall. In such a tight race for the final 8 and Top 4 it was a vital win for team. Still another 4 wins to qualify for the finals and another tough battle against last years Top 4 side Penrith coming up.
Battle of the Brothers
This weeks Manly game will forever be remembered as the battle of brothers, with Tom an George taking on brother Luke Burgess and Glenn taking on brother Brett Stewart. The feeling in this game was great to see.
Reynolds record ends on 87
It took a concussion early in a game to finally end Adam Reynolds long streak of scoring in every first grade game he participated in. He had played 87 games since his first grade debut and scored in everyone of them until last weekend.
Bears inching back into contention
Another good win has seen the Bears move to within 1 point of the Top 8. Gardiner has turned this team around and the results are starting to come.
Origin should return to Tuesdays
If Origin is to remain midweek then we need to look at moving Origin back to Tuesdays. But without premiership matches on the weekend. Where rpresentativ matches on the weekend could be
England v New Zealand 3 test series - played Friday's
4 Team Pacific Cup - played on Saturday (Fiji, PNG, Samoa, Tonga)
Challenge Cup knock-out series (QFs, SFs and F) where 2 early rounds are played as trials with Top 4 NSW and Top 4 QLD Cup teams

Round 16 - Stat Attack

Statistically Round 16 stats showed a mixed bag after the week off. Completion rates dropped to 72% this week. Errors increased to 15 from 12 last week. We gave away 9 penalities this week compared to 7 last week. Souths Effective 1st tackle improved slightly but still poor at 36.2m from 38.5m last week. But we had a significant drop off in the second half to 45.6m. Our missed tackles improved to 26 missed tackles from 39 last week. Opposition offloads dropped to 9 this week from 7 last week.

Looking at our left side defence - AGray-Goodwin-Keary/Sutton-Sutton/McQueen (0-1-2-1) decreased this week to 4 from 7 missed tackles last week. On the right side Johnston-DWalker-Reynolds/Keary-McQueen/Stewart (2-5-5-2) was steady at 14 missed tackle this week.

Our go forward was steady this week at 1372m this week. Luke, Grevsmuhl and Keary lead the way in making 10+m per hitup. With George Burgess, Sutton, Tom Burgess, Aaron Gray, and Inglis making more that 100+m in the match. Defensively Luke was our best in the tackling raking up 42 tackles. With Grant, Sutton, Tyrrell, Grevsmuhl and Aaron Gray not missing a tackle.

Signing off for another week - the midweek Cyber View from the Hill
---