2015 - The Cyber View from the Hill
8th July 2015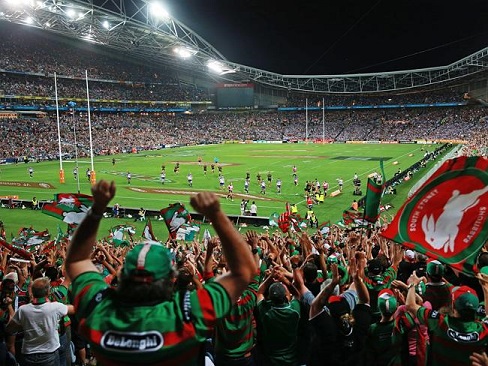 Bye Focus
Once agan just before the bye Souths have dropped their intensity and dropped a game. It looks like the hectic pre-season is starting to come back bite the team as they look towards a break rather than the game. Still another 4 wins to qualify for the finals.
Goodwin motoring on
Bryson Goodwin continues to improve weekly of late. His powerful running is helping support the forwards and leading to tries.
Welcome Back Auva'a
After over half a season we finally saw Kirisome back on the paddock on the weekend with his first hitout with the Bears. Pity it was short lived as he now serves a 2 weeks suspension.
U20s dropping out of the race
While the U20s team had a good first half, they fell away in the second and came away with another narrow loss. after 4 stright losses is going to be very difficult for the U20 boys to make the finals this year.
Suspension Duration
While Auva'a is back in reserve grade this week the NRL won't allow him to play in FG. Never in the history of Australian RL have we had a situation where a player can play one grade but not another when a suspension has ended. This is a crazy situation that continues to baffle all fans. The NRL Integrity Unit seem to be above the law and making up the rules as they go, imposing a grade level 6 week penalty. This something that needs to be looked into by he NRL as it impacts so many other aspects of the game like the Top 25 Salary Cap.
Round 17 - Stat Attack
Statistically Round 17 stats showed a slight improvement on last week. Completion rates improved to 74% this week. Errors dropped to 10 from 15 last week. We gave away 11 penalities this week compared to 9 last week. Souths Effective 1st tackle dropped to a very poor level at 40.4m from 36.2m last week. But once again we had a significant drop off in the second half to 52.9m. The worst half all year. Our missed tackles dropped to 16 missed tackles from 26 last week. Opposition offloads increased to 12 this week from 9 last week.
Looking at our left side defence - AGray-Goodwin-Keary-Sutton (0-1-1-1) decreased this week to 3 from 4 missed tackles last week. On the right side Reddy-DWalker-Reynolds-Stewart (0-1-2-1) decreased to 4 from 14 missed tackles last week.
Our go forward dropped this week at 1304m this week. Luke, Tom Burgess, Grevsmuhl, Johnston, Goodwin and Dylan Walker lead the way in making 10+m per hitup. With Tom Burgess, Luke, George Burgess and Johnston making more that 100+m in the match. Defensively George Burgess was our best in the tackling raking up 40 tackles. With George Burgess, Lowe, Clark, Aaron Gray and Reddy not missing a tackle.
Signing off for another week - the midweek Cyber View from the Hill
---