2015 - The Cyber View from the Hill
9th September 2015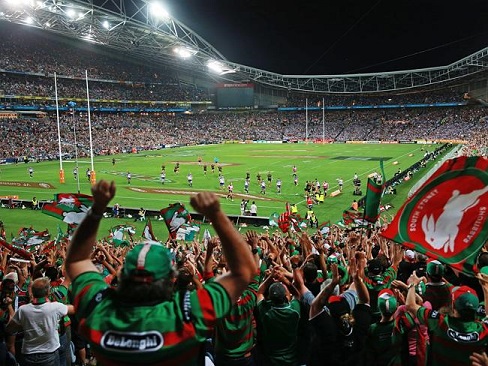 Souths limp into Finals
Its been on of worst end to a season since 2008 where we have won only 1 out of the last 5 games. We once again had a slow start, but defended much better in the second half. We now go into the elimination preliminary semi-final in our first ever premiership finals match against the Sharks.
Bears bow out
Our reserve grade affliate team the North Sydney Bears have bowed out after loosing their elimination semi-final. They had a much better second half of the season but got effected by the FG injuries right at the death.
Goolagong triple
Damon Goolagong looked very good on the right wing as crossed over for 3 tries and looked damaging every time he handled the ball. He ended the season with 13 tries as our U20s top try scorer.
100 point Club
While Adam Reynolds ended the season with 107 points we also had a few others as well. Darren Nicholls ended with 136 points for the Bears, and Jordie Hedges with 154 points for U20s and Siosifa Talakai with 112 points in U20s/U18s.
MRC - Enough is Enough
Enough is enough with the league world giving the NRL MRC a serve for the charge handed down for the George Burgess incident, which clerly should have been a fine rather than a two match suspension. It's time for a overhaul of who represents the NRL on the MRC panel - today we have a part-time ex referee, ex coach and ex player that changes every week.
We need the MRC to be match & video referee plus 2 full time MRC referees and two 10 year recent full time ex players. No need for a ex coach.
The MRC must watch the full match replay and issue their charges within 4 hours of match
Then we need the 3 fulltime players who form the judicary to confirm grading of the charge
We need to adjust gradings - Grade 1 needs to be scrapped and replaced with $5k fine
Loading needs to apply against ORIGINAL offence with Grade 1 for 1 year Grade 2-3 for 2 years Grade 4-5 loading to remain 3 years

Round 26 - Stat Attack

Statistically Round 26 were again poor this week. Completion rates improved to 78% this week. Errors dropped to 11 from 12 last week. We gave away 9 penalities compared to 9 last week. Souths Effective 1st tackle dropped again to a very poor level at 43.7m from 42.0m last week. Our missed tackles were increased to 61 missed tackles from 39 last week. Which is our worst for a number of years. Opposition offloads increased to 12 this week from 9 last week.

Looking at our left side defence - Goodwin-Auvaa-Keary-McQueen (1-8-8-3) was increased to a horrid 20 from 7 missed tackles last week. On the right side Reddy-DWalker-Reynolds-Stewart (3-5-8-5) were increased to a horrid 21 missed tackles from 8 last week.

Our go forward dropped this week to 1232m this week. No player made 10+m per hitup. With Carter, George Burgess and Dylan Walker making more that 100+m in the match. Defensively Turner was our best in the tackling raking up 35 tackles. With only McInnes not missing a tackle.

Signing off for another week - the midweek Cyber View from the Hill
---