Dylan Walker and Aaron Gray Hospitalised
22nd September 2015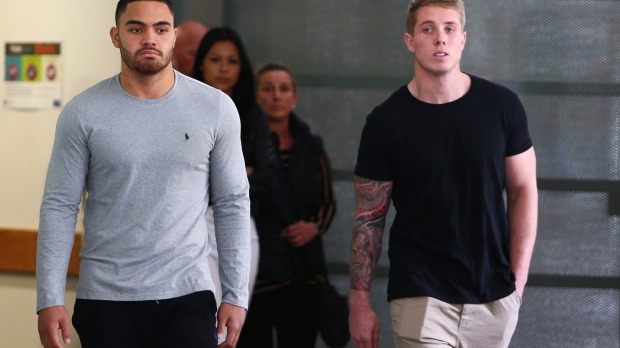 The South Sydney Rabbitohs have confirmed that two of its players, Dylan Walker and Aaron Gray, were admitted to hospital this morning, and both are in a stable condition. Both players had post season surgery last week, following the end of the Club's season, in preparation for pre-season training to commence later this year.
Walker and Gray Condition Improved
23rd September 2015
The South Sydney Rabbitohs have had confirmation that the health statuses of its players, Dylan Walker and Aaron Gray, have improved from stable to good overnight. Both players are now communicating freely with family and medical professionals. The improvement in the players' health is a positive step forward for their families, friends and colleagues. The Club will continue to inform its Members and the public of any changes to the players' wellbeing.
Walker and Gray Released from Hospital
25th September 2015
A remorseful Walker and Gray were released from St Vincent's Hospital on Friday afternoon after being rushed to intensive care at 3.45am Tuesday following a suspected overdose from the use of painkillers, reported to be Targin, a tablet form of oxycodone, and Tramadol. With Walker (hand) and Gray (knee) both undergoing post-season operations last week, How the pair came to possess the medication is expected to form part of an investigation the Souths board have charged chief executive John Lee with heading up, but Rabbitohs officials also believe the NRL needs to widen its research into the use of prescription drugs in the game and have offered to make available their players for a trial of hair follicle testing.
"I can confirm that our chairman [Nick Pappas] and our coach Michael Maguire would like to be at the forefront of a new trial and that trial would be around a voluntary trial for testing for a prescribed medicines through the use of hair follicles," Lee told a press conference at St Vincent's Hospital. "It is something that takes place in other parts of the world and we think it's time there's greater monitoring as well as education so as this incident can be prevented." "We all have to take the truth serum and realise that we need a better testing regime and a better monitoring regime so these sorts of medications can be seen and then we can take steps if people are using them too much." It has been suggested that the incident, which could have cost Gray his life if not for the quick thinking of friend and former teammate Jake O'Sullivan, may be related to the pressure on players to ignore injuries and continue to play through pain. Lee said Souths would review their procedures around the treatment of injured players and the use of painkillers to keep them on the field. "In terms of personal responsibility we have realised that some of our players have made errors and it is important that that recognition is made," he said. "I think also at our club and probably for all clubs in the NRL there are necessary pressures that are applied so that players are able to take the field. For us, we own that and that is not only a problem in our club but probably some other clubs and we will take the responsibility to put in better protocols .. and to have the right levels of education so that we can prevent this incident from occurring again."
NRL Prescription Drug Testing
25th September 2015
The NRL today welcomed an offer by the South Sydney club to pilot hair follicle testing for prescription drugs. Head of Integrity, Nick Weeks said the prospect of hair testing has been the subject of discussion between the NRL and RLPA for several months. He said the NRL is currently conducting more than 2000 tests a year to determine whether the misuse of prescription drugs is an issue in the game and whether further action is required. The testing regime has been developed with all Clubs and the RLPA and it detects the use of sleeping medications (such as Valium) and pain relievers or opiates (such as Oxycodone). Mr Weeks said the NRL's testing for prescription drug use by its players exceeds that of any other sport in the country. "It is clear, however, that there has been a major incident this week and it is appropriate that the additional measures proposed by Souths are initially trialled there," Mr Weeks said. Mr Weeks said that, under NRL rules, clubs are prohibited from undertaking their own drug tests to ensure all results are independently run and transparent. "So we will sit down and talk with Souths about the opportunity for the NRL and RLPA to oversee the operation and data collection from follicle testing of players at the club," the spokesman said. Mr Weeks said any trial would need the agreement of the RLPA.
Souths issue Dylan Walker Show Cause Notice
1st November 2015
Dylan Walker's future at South Sydney is now even murkier, with the representative centre issued with a show cause notice over his role in September's drug overdose. The four-time Australian representative was rushed to hospital alongside winger Aaron Gray on September 22 after taking a dangerous cocktail of prescription drugs. The NRL immediately launched an investigation into the incident and now the Rabbitohs have requested that the 21-year-old faces the board to explain his role in the night. The toxicology report of the pair confirmed no illicit substances were taken, instead showing Walker and Gray dangerously mixed three prescription medications, including painkillers Endone and tramadol.
Souths Investigation Report
26th November 2015
The South Sydney Rabbitohs have completed their investigation into the circumstances that led to players Dylan Walker and Aaron Gray being hospitalised on 22 September 2015. The Club undertook a thorough process which involved interviews with key persons including the two players concerned, the receipt of verbal and written submissions from both players, a review of the Club's medical log and an audit of the Club's protocols relating to the treatment and recovery of players from surgery and major injury. The Board of the South Sydney Football Club was presented with the report of the investigations prepared by CEO, John Lee, in consultation with the NRL Integrity Unit. It resolved to issue show cause notices to both players, asking each of them to answer allegations that they had not met their obligations under the terms of their NRL playing contracts, the NRL Code of Conduct and the South Sydney Football Club Code of Conduct. Both players appeared before the Board and presented separate submissions accompanied by their respective representatives. The findings of the investigation and the show cause hearings were presented to the Board at its 24 November meeting. After requesting further information, the Board has determined that:
there was no evidence that either player had illicit substances or alcohol in his system;
both players had nonetheless sourced additional pain-killing medication from their own GPs on the day of the incident, clearly beyond that which was prescribed by their specialists following their respective surgeries; and
by their actions and their consequent hospitalisation, the players had brought the Club and the NRL into serious disrepute.

Accordingly, the Board directed that both players will:
attend educational sessions to better understand how to correctly use medicines;
undertake a minimum of 20 hours of community service (in addition to normal Club obligations) including speaking to groups about their experiences and learnings;
make themselves available for ongoing regular testing for drugs including prescription drugs; and
each be penalised 5% of their 2015 contract value, with a further 5% to be suspended pending successful completion of points 1 and 2 and their co-operation with point 3 above.

The Board has also decided that the fines imposed will be forfeited by the Club and donated to charities, including St Vincent's Hospital's Alcohol & Drug Service. Through a separate process, the Club undertook a review of its Medications Policy. This focused on the practical application of the policy and whether more comprehensive protocols were required in the light of the incident involving players Walker & Gray. Having considered the findings of the review, the Board resolved to:
modify and strengthen its Medications Policy and the Club's Code of Conduct; to place the responsibility on our players to report any prescriptions obtained other than from the Club Doctor to the Club's Medical Officer,
increase its level of education to players of all levels around the correct use of prescription medication, and the consequences of their misuse.

Mr Lee commented that: "The review was comprehensive and a proactive step to modernise our Medications Policy. "We consulted some of the top sporting bodies and organisations in Australia, including the Australian Institute of Sport, to ensure that our policy is contemporary, practical and focuses on the wellbeing of our players. "We will work closely with all of our players to ensure an incident like this doesn't happen again. It was harrowing for the players' families, friends and Club mates; and it impacted the reputation of our Club which does so much good work, alongside Souths Cares, in our communities."
---