Sam Burgess Returns for 2016-18
6th November 2015
The South Sydney Rabbitohs have signed dual International, Sam Burgess, with the Englishman re-joining the Club until at least the end of the 2018 season, it was announced today. Burgess, 26, will re-join his only NRL Club, the Rabbitohs, after a 12-month period in English Rugby where he played five Rugby Test matches for England including the 2015 Rugby World Cup, one match for England Saxons and 26 appearances for Bath. Burgess played 96 NRL matches for South Sydney, including a Clive Churchill Medal-winning performance in the 2014 NRL Grand Final where he played virtually the entire game with a fractured face following a head-clash with fellow Englishman, James Graham of the Bulldogs. Burgess has also played 17 Rugby League Test matches for England and Great Britain, one game for Northern Union and one game for the NRL All Stars. Sam will re-unite with brothers George and Thomas at the Rabbitohs in 2016. Rabbitohs Head Coach Michael Maguire is delighted to be welcoming Sam back to the Rabbitohs Family. "Sam had an enormously positive impact on our Club, both on and off the field, throughout the five seasons he was here," said Madge. "To be bringing back a player of Sam's quality and determination is fantastic for our Club. He will bring a positive presence that will compliment his teammates with his qualities of leadership and commitment. "I know that Sam will be looking forward to working towards the high standards that we have set at this Club with all his teammates and our staff." Burgess said he was grateful to England Rugby and Bath for his experience in Rugby Union and is now looking forward to getting stuck into training alongside his Rabbitohs teammates. "I want to thank everyone at England Rugby and Bath for some great memories over the last 12 months," Burgess said. "I must also thank Bath especially for granting my release to return home to my family who I have missed more than I could have imagined. "I am also extremely excited to be joining back up with South Sydney. I cannot wait to get back into the Rabbitohs culture, full of great people and passionate Members and supporters. "I had a wonderful time in England and learnt a lot about the game of Rugby Union as both a back and a forward, and I have definitely developed as an all-round player and athlete after that. "I'm now very lucky to be given the chance to come back to Souths and serve this Club and its Members. "I look forward to getting stuck into training with all the boys and working hard for the upcoming season."

Date of Birth: 14 December 1988
Place of Birth: Dewsbury, England
Height: 196cm
Weight: 116kg
Position: Utility forward
Junior Club: Dewsbury Moor
Previous Clubs: Bradford Bulls (2006-09); Rabbitohs (2010-14); Bath Rugby (2014-15)
NRL Debut: Rabbitohs vs Roosters, ANZ Stadium, 14 March 2010 (Rd 1)
First Team Debut: Bradford Bulls vs Leeds Rhinos, 2006 (Super League)
NRL Games: 96 (all for the Rabbitohs)
First Team Games: 175 (96 for the Rabbitohs; 79 for Bradford) **26 games for Bath Rugby
NRL Points: 104 (26 tries)
First Team Points: 182 (104 for the Rabbitohs from 26 tries; 78 for Bradford from 17 tries, five goals)
Rep Honours: Rugby League:  17 Tests for England and Great Britain (2007-10, 2013); World Cup (2013); One game for NRL All Stars (2010); One game for Northern Union (2007);
Rugby Union:    Five Tests for England (2015); World Cup (2015); One game for England Saxons (2015)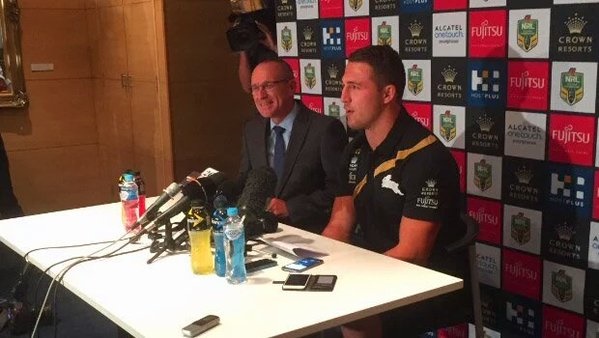 During the 2015 Rugby World Cup there had been so much negative talk at England's poor performance. With most of this talk direccted at Sam Burgess unfairly. So on the day of the ESL Grand Final at Old Trafford the following mobile billboard was driven around the streets of Manchester and in front of Manchester City stadium where England RU were also playing in their final RUWC match after being knocked out by Australia.
Sam Burgess Contract Finally Registered by NRL
15th December 2015
The Rabbitohs are pleased to inform Members that Sam Burgess' contract has been registered by the NRL this week, meaning Sam will play in the red and green of the Rabbitohs until at least the end of the 2018 season. Burgess is scheduled to return for the Rabbitohs in the Club's opening fixture against the Roosters in March 2016.
---