RLIF 2016 5 year Residenecy Qualifation Change
6th September 2016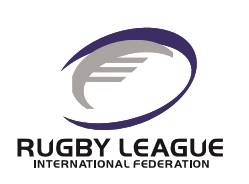 At its meeting on Sep 6 the RLIF Board adopted revise eligibility rules for international rugby league to take effect from 1 October 2016. The rules extend the qualification period for residence to 5 years whilst ensuring that players from developing nations with dual eligibility are not prevented from participating in the Rugby League World Cup. RLIF Chairman Nigel Wood commented "Following the presentation of an initial review by the RLF CEO and RLIF Secretary we have consulted extensively with our Members and made these changes not only in time for the 2017 World Cup but also for the international matches leading into our flagship event. This provides maximum preparation time for nations, their players and coaches, and enhances the quality and competitiveness of our global events."
RLIF 2016 International Eligability Changes
18th September 2016
A radical eligibility change for international rugby league - which will change the equation for the nations outside the big three of Australia, New Zealand and England - has been approved by the Rugby League International Federation.
Eligible players can nominate one tier one nation to represent and one tier two nation.
Players can switch between their two countries multiple times within a World Cup cycle.
There is no stand-down between a change of allegiance.

This will now allow players of Polynesian heritage that can play State of Origin to still be available to turn out for their native island country. It's a big move. League has always had a chequered history with eligibility - mainly due to the professional base of the sport being limited to two countries - but it feels like this is the best solution so far. It's not perfect, but it's pragmatic. It will stop any unnecessary lockout of players from international football, as happened in the past when Polynesian players (in particular) had represented a major nation and then were not selected for the next campaign. It will also stop the major nations - intentionally or otherwise - hoarding the best talent.
---