2019 - The Cyber View from the Hill
7th August 2019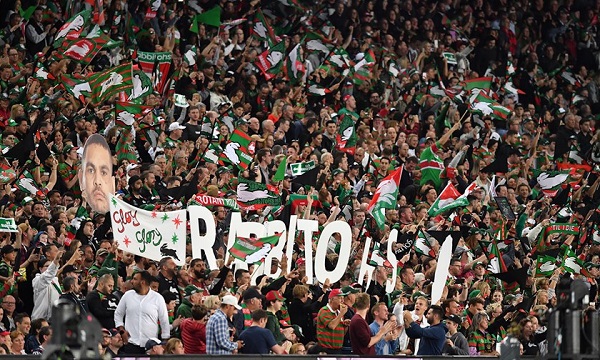 Good Riddance to the Swamp
Another poor result down at the swamp of Shark Park. Our worst defensive effort since 2003. We need to address our ball control as it is costing games in 2019. The team looked very flat and seemed to be focused on next week rather than the game at hand. This was our last game at the old Endeavour Field where it will now be tranformed as part of the Cronulla Leagues Club redevelopment. So goodbye to the swamp as we focus on the competition leaders. Still 1 more win to qualify for the semis.
Sam Burgess returns with a bang
Welcome back Sam, as he cameback with a bang, being placed on report in the first few minutes of the game. After being out for 7 weeks with what was going to be a simple shoulder clean up, turned into a complicated issue due a prior shouder dormant infection, he will take a few weeks to regain strength and timing in his tackles. Sam needs to control is agression while he regains his timing, as he has a tendancy to try and perform hero plays as captain. We need him on the field as we run into the finals.
Return to NSO
While Souths have enjoyed a return to all venues as a reserve grade stand alone outfit. The return to North Sydney Oval as the opposition team had a special meaning as the team returned to play against the team they played as for the last 10 years. And the game proved to be another close one with a Taaffe field goal once again winning the game.
Hawkins returns
Another week another player returns from injury. This time it was halfback Dean Hawkins who broke his colar bone against Wentworthville when making a try saving tackle. Still very young he will find his feet back U20s for a few weeks.
Ball Tracking
One discussion that has come up in recent weeks is proposed use of ball tracking. The key item is to rule on forward passes. This is a interesting one as a runner will move the ball in lots of directions while he runs. Either is a swinging motion or throwing a dummy before he actually throws a pass. Before you can determine if a pass has been thrown forward you will need to determine a players general forward movement. To do this you may need to use the GPS tracking system data behind the neck, plus a limb tracking process to determine when the ball has left the hand. Because forward is actually calulated as the goal line velocity of ball minus player goal line velocity. As forward passes can occur anywhere, not only in the act of scoring a try, especially at dummy half. The tracking process will need to extend into general play. Which then means you will need to improve notofication processes to the referee as well.
Round 20 - Stat Attack
Statistically it was very poor game. Completion dropped to 68% from 83% last week. Errors dropped to 14 from 10 last week. We gave away 5 penalties from 4 last week. Souths Effective 1st tackle dropped to a very poor level of 40.8m from 23.5m last week. Our missed tackles dropped but still in a very good level of 18 from 17 missed tackles last week. Opposition offloads dropped to 10 from 8 last week.
Looking at our left side defence - Graham-Burns-Walker-Sutton/Lowe (1-1-0-2) improved to 4 from 7 missed tackles last week. On the right side Gagai-Roberts-Reynolds-SBurgess/Lowe (1-0-1-2) was steady at 4 missed tackles again this week. Ruck defence Tatola/Nicholls-Cook-TBurgess/Knight-Murray/Turner (1-4-3-2) dropped to 10 from 4 missed tackles last week.
Our go forward dropped to 1271m from 1814m last week. Tatola and Doueihi made 10+m per run. Tatola, Doueihi and Burns making 100+m in the match. Defensively Murray was our best in the tackling raking up 56 tackles. Tatola, Lowe, Turner, Walker, Roberts and Doueihi didn't miss a tackle.