Corey Allan and Britt were trimmed 24 hours before the match. Su'A and Tracey were 18th and 19th men.
The return of injured stars Wade Graham and Matt Moylan has helped propel Cronulla back into serious finals contention after an impressive 39-24 defeat of South Sydney at Pointsbet Stadium on Saturday night. With Prime Minister Scott Morrison among the 13,523 crowd urging them on, the Sharks turned in their best performance of the season to leapfrog Wests Tigers, Penrith, Brisbane and Newcastle into seventh place on the Telstra Premiership ladder. Fielding a full-strength team for the first time this season, the Sharks out-muscled, out-enthused and out-played the Rabbitohs, who have now look like they will drop to fourth. Souths captain Sam Burgess had a comeback he would rather forget after being placed on report for a high tackle on Moylan in the fourth minute and conceding a vital second-half penalty for rubbing his elbow into Paul Gallen's face. Burgess had missed five matches and any charge by the NRL match review committee is likely to result in a suspension as he has twice been fined for contrary conduct this season and served a two-match ban last year for dangerous contact. Moylan played another 16 minutes after the high tackle before being taken from the field for a HIA because technical problems prevented medical staff on the sideline from being able to watch a replay of the incident. He was cleared to return after the HIA. The former NSW Origin representative overcame the high shot from Burgess to save what appeared set to be an early Rabbitohs try when he kicked an in-goal grubber by Adam Reynolds dead before Cody Walker could downward pressure on the ball. The frustration in the Souths camp was obvious after prop Tom Burgess knocked on from the goal-line drop and Reynolds lost the ball in a perfectly timed hit by Graham. "I don't mind aggression but I don't like cheap plays," Sam Burgess told referee Adam Gee. Mulitalo scored the opening try of the match in the 20th minute after Moylan created an overlap by chiming into the backline and dummying inside before passing outside to the rookie winger. Despite losing Moylan for a HIA after the try, the Sharks did not miss a beat and Graham put stand-in fullback Josh Dugan over three minutes later to extend their lead to 14-0 after Shaun Johnson's second conversion from out wide. However, the Rabbitohs showed what they can do with a share of possession when winger Dane Gagai sprinted 40 metres to pounce on a perfectly weighted Reynolds kick and slide across the line to score in the 27th minute. Hooker Damien Cook then raced out of dummy half to put fellow NSW Blue Cameron Murray over two minutes later and reduce the deficit to14-12, despite the visitors having had just 32 per cent of possession. The rally was merely an interruption to proceedings and Bronson Xerri scored in the 36th minute after Graham picked up the ball at dummy half on the last tackle, looked right to where halfback Chad Townsend was set for a kick and passed left to the boom centre. Winger Josh Morris then gave the Sharks a 24-12 lead at half-time with a 39th minute try when he won the race for a kick by Jayden Brailey into the in-goal after an offload from Braden Hamlin-Uele put the hooker into the clear. It was only the fourth time this season that the Sharks had gone to the break with a lead and they went on with the job in the second term. The penalty against Burgess for the Gallen incident enabled Johnson to kick his fifth goal in the 55th minute and when Graham laid on Xerri's second try nine minutes later Cronulla led by 20 points. A Cody Walker try two minutes later gave Rabbitohs fans a slight glimmer of hope that they could again get of jail as they had done in the previous two weeks against the Cowboys and Dragons but Cronulla proved a different prospect.
Sam Burgess has been charged with a Grade 2 Careless high tackle charge from a incident in the 4th minute of the game. This carries a 150 base penalty plus he also incures 70% loading for one a similar charge within the last 2 years, and a non similar charge within the last 12 months. All up a 255 point charge. Sam Burgess has taken the early guilty plea but seeking a downgrade at the judicary.
Sam Burgess has successfully contested the grading of his Careless High Tackle charge. Burgess' Careless High Tackle charge was downgraded from a Grade 2 to a Grade 1 charge. The revised charge carries a $1,500 base charge, which incurrs the same 70% loading for a fine of $2,550. But becuase Sam has taken the early guilty plea the fine is reduced to $1,912, with no carry over points.
Reserve Grade - Canterbury NSW Premiership Round 19
v North Sydney, North Sydney Oval, Sun Aug 4 1:10pm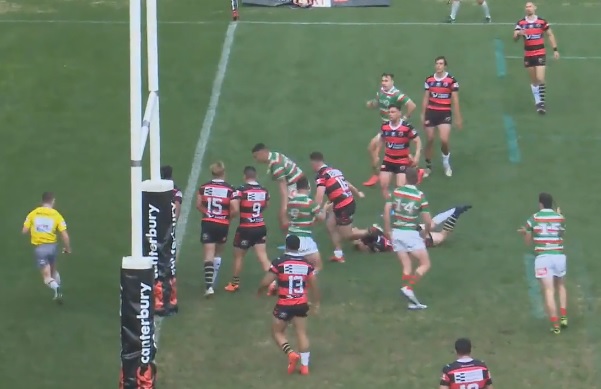 WIN 31-24
Late Changes - Team was 1-17. The South Sydney Rabbitohs Canterbury Cup side have defeated the North Sydney Bears on a beautiful Sunday afternoon at North Sydney Oval 31-24. Hooker Billy Brittain and halves Connor Tracey and Blake Taaffe were all instrumental in the win, with man of the match Taaffe landing a last-minute field goal to seal the win. The Bears started the stronger of the two sides, bagging the opening try in just the second minute. Halfback Drew Hutchison was in fine touch, sending a high chip kick across to the left corner of the field for centre Billy Smith to pluck out of the air and score. This was followed by some more Hutchison magic, this time on the right side of the field, as he threw a beautiful cut-out ball to an unmarked Bernard Lewis who scored in the corner. This gave the Bears a commanding 10-nil lead after just ten minutes. The Rabbitohs were able to claw their way back into the game through, with some big efforts in the middle to wrestle back momentum from the Norths forwards. But it was some silky-smooth skills out wide that got them on the scoreboard for the first time in the game, a beautiful Taaffe grubber leading to Leigh Higgins' first try of the game in the right corner of the field. A string of penalties led to an extended run of possession for the Rabbitohs towards the end of the half. With less than two minutes remaining on the clock, left-winger Mawene Hiroti was tasked with reducing the Bears' lead to just 2 points when the Rabbitohs were awarded a penalty from in front of the posts, converting the opportunity for his side to trail by 10-8. However, the Red and Green were able to go the length of the field in the ensuing set through some brilliant play through the middle by Brittain and Taaffe. Connor Tracey capitalised on the final play of the half, sending a chip kick towards the right corner of the field for Higgins to bag himself a first-half double, giving his side an unlikely 12-10 halftime lead over the Bears. The Rabbitohs started the second half in strong fashion, with Tracey pouncing on a grubber in the in-goal to score near the posts in the 43rd minute. This was followed by another Rabbitohs try, this time to mid-season signing Jaydn Su'A who hit a yawning gap in the defence off a beautiful Billy Brittain pass close to the line. A try to Billy Smith in the 62nd minute narrowed the gap to ten and got the Bears back in the contest with just under a quarter to go. However, a try to Rabbitohs bench forward Lyndon Hills several minutes later extended the Rabbitohs' lead to 16 points. After a late double to North Sydney winger Curtis Johnston, the comeback was very much on as Norths threw caution to the wind and got downfield with ease off the back of a number of offloads. However, a Blake Taaffe field goal with two to go snuffed out any hope of a comeback, and as Lachlan Lam sent the ensuing kick-off out on the full the comeback was officially dead, with the Rabbitohs securing a seven-point win.

 2 min  0-6
10 min  0-10
25 min  6-10 Higgins try Hiroti goal
38 min  8-10 Hiroti goal
40 min 12-10 Higgins try Hiroti miss
HT     12-10
43 min 18-10 Tracey try Hiroti goal
52 min 24-10 Su'A try Hiroti goal
67 min 30-14 Hills try Hiroti goal
71 min 30-20
74 min 30-24
78 min 31-24 Taaffe fieldgoal

Higgins 2, Tracey, Su'A, Hills tries
Hiroti 5 from 6 goals
Taaffe fieldgoal

Scrums     4-5 (1H  2-4 ) 
Penalties 11-7 (1H  6-4 )

Final Line Up -
                                 Min Tac Pe MT LB  Rn  DR    m Er OL   K TA  T  G/A  FG

Flbk -  1 - Allan, Corey          80   2  -  2  -   9   -  113  -  -   -  -  -  -     -
LWng -  5 - Hiroti, Mawene        80  11  1  2  1  13   2   85  1  -   -  -  -  5/6   -
LCnt -  3 - Gagan, Jacob          80   8  -  1  1   6   2   23  2  -   -  -  -  -     -
RCnt -  4 - Dodd, Levi            80   6  -  2  -  10   1  102  -  1   -  -  -  -     -
RWng -  2 - Higgins, Leigh        80   5  -  2  1   8   -   95  -  1   -  -  2  -     -
5/8  -  6 - Tracey, Connor        80  15  -  2  -   9   -   86  2  -   8  -  1  -     -
Half -  7 - Taaffe, Blake         80   8  -  2  1   5   -   70  1  -   5  2  -  -     1
Prop -  8 - Amone, Tom            36  22  -  1  -   8   -   84  -  -   -  -  -  -     -     [0-19,63-80]
Hook -  9 - Brittain, Billy       80  36  -  -  -   9   5  110  -  -   2  1  -  -     - (c)
Prop - 10 - Dillon, Kurt          27  23  2  2  -   8   -   52  -  1   -  -  -  -     -     [0-27]
SRow - 11 - Britt, Dean           55  27  -  2  -  11   -  100  -  -   -  -  -  -     -     [0-33,58-80]
SRow - 12 - Su'A, Jaydn           63  23  1  1  1  16   -  162  -  -   -  -  1  -     -     [0-63]
Lock - 13 - Sironen, Bayley       57  37  1  3  -  10   -  101  -  -   -  -  -  -     -     [0-45,63-75]

Int  - 14 - Gray, Brock           31  13  -  2  -  11   -  112  -  -   -  -  -  -     -     [27-58]
Int  - 15 - Hills, Lyndon         35  16  1  1  1   6   -   51  -  1   -  -  1  -     -     [45-80]
Int  - 16 - Peoples, Trent        57  17  -  1  -   3   -   26  -  -   -  -  -  -     -     [33-80]
Int  - 17 - Johns, Jack           49  17  1  -  -  10   -   80  -  -   2  -  -  -     -     [19-63,75-80]

                                     286  7 26  6         1464  6  4  17  3  5  5/6   1

Completion Rate      - 28 / 30  93%

Opposition Offloads  - 10

Effective 1st Tackles

 1 min  42m Tracey kick 22m / SS P(SuA) / (NS TRY)
 4 min  15m KO
 6 min   0m NS Err / P / Tracey kick CIG
 8 min  92m Tracey kick DIG 41m / SS P(Brittain) 98m / SS 6TG(Tracey) / (NS TRY)
12 min  15m KO
14 min  18m Brittain kick SCR
17 min   5m NS Err SCR / Taaffe kick
19 min  84m SCR / P SS Err(Tracey) 61m / SS P(Dillon)
21 min  75m SS Err(Gagan) SCR 38m / SS 6TG(CAllan)
25 min   0m P / Taaffe kick TRY
30 min  16m P / SS Err(Taaffe) SCR
32 min  15m Tracey kick
33 min  14m Johns kick
36 min  47m NS Err SCR / Tracey kick 2m / SS P(Sironen)
38 min   0m NS Err P / P GOAL
39 min   0m Taaffe kick TRY

half time

40 min   9m KO
41 min  12m Tracey kick
43 min   0m Brittain kick TRY
46 min  67m ChOv 42m SS P(Peoples)
50 min   0m P / Johns kick CIG
52 min   0m P / TRY
55 min  18m P / SS Err(Brittain)
57 min  11m Tracey kick
58 min  21m Tracey kick
61 min  75m Tracey kick COF 14m / SS P(Hiroti) / (NS TRY)
63 min  19m KO
67 min   0m NS Err SCR / NS 6TG SCR TRY
70 min 100m Tracey kick 6m / SS P(Sironen) 35m / SS 6TG(Tracey) SCR (NS TRY)
73 min 100m KO 11m / (NS TRY)
76 min  20m KO
78 min   0m Taaffe kick FIELDGOAL
            P

Average effective 1st tackle location
- 29.3m - for the whole match

- 29.1m - 1st half  
- 29.5m - 2nd half  

Other Reserve Grade Matches

34-22 NHbr Warriors   b Mt Prtchrd
26-24 Brok Blacktown  b Newtown
26-22 WSS  Canterbury b Penrith
36-16 Koga St Geo-Ill b Wntwrthvll
BYE        Wests
BYE        Newcastle

                W D  L B Diff PT
SOUTHS         12 -  6 1  +72 26
CANTERBURY     11 1  6 1  +11 25
PENRITH        11 -  7 1  +50 24
ST GEO-ILL     10 3  6 - +133 23
NORTHS         10 -  8 1  +14 22
WARRIORS        8 2  8 1   +7 20
MT PRITCHARD    8 1  9 1  +42 19
WESTS           7 3  8 1   -7 19
Wentworthville  8 - 10 1  -21 18
Newtown         8 1 10 -  -50 17
Newcastle       6 - 12 1 -102 14
Blacktown       4 1 13 1 -151 11


U20 NSW Jersey Flegg Cup - Round 16
v Cronulla-Sutherland, Endervour Field, Sat Aug 3 5:05pm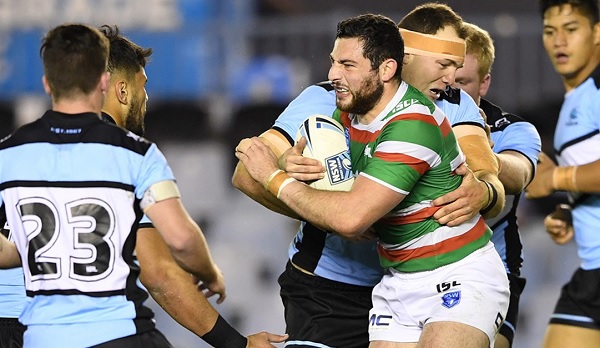 DRAW 20-20
Late Changes - Taumoepenu is out. Fepuleai starts lock, Bain at prop, Stowers on the bench. The South Sydney Rabbitohs Jersey Flegg side have fought out a 20-all draw against the Cronulla-Sutherland Sharks in a thrilling top-four clash at Pointsbet Stadium. In an error riddled-contest, the Rabbitohs held a 16-point lead before being run down by the reigning premiers in a gripping match, with a Nic Mougios try a minute from fulltime locking the scores. Early miscommunication saw the outside backs fail to defuse a kick, which saw Cronulla earn possession as a touch of the ball saw the Red and Green hand it back through a dropout. The Rabbitohs would survive the early onslaught as both sides traded errors, with back-to-back penalties from the home side giving the Red and Green enough to see Jaxson Paulo take a short ball from the ruck and crash over for the first try. With the sideline conversion unsuccessful, it was the Rabbitohs who led after 11 minutes. And they would gain further ascendency as an error in the play the ball from the Sharks allowed them to start 40 metres out from the tryline, but an obstruction call saw Cronulla get the penalty. A couple of misdemeanours in the ruck from the Sharks saw the Red and Green on the attack, electing not to take the two points on offer, with a barnstorming Matt French almost going over only to be held up under the posts. But his second row partner Tallis Angianga soon crashed over in a similar style, this time making sure to get the ball down and doubling the side's lead. Lachlan Ilias also made up for his failed attempt at goal, giving the Rabbitohs a 10-nil lead with just under ten to go in the first half. The Rabbitohs made a late charge for a third try as the clock wound down, with a Lachlan Ilias spiral seeing the Sharks cough up possession near the line, but the home side would hold on to keep the scores at 10-nil at the break. The second stanza began in the best possible fashion for the Red and Green, scoring within a minute through halfback Dean Hawkins, who backed up a beautiful set play up the middle which caught the Sharks napping. With Ilias' conversion, the Rabbitohs suddenly found themselves 16-nil up against the reigning Jersey Flegg premiers. An error from the next set however then welcomed the Sharks back in, with a number of offloads splitting the defence and seeing Franklin Pele crash over under the posts. With the conversion successful, it was back to a ten-point game. The home side continued their momentum forcing a dropout, with the Sharks looking to cross through their second-rower Jack Boyling before fullback James Tautaiolefua cut him down with a beautiful legs tackle. An obstruction on the next play saw the Rabbitohs with the ball in hand and after Angianga terrorised the opposition defence with his deceptive running, this time it was the Red and Green who would give away their own obstruction penalty. And Cronulla would them pay as James Russell burrowed through from dummy-half, with the conversion narrowing the lead to just four points with twenty to go. A controversial knock-on call in the ruck went against the Rabbitohs just ten metres from the tryline, and with an additional penalty, the Sharks would cross in the corner, with the missed conversion leaving the scores level. Both sides would then trade seven tackle sets but it was the Sharks who would score off a miraculous try after a kick saw the ball land just before the dead ball line, with the home side swooping to score their fourth try. The Red and Green weren't done just yet, however, with a Hawkins bomb forcing an error just ten metres from the line with just over two minutes remaining. With the scrum set, the ball went wide to see captain Mougios get the ball down and give his side a chance to win the game with a sideline conversion to be kicked. Ten metres from touch and 22 metres out, the conversion from Lachlan Ilias went agonisingly wide, leaving the scores 20-all at fulltime.

 9 min  4-0  Paulo try Ilias miss
24 min 10-0  Angianga try Ilias goal
HT     10-0
35 min 16-0  Hawkins try Ilias goal
39 min 16-6
47 min 16-12
52 min 16-16
63 min 16-20
68 min 20-20 Ilias try Ilias miss

Paulo, Angianga, Hawkins, Ilias tries
Ilias 2 from 4 goals

Penalties  7-5 (1H 5-3)

Final Line Up -
                                 Min Tac Pe MT LB  Rn  DR    m Er OL   K TA  T  G/A  FG
                                                                                                         
Flbk -  1 - Tautaiolefua, James   70   8  -  4  -   -   -  144  -  -   -  1  -  -     -                  
LWng -  5 - Frasca, Jack          70   4  -  -  -   -   -   84  1  -   -  -  -  -     -                  
LCnt -  3 - Mougios, Nic          70   4  -  3  1   -   -  121  1  1   -  -  -  -     - (c)              
RCnt -  4 - Paulo, Jaxson         70   4  -  3  1   -   -  160  -  -   1  -  1  -     -                  
RWng -  2 - Allan, Kane           43   1  -  -  -   -   -   26  1  -   -  -  -  -     -     [0-43]       
5/8  -  6 - Ilias, Lachlan        70   8  -  2  -   -   -   85  1  -   6  -  1  2/4   -                  
Half -  7 - Hawkins, Dean         70  15  -  2  -   -   -   83  -  -   7  1  1  -     -                  
Prop - 13 - Bain, Luke            65  35  1  5  -   -   -  118  -  1   -  -  -  -     -     [0-50,55-70]  
Hook -  9 - Zaurini, Marc         70  31  -  3  -   -   -   45  -  -   -  1  -  -     -                  
Prop - 10 - Manowski, Aiden       38  25  1  4  -   -   -   16  -  2   -  -  -  -     -     [0-18,50-70] 
SRow - 11 - Angianga, Tallis      70  14  1  5  1   -   -  111  -  -   -  -  1  -     -                  
SRow - 12 - French, Matt          70  34  1  4  -   -   -   91  1  -   -  -  -  -     -                  
Lock - 18 - Fepuleai, Joshua      43  22  -  3  -   -   -   62  -  -   -  -  -  -     -     [0-20,47-70] 

Int  -  8 - Stowers, Augustine    19   8  -  -  -   -   -   45  1  -   -  -  -  -     -     [28-47]       
Int  - 14 - Mamouzelos, Peter     50  32  -  4  1   -   -   47  -  -   -  1  -  -     -     [20-70]      
Int  - 15 - Ranga-Iti, Iizayah    12  10  1  2  -   -   -    -  -  -   -  -  -  -     -     [43-55]      
Int  - 16 - Puru, Luke            10   3  -  -  -   -   -   34  -  -   -  -  -  -     -     [18-28]      

                                     258  5 44  4         1279  6  4  12  4  4  2/4   -

Completion Rate      - 24 / 32  75%

Opposition Offloads  - 9

Other U20 Jersey Flegg Cup Matches

34-16 NHbr Canberra   b Warriors
34-14 LayB Wests-Tig  b Manly
28-28 WSS  Canterbury d Penrith
22-12 NSO  Newcastle  b Syd Rstrs
17-16 NSO  Norths     b Victoria
32-28 Zemi Parramatta b St Geo-Ill

                W D  L B Diff PT
CRONULLA       11 1  4 - +149 23
SYD RSTRS      11 1  4 - +137 23
PENRITH        10 2  4 - +206 22
SOUTHS          9 3  4 -  +68 21
CANTERBURY      9 3  4 -  +61 21
NEWCASTLE      10 -  6 - +191 20
CANBERRA        9 2  5 - +168 20
WARRIORS        7 2  7 -   -2 16
St Geo-Ill      7 1  8 -  +60 15
Wests-Tigers    7 1  8 -   -8 15
Parramatta      5 - 11 - -125 12
Victoria        3 3 10 - -259  9
Norths          2 1 13 - -253  5
Manly           2 - 14 - -393  4