2019 - The Cyber View from the Hill
4th September 2019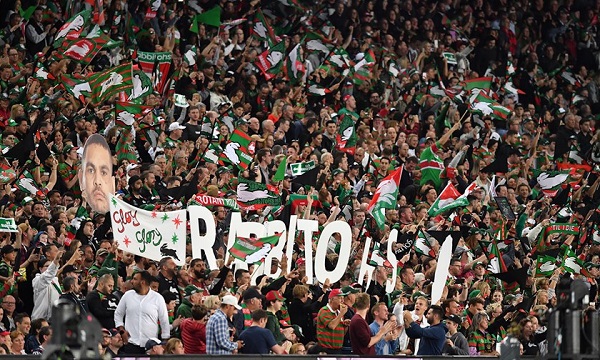 Return to the Top 4
It was a tough game across the ditch. Souths played well to take a 14 point lead, and then blot them out in the second half. But a concern again how we let in points in the last ten minutes before half time. Murray once again is proving to be the player of the season with another huge performance. With Manly losing and our win has allowed us to return to the Top 4. A bin against our bitter rivals or a narrow loss will secure a Top 4 finish.
Johnston returns
Finally some troops start to return. This week we see Alex Johnston return after 1 game in 15 weeks. He has been eased back into the team on the left wing and it didn't take long for him to notch another try on the wing. That is 60 tries from 63 games on the wing.
Reserves Miss Minor Premiership
It came down to the last game of the year, but Souths were pipped for minor premiership. In a tough game against Wentworthville they lost control of the game during the middle 15 minutes of the first half, when Wenty forwards took control. Injuries and suspensions finally caught up with the team this week. But for the first year back in the competition this has been a great achievement by the team to finish second by a point in the regular season.
Ilias scores a double
Another great win by the boys, this time against arch rivals the Sydney Roosters. The match secored their Top 8 finish but they were pipped for a Top 4 position when Penrith and Canberra won. Lachlan Ilias was a star in the game scoring two tries at five-eighth cementing his spot as a star of the future.
Get rid of the Blue shirts
One of my pet hates is how much time water boys ie the Blue Shirts spend on the field. Their role is to provide water to the team. But in todays game while they carry a water bottle they almost never provide water. What they are doing is sittle behind the attacking team performing a under 10s style coaching process. Giving direction, telling who should run where and when, and at times they are remaining n the field in defence too, which is illegal. Alan Langer spends more time on the field than most players and this practice needs to stop. These guys are first grade footballers. We should only allow them on the field when there is a stoppage in play and remove their coaching role all together.
Round 24 - Stat Attack
Statistically it was a good game. Completion improved to 92% from 68% last week. Our best all year. Errors improved to 4 from 13 last week. We gave away 8 penalties from 4 last week. Souths Effective 1st tackle improved to a good level of 25.3m from 37.4m last week. Our missed tackles improved but good level of 24 from 47 missed tackles last week. Opposition offloads were steady at 10 again this week.
Looking at our left side defence - Johnston-Gagai-Walker-Sutton (0-3-1-1) improved to 5 from 9 missed tackles last week. On the right side CAllan-Graham-Reynolds-Su'A/Lowe (1-2-2-2) was improved to 7 from 19 missed tackles last week. Ruck defence SBurgess/Nicholls-Cook-Knight/Tatola-Murray/Turner (3-1-4-5) was improved to 13 from 17 missed tackles last week.
Our go forward was improved to 1747m from 1527m last week. Sam Burgess, Murray, Doueihi and Graham made 10+m per run. Murray, Sam Burgess, Knight, Sutton, Tatola, Nicholls, Graham, Doueihi, Gagai and Johnston making 100+m in the match. With Graham making 200+m for the game. Defensively Cook was our best in the tackling raking up 37 tackles. Su'A, Tatola, Doueihi and Johnston didn't miss a tackle.