Amone and Sironen were trimmed 24 hours before the match. Britt and Hiroti were 18th and 19th men.
South Sydney will head into the final round of the regular season firmly in the mix for a top-four finish, after a dominant showing saw them ease past the Warriors 31-10 in Auckland on Friday night. NSW Origin forward Cameron Murray scored a double, while halfback Adam Reynolds contributed 15 points via four conversions, three penalty goals and a last-minute field goal. Wayne Bennett's side completed all but three of their 39 sets with the ball and ran for almost 500 metres more than the Warriors. The visitors had owned the opening exchanges and quickly built a 14-0 advantage thanks to a pair of tries (Murray, Alex Johnston) and a Reynolds penalty. But they only led by four points at the break after the Warriors struck twice in the closing minutes of the half through Adam Pompey and Ken Maumalo. The Warriors cause wasn't helped by the loss of centre Patrick Herbert (quad) in the warm-up, leaving rookie Pompey to fill the void, while in the first four minutes of the second half they also lost starting hooker Issac Luke (HIA) and back-up Chanel Harris-Tavita (arm). Luke did return to the field – in what was likely his last game at Mount Smart Stadium as a Warrior – but couldn't spark his side back into life as they collapsed to their 14th defeat of 2019. A spirited carry from Murray saw him through for the opener on 15 minutes, with the lock initially falling to the ground before getting back to his feet and sliding over. Winger Johnston was next, finishing off a swift backline move in the far corner. Reynolds converted both and then added a penalty, but with five to go in the half a light seemed to come on for the Warriors. Pompey sliced through for the first try of his NRL career, before Kodi Nikorima produced some individual brilliance to set up Maumalo for his 17th try of 2019, breaking the line and running 20 metres before grubbering for his hulking winger. After back-to-back penalties early in the second stanza Souths again looked to the posts, with Reynolds adding two more. A second Murray try, and a third conversion from Reynolds, gave the Bunnies a 24-10 lead with 20 minutes left on the clock. Another long run by Graham, resulted in a try off the next tackle when Dane Gagai iced it for the visitors with 10 minutes to play. Then as the clock winded down to fulltime Reynolds kick a long range field goal with his left foot.
Reserve Grade - Canterbury NSW Premiership Round 23
v Wentworthville, Redfern Oval, Sat Aug 31 3:10pm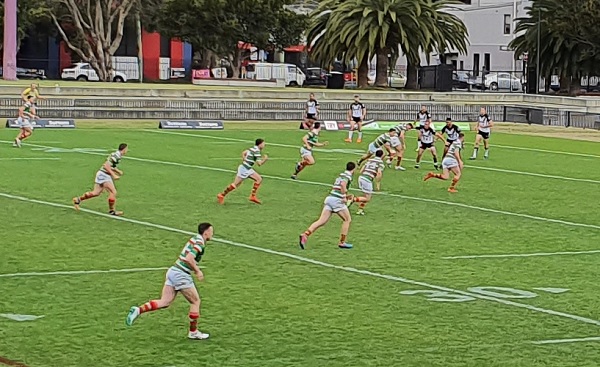 LOSS 16-26
Late Changes - Amone and Gordon are out. Hills starts prop, Britt second row, Sironen lock and Jurd on the bench. The Canterbury Cup Rabbitohs have been defeated by the Wentworthville Magpies 26-16 at the Metricon High Performance Centre at Redfern Oval in the final round of the regular season. Needing a victory to claim the Canterbury Cup Minor Premiership, the Rabbitohs were unable to overcome a Wentworthville side filled with plenty of NRL experience as well as being a man down for a majority of the match with a send off midway through the first half. The home side were on the front foot early with the Magpies giving away a penalty on the first set of the match, giving the Red and Green an early opportunity to score. A deft grubber kick from halfback Dean Hawkins saw winger Dylan O'Connor pounce to open the scoring and continue their perfect start after just two minutes. With the swirling sideline conversion from Mawene Hiroti successful, the Rabbitohs took an early 6-nil lead. The Magpies would score soon after after a penalty in the ruck handed over territory with five-eighth Will Smith scoring by regathering a ricocheted grubber kick and levelling the scores after eight minutes. With their opponents employing a strong kicking game, the Rabbitohs were constantly on the back-foot, and Wentworthville were given another opportunity after a Hawkins pass went astray into touch. Under pressure on the line, it was fullback Leigh Higgins who cleverly cleaned up an attacking grubber, but a forced error on the next set followed by a penalty led to their opponents taking the lead for the first time with a penalty goal. More ill-discipline from the Red and Green saw the home side under pressure once again, and this time their opponents would score their second four-pointer through Tepai Moeroa. With the missed conversion, the scores would see the Magpies up by a converted try after a quarter of the match. Another unfortunate ricochet for the Rabbitohs on last tackle saw Wentworthville with another full set of six just metres from the line, and their first-grade class saw Tim Mannah crash over to take a twelve-point lead. The Magpies would exercise their offloading ability as a break down wide saw them gain further territory, with another penalty close to the line handing over another two points with just under ten minutes in the half left. Needing a big play before the break, the Red and Green were given a chance through an incorrect play the ball from Wentworthville, but a forward pass soon after halted any opportunities. With O'Connor getting pushed behind the try line after taking a grubber, the Magpies were handed one last opportunity to score, but captain Billy Brittain had other ideas - cleverly stabbing the dropout to see centre Levi Dodd regather and streak 40 metres downfield. With less than a minute on the clock, Dean Hawkins took charge by spearheading the attack, but a grubber from his halves partner Connor Tracey was cleaned up, leaving the scores at 20-6 at halftime. Things continued to look grim for the Rabbitohs early in the second half as a swinging tackle gave the Magpies a penalty 40 metres from the line after a strong start from the home side, with Dean Britt sent from the field. Wentworthville looked to score again, but strong defence from the side saw the Red and Green repel their opponents. Levi Dodd and Hiroti would combine down the left-hand touchline to make a break and earn a penalty in the tackle, and with the Rabbitohs on the attack, a Connor Tracey cutout saw Hiroti cross in the Les 'Chicka' Cowie corner. With the chance to close the deficit to eight points, Hiroti nailed the sideline conversion to bring the side back into the contest. More deft offloading from Levi and a strong charge from Leigh Higgins would see another penalty going against the Magpies in the ruck, and another perfect chance for the Rabbitohs to strike again as the sun made its first appearance of the afternoon. A knock-on at the line saw Souths with possession once again, the side come oh-so-close to scoring with a loss of possession from Jack Johns over the line handed the ball over. The Magpies would change the momentum by forcing a dropout on the other side of the field, with Dodd and Brittain looking to replicate their efforts from the first half, only for the centre to this time be controversially called offside. From there, Ethan Parry would cross the line after the putting the scores at 26-12 with just over a quarter of the match left. Not to be deterred, the Rabbitohs continued to ask questions of the Magpies' defence, and with Johns looking to clean up a grubber from Hawkins, a head-high shot from Josh Hoffman saw the side on the attack 20 metres out, only for a loose offload to go back to their opponents. Bayley Sironen prevented another try, intercepting an offload after a Matt McIlwrick break, and a flurry of fast and furious offloads saw the left side once again make their way downfield, however, the bounce of the ball continued to go against the Red and Green. But in a masterful play, a chargedown from Tim Mannah saw a Tracey kick come to Levi Dodd on last tackle, with the centre cleverly kicking and regathering through the line, throwing a goose-step and a spiralling 30-metre cutout pass to O'Connor to score his second. With Hiroti's conversion waved away, the Rabbitohs had to score two converted tries in the final five minutes to take victory. After a strong surge downfield with desperate passes, a penalty 40 saw another chance to score for the desperate Rabbitohs, but again it was their opponents who were able to diffuse a Tracey cross-field bomb.

 2 min  6-0  O'Connor try Hiroti
 6 min  6-6
18 min  6-8
21 min  6-12
25 min  6-18
31 min  6-20
HT      6-20
50 min 12-20 Hiroti try Hiroti goal
57 min 12-26
73 min 16-26 O'Connor try Hiroti miss

O'Connor 2, Hiroti tries
Hiroti 2 from 3 goals

Scrums     5-4 (1H  3-2 ) 
Penalties  9-6 (1H  2-4 ) SCR-P 1-0

42 min Britt, Dean         Sent Off High Tackle

Final Line Up -
                                 Min Tac Pe MT LB  Rn  DR    m Er OL   K TA  T  G/A  FG

Flbk -  1 - Higgins, Leigh        80   2  -  2  1  16   1  103  1  -   -  -  -  -     -
LWng -  5 - Hiroti, Mawene        80   7  -  2  2   8   1   81  -  -   -  -  1  2/3   -
LCnt -  4 - Dodd, Levi            80  10  1  -  -  11   -  124  -  1   1  1  -  -     -
RCnt -  3 - Butler, Tarquinn      80  16  -  3  1  10   -  104  1  1   -  -  -  -     -
RWng -  2 - O'Connor, Dylan       80   3  -  1  1   9   -   83  3  -   -  -  2  -     -
5/8  -  6 - Tracey, Connor        80  17  -  2  -  13   -   81  -  -   8  1  -  -     -
Half -  7 - Hawkins, Dean         80  18  -  3  -  16   -  100  -  4   5  1  -  -     -
Prop - 13 - Hills, Lyndon         44  29  2  1  -   3   1   23  -  1   -  -  -  -     -     [0-26,62-80]
Hook -  9 - Brittain, Billy       62  30  1  3  -   5   5   37  -  -   2  -  -  -     - (c) [0-62]
Prop - 10 - Dillon, Kurt          56  31  -  3  -  14   -  121  1  -   -  -  -  -     -     [0-31,55-80]
SRow - 18 - Britt, Dean           42  18  2  2  -   9   -   59  -  1   -  -  -  -     -     [0-42]
SRow - 12 - Johns, Jack           80  35  -  6  -  10   -   59  1  -   1  -  -  -     -     
Lock - 11 - Sironen, Bayley       47  42  -  1  -   9   -   59  -  -   -  -  -  -     -     [0-24,40-67]

Int  - 14 - Gray, Brock           34  22  -  3  -   7   -   57  -  -   -  -  -  -     -     [24-58]
Int  - 15 - Peoples, Trent        38  17  -  1  -  13   -  126  -  -   -  -  -  -     -     [26-55,71-80]
Int  - 16 - Manowski, Blake       22  10  -  1  -   3   -   35  -  -   -  -  -  -     -     [31-40,67-80]
Int  - 20 - Jurd, Matthew         13   7  -  1  -   7   -   44  -  -   -  -  -  -     -     [58-71]

                                     314  6 35  5         1302  7  8  17  3  3  2/3   -

Completion Rate      - 25 / 32  78%

Opposition Offloads  - 6

Other Reserve Grade Matches

24-20 MtSm Warriors   b Wests
24-22 Belm St Geo-Ill b Canterbury
34-22 Hens Newtown    b Newcastle
19-6  Aubr Norths     b Mt Prtchrd
42-34 Layb Blacktown  b Penrith

                W D  L B   F   A Diff PT
ST GEO-ILL     13 3  6 1 588 421 +167 31
SOUTHS         14 -  8 1 542 462  +80 30
NORTHS         13 -  9 1 508 451  +57 28
CANTERBURY     12 1  9 1 501 500   +1 27
PENRITH        12 - 10 1 494 474  +20 26
MT PRITCHARD   11 1 10 1 584 515  +69 25
NEWTOWN        11 1 10 1 538 538    - 25
WENTWORTHVILLE 11 - 11 1 494 485   +9 24
--
Warriors        9 2 11 1 416 451  -35 22
Wests           7 3 12 1 447 502  -55 19
Newcastle       7 - 15 1 336 404 -158 16
Blacktown       6 1 15 1 460 615 -155 15

Other Reserve Grade Matches - Queensland

                W D  L   F   A Diff PT
SUNSHINE COAST 21 1  1 856 292 +564 43
WYNNUM-MANLY   18 -  5 652 362 +290 38
BURLEIGH       17 -  6 663 304 +359 34
TOWNSVILLE     17 -  6 566 344 +222 34
BRIS-NORTHS    15 -  8 619 477 +142 30
TWEED HEADS    14 -  9 464 438  +26 28
REDCLIFFE      13 - 10 556 392 +166 26
BRIS-EASTS     10 1 12 478 541  -63 21
--
Ipswich         9 1 13 466 563  -97 19
Souths-Logan    7 1 15 465 694 -229 15
Mackay          7 - 16 416 566 -150 14
Northern Pride  5 - 18 342 634 -293 10
PNG Hunters     4 1 18 315 750 -435  9
Central Qld     1 1 21 318 820 -502  3



U20 NSW Jersey Flegg Cup - Round 20
v Sydney Roosters, 1:30pm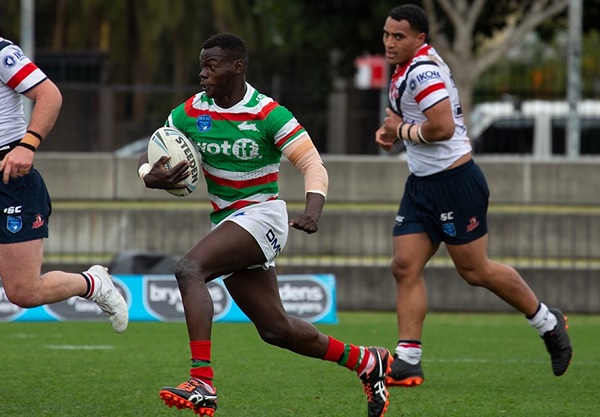 WIN 23-12
Late Changes - Bain and Mamouselos are out. Iti and Tauoepenu start at prop, J.Cook at hooker, Zaurini, A.Manowski and Akau'ala Laula on the bench. The South Sydney Rabbitohs Jersey Flegg side have claimed a resilient 23-12 win against arch rivals the Sydney Roosters in the final regular season round of the competition. A defensive masterclass from the Red and Green saw the Rabbitohs overcome their more fancied opponents, with the side's desire without the ball in a number of pivotal moments proving to be the catalyst of the match. With both sides qualifying for the finals, it was a matter of making the top four for the Rabbitohs against their opponents who had entrenched themselves in the top two. The biggest rivalry in Rugby League wasn't just reserved for the first-grade sides though, with a number of big hits forcing errors and swinging the momentum of the match early on. The Rabbitohs came close to laying on the first points, with half Blake Taaffe looking to set up an overlap, but the bounce of the ball went against the home side. Off the back of that, as well as a penalty in the ruck, their more fancied opponents had a chance of their own to score, but the resilient defence of the Red and Green saw fullback James Tautaiolefua take a ricocheted kick and give his side much needed possession. A strong charge from winger Moung Dut coupled with a brilliant kick to the corner from Taaffe then saw a sudden shift giving the Rabbitohs the advantage. Souths continued to gain the ascendency after forcing an error just 25 metres from their opponents try line, and a sidestepping Ilias would claim first points of the match after fifteen minutes. Converting his own try, Taaffe's efforts put the Rabbitohs up 6-nil. The Red and Green rampage continued with the home side scoring immediately after, with Taaffe's halves partner Lachlan Ilias running away to score his second after a brilliant ball put winger Kane Allan through a gap right from the kick-off, seeing the Rabbitohs lead 12-nil after seventeen minutes. Souths would continue their ascendency, forcing another error from their opponents close to the line, with hooker Josh Cook asking plenty of questions from dummy-half. The Rabbitohs denied the chance to go up by more than a converted try after a penalty, but their momentum would come undone as a Taaffe cutout pass to Moung flew just too far over the sideline. A penalty to the Roosters saw their opponents eventually cross through a sidestepping Dejzha Pene, and with the conversion it was a six-point game with just under eight minutes left in the half. The Roosters ill-discipline would continue to allow the Rabbitohs to extend their lead, and after dismissing another chance to take the two from a penalty, they would cross through Allan as some basketball-like offloading from Cook and Tautaiolefua put their winger over with less than two minutes before the break. Taaffe's unsuccessful sideline conversion saw the Rabbitohs up 16-6 at halftime. The second stanza began with a light downpour and with the Rabbitohs laying down plenty of shots on their opponents. However, the Roosters would go over again as the scrambling defence failed to contain Pene, who scored his second of the match just two minutes from the break. With the try converted, it was a four-point game early into the second stanza. A quick tap from centre Jaxson Paulo saw the Roosters offside, and with the ensuing penalty on halfway, the Rabbitohs would be given their first chance to strike back. After previously challenging the defence earlier in the match around the ruck, Josh Cook would get a four-pointer of his own with a trademark dive from dummy-half. Taaffe's conversion from in front would see the Rabbitohs return to a ten-point advantage. A break from the kick-off by Luke Puru would see the front rower charge 60 metres downfield and give his side another chance to score, but with the weather turning grim, back-to-back errors alleviated any chances to score. With the match turning into a grind with the added downpour, but the Rabbitohs continued their flair with an out-and-in play between Ilias, Tautaiolefua and Cook saw another chance present itself, but a turnover on the other side of the field told the tape of the second half. Soon it was the Roosters on the attack, with a shot flattening a player without the ball seeing the Rabbitohs penalised and needing to defend their line. Despite the weight of possession on the side of their opponents, the brickwall defence would see another error forced and another try saved. Ill discipline would creep into camp, with more chances given before a brilliant intercept on the line by Josh Fepuleai saved another chance, until yet another error would give their opponents a sniff. But again the strong defence, highlighted by a brilliant one-on-one tackle from captain Nic Mougios saw the Rabbitohs repel their opponents once again. The sides would trade penalties and errors in a tense final ten minutes, with a leg injury to Cook marring the defensive prowess of the Rabbitohs. Allan would prove himself to be a defensive powerhouse as well, with the Roosters looking to score, the lanky winger would force his opposite into touchbefore crossing in the corner, much to the delight of his teammates and the raucous crowd. The right side would again prove themselves a tough ask with another effort to put their opponents into touch, and with a Lachlan Ilias field goal running down the clock, it was the Rabbitohs who would claim a 23-12 win on home soil.

14 min  6-0  Ilias try Taaffe goal 
16 min 12-0  Ilias try Taaffe goal
25 min 12-6
33 min 16-6  KAllan try Taaffe miss
HT     16-6
36 min 16-12
42 min 22-12 JCook try Taaffe goal
67 min 23-12 Ilias fieldgoal

Ilias 2, K.Allan, J.Cook tries
Taaffe 3 from 4 goals
Ilias fieldgoal

Scrums     5-9 (1H  3-5 )
Penalties  7-9 (1H  3-4 )

Final Line Up -
                                 Min Tac Pe MT LB  Rn  DR    m Er OL   K TA  T  G/A  FG
                                                                                                         
Flbk -  1 - Tautaiolefua, James   70   1  -  1  -   -   -  153  -  3   1  -  -  -     -                  
LWng -  2 - Dut, Muong            70   3  -  -  -   -   -   79  1  -   -  -  -  -     -                  
LCnt -  3 - Mougios, Nic          70   7  -  4  -   -   -   94  -  -   -  -  -  -     - (c)              
RCnt -  4 - Paulo, Jaxson         70   9  -  6  -   -   -  164  -  1   -  -  -  -     -                  
RWng -  5 - Allan, Kane           70   6  -  1  2   -   -  122  2  -   -  1  1  -     -                  
5/8  -  7 - Ilias, Lachlan        70  25  -  5  1   -   -  112  -  1   8  1  2  -     1                  
Half -  6 - Taaffe, Blake         70  17  -  5  -   -   -   81  3  -   4  -  -  3/4   -                  
Prop - 17 - Ranga-Iti, Iizayah    20  12  -  1  -   -   -   27  -  -   -  -  -  -     -     [0-11,47-56]  
Hook - 21 - Cook, Josh            64  23  -  5  2   -   -   81  -  1   -  -  1  -     -     [0-64]             
Prop - 15 - Taumoepenu, Tevita    40  25  2  2  -   -   -   40  -  -   -  -  -  -     -     [0-20,50-70] 
SRow - 11 - Angianga, Tallis      70  17  2  4  -   -   -  129  1  -   -  -  -  -     -                  
SRow - 12 - French, Matt          35  20  2  1  -   -   -   43  2  -   -  -  -  -     -     [0-35]             
Lock - 13 - Fepuleai, Joshua      26  18  1  1  -   -   -   61  1  -   -  1  -  -     -     [0-26] 

Int  -  9 - Zaurini, Marc         35  17  -  -  -   -   -    5  1  -   -  -  -  -     -     [35-70]       
Int  - 10 - Manowski, Aiden       59  29  2  4  -   -   -   72  -  2   -  -  -  -     -     [11-70]      
Int  - 16 - Puru, Luke            36  18  -  3  1   -   -  130  -  -   -  -  -  -     -     [20-50,64-70]      
Int  - 18 - Akau'ola-Laula, K     21   9  -  2  -   -   -   31  -  -   -  -  -  -     -     [26-47] (Kamaloni)    

                                     256  9 45  6         1432 11  8  14  3  4  3/4   1

Completion Rate      - 26 / 35  74%

Opposition Offloads  - 7

Other U20 Jersey Flegg Cup Matches

22-18 MtSm Warriors   b Wests-Tig
12-0  NISC Cronulla   b Newcastle
28-26 ALbP Canberra   b St Geo-Ill
42-18 Belm Canterbury b Victoria
40-18 NSO  Parramatta b Norths
42-6  Layb Penrith    b Manly

                W D  L   F   A Diff PT
CRONULLA       14 1  5 469 300 +169 29
SYD RSTRS      13 1  6 446 314 +132 27
PENRITH        12 2  6 594 350 +244 26
CANBERRA       12 2  6 574 374 +200 26
SOUTHS         11 3  6 572 445 +127 25
CANTERBURY     11 3  6 455 392  +63 25
NEWCASTLE      12 -  8 552 359 +193 24
ST GEO-ILL     10 1  9 513 383 +130 21
--
Wests-Tigers   10 1  9 470 424  +46 21
Warriors        9 2  9 482 462  +20 20
Parramatta      9 - 11 427 500  -63 20
Victoria        3 3 14 235 602 -367  9
Norths          2 1 17 307 668 -361  5
Manly           2 - 18 229 752 -523  4


---
© 2019 SSR Almanac / HOME / RETURN