2019 - The Cyber View from the Hill
11th September 2019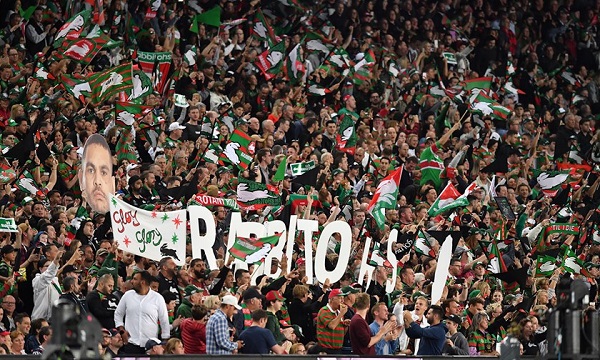 Gutsy win cements Top 3 birth
It was a game that we started well, then for 20 minutes we let the game get out of our control and desperate defence kept us in the game. Then in a Bennett masterstroke he shifted Murray out wide and our line held solid. It was the second game that we held the opposition scoreless in the second half to hang on even when injuries mounted and with 12 men we hung on. Now for a epic rematch at the SCG, our first finals rematch at that historic SCG venue for 81 years.
Murray versatility
Cameron Murray is the talk of town again this weeend. We all know his great performances up the middle, that has allowed Sam to play second row or prop. But this week saw another side of the youngster when he shifted into the centres where he had not played since his junior days. His crunching defence left the opposition battered at every turn.
Paulo hat-trick
Paulo returned to reserve grade in our qualifying final game and did not disappoint. His barnstroming long runs tore apart a tiring Bears defence. His power and speed in attack has stamped him as a potential first grader soon, and put Souths within one game of the NSWRL grand final.
Kane Allan scores a double
In the U20s elimination semi-final it was speed that helped break the Dragons. Allan ran 80m off a intercept and then backed up across the field to score two runaway tries. He brings a x factor in attack with his ability to transform a linebreak into a length of the field try. Our U20s boys now setup a rematch with the Sharks who they drew with on a few weeks ago.
MRC & Judicary Overhall required
The only consistant about the MRC and the judicary is there inconsistancy. We further examples over the weekend where these unaccountable men behind closed doors are determining the fate of teams as we enter the finals. We need a fresh start to remove the perception of bias from the procedure and include neutral parties, like the referees into the process.
Round 25 - Stat Attack
Statistically it was a good we let slip a moments in the game. Completion dropped to 72% from 92% last week. Errors dropped to 11 from 4 last week. We gave away 4 penalties from 8 last week. Souths Effective 1st tackle improved to a good level of 37.1m from 25.3m last week. Our missed tackles dropped to a very pool level of 37 from 24 missed tackles last week. Opposition offloads dropped to 11 from 10 last week.
Looking at our left side defence - Johnston-Gagai/Murray-Walker-Sutton (4-1-3-2) dropped to 10 from 5 missed tackles last week. On the right side CAllan-Graham-Reynolds-Su'A/Lowe (1-1-5-3) was dropped to 10 from 7 missed tackles last week. Ruck defence SBurgess/Nicholls-Cook-Knight/Tatola-Murray/Amone/Su'A (8-3-2-4) was dropped to 17 from 13 missed tackles last week.
Our go forward was dropped to 1466m from 1747m last week. Su'A and Tatola made 10+m per run. Sam Burgess, Su'A, Knight, Tatola, Murray, Doueihi and Graham making 100+m in the match. With Graham making 200+m for the game. Defensively Cook was our best in the tackling raking up 46 tackles. Tatola, Gagai and Doueihi didn't miss a tackle.