Tracey and Dillon were trimmed 24 hours before the match. Sironen and Hiroti were 18th and 19th men.
An injury-hit South Sydney were forced to finish with just 12 players as they mounted a brave second-half comeback to secure a top-four berth with a dramatic 16-10 triumph that has cast doubts about the Sydney Roosters' hopes of winning back-to-back premierships. The Rabbitohs overcame the loss of Dane Gagai, Junior Tatola, Liam Knight, John Sutton and Adam Reynolds in the second half to fight back from at 10-2 halftime deficit and inflict the Roosters' first defeat since Round 17. Worse for the Roosters, props Jared Waerea-Hargreaves and Zane Tetevano were placed on report for dangerous tackles, while halfback Cooper Cronk finished the match clutching at the left shoulder he broke during last year's grand final qualifier against Souths. It was a remarkable win for the Rabbitohs as they had been totally outplayed in the first half and suffered a procession of injuries after the break which forced them to play the final three minutes with just 12 men. Gagai succumbed to a hamstring injury suffered in the pre-match warm-up, while Tatola, Knight, Sutton and Reynolds were all taken from the field for HIAs. Knight also needed stitches and was being checked for a facial fracture after Warea-Hargreaves collected him with his shoulder, causing a head clash with Roosters forward Nat Butcher. At halftime, the only question being asked was how Souths were still in the match after such a dominant opening 40 minutes by the Roosters. After withstanding an initial onslaught from the Rabbitohs, who forced two goal-line dropouts and received two penalties, the Roosters virtually toyed with their opponents as they controlled field position and possession. Souths halfback Adam Reynolds kicked a ninth minute penalty goal but the Rabbitohs never looked like scoring while the Roosters crossed for two tries and bombed another four before halftime. Roosters centre Joey Manu played like he had spiders on him as he caused havoc with the Souths left-edge defence, laying the foundations for his team's first try and laying on the second with stunning offloads. Cooper Cronk was the first beneficiary of Manu's brilliance, receiving a pass before putting fullback James Tedesco into space and then backing up to score in the 16th minute. Latrell Mitchell lost the ball over the try line after the Roosters received a penalty for Sam Burgess grabbing the hair of winger Billy Smith but it was only a matter of time before the premiers scored again. Again Manu was the creator, putting Smith over in the 25th minute with a flick pass that Greg Inglis or Matt Gidley would have been proud of. With the Rabbitohs struggling to stay in the contest, Burgess was penalised for a high tackle on Tedesco and replaced in the 29th minute as errors and ill-discipline threatened to prove costly. Manu somehow managed a kick despite being surrounded by tacklers but Victor Radley fumbled and a try went begging, while winger Daniel Tupou spilled the ball after out-leaping Campbell Graham for a bomb and Mitchell knocked on over the Rabbitohs try line. Leading 10-2 at halftime, the Roosters began the second half as they finished the first and Souths were forced into a backline reshuffle after losing Gagai with a hamstring injury in the 47th minute. NSW Origin forward Cameron Murray shifted to left centre and he had an immediate impact as Graham crossed for a try a minute later. The Rabbitohs then hit the lead in the 50th minute after Damian Cook sent Junior Tatola racing through a gap and he linked with winger Alex Johnston, who found five-eighth Cody Walker in support. Soon after Tatola was forced off with a HIA and did not return. Tetavano was placed on report for tackling Souths fullback Adam Doueihi without the ball as Cook passed in front of him to Tatola and Rabbitohs fans called for Waerea-Hargreaves to be sent off after collecting Knight with his shoulder six minutes from fulltime. A Reynolds penalty goal after another high shot gave Souths a six-point lead. Then with a few minutes to go mayhem took hold as Reynolds copped a elbow to the throat from Cordiner. While recovering Sutton had a head clash and was taken off the field with a HIA, but seconds later Reynolds was also taken off for a HIA. Souths had no further replacements available and had to play the final two minutes within their 30m zone under attack with twelve men. They managed to hang on to secure a top-four berth and retain the Ron Coote Cup.
South Sydney Rabbitohs captain Sam Burgess has been charged for Contrary Conduct Grade one for pulling the hair of Roosters player Billy Smith. As this is the third fine occurance within 12 months fines no longer apply. The base penalty for this charge is 100 points with 90% loading comprising 50% for a similar charge and 40% for two non similiar charges resulting in a 190 point base charge. Sam has taken the early guilty plea and will get a 25% discount resulting in a 1 week suspension with 40 carry over points.
Reserve Grade - Canterbury NSW Premiership Major Preliminary Semi-Final
(2v3) v North Sydney, Campbelltown Stadium, Sun Sep 8 3:15pm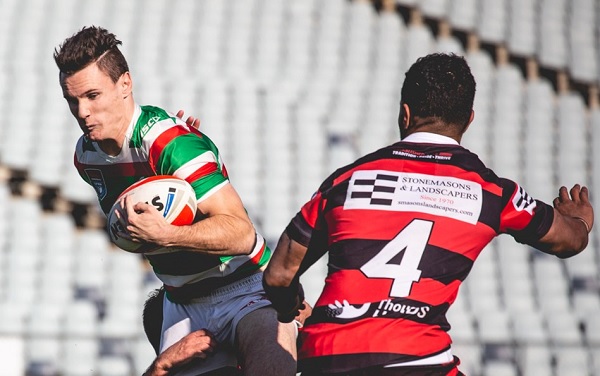 WIN 32-12
Late Changes - Hawkins and Gordon are out. Taaffe starts half, Amone at prop, Gray on the bench. The South Sydney Rabbitohs were too strong for the North Sydney Bears in Week 1 of the Canterbury Cup finals, defeating them 32-12. The Bears came out of the gates firing and dominated possession in the opening few minutes, led by their middle forwards. Consecutive penalties put the Bears in good attacking field position and a gift two points opened the scoring through the boot of Lachlan Lam in the third minute. Despite the early lead, the Souths halves really took control in this period and turned the North forwards around with their kicking game. Their game management was eventually rewarded when a penalty in range of the Norths' goal posts was awarded to the Rabbitohs. While it seemed like a gift two-points to even the scores, Mawene Hiroti hit the left hand up-right which caused the ball to ricochet back into the field of play and into the Rabbitohs' arms. Despite retaining possession, the Bears defence held out any threat of a try. In fact, it took 24 minutes for the first try of the game to be scored, through Connor Tracey, who brought his running game. Tracey showed the ball back on the inside and went straight through the middle of the Norths pack, before burning the fullback to find the try line. Mawene Hiroti made no mistake with the conversion attempt this time to make it 6-2 to the Rabbitohs. At this point you could feel the Rabbitohs had weathered the early onslaught from the Norths forwards and were free to move the ball from sideline to sideline. Levi Dodd was particularly impressive breaking through tackles and linking well with Jaxson Paulo on the left edge. On two occasions Dodd put him into space where he managed to score two quick-fire tries in the first half. The first of the two was particularly impressive by Paulo; stepping back off his left and outpacing the cover defence. While Hiroti kicked only one of the two conversion attempts, he also kicked a penalty goal which extended the score to 18-2 to the Rabbitohs at half time. The Rabbitohs started the half full of energy and it was Levi Dodd again putting teammates in space, this time linking with his opposite centre, Mawene Hiroti. Hiroti had an uncontested run to the line after hitting the gap at speed and successfully converted his try taking the score to 24-2 in the 43rd minute. He picked up his double 10 minutes later with a brilliant solo effort after being given early ball; his step and fend proving too hard to handle. Despite missing the conversion attempt, South Sydney were truly in the driver's seat, with a commanding 26-point lead. The Bears continued to throw plenty at the Rabbitohs however and were eventually rewarded in the 66th minute when Egan Butcher crashed over close to the line off a short ball. Frustrations boiled over for both sides and a bit of push-and-shove resulted in both teams playing the final seven minutes with twelve players after Bradley Dietz and Billy Brittain were both sent to the sin bin. North Sydney went back-to-back after Kieran Moss put winger, Bernard Lewis, away in the corner, which brought the score to 28-12. Jaxson Paulo picked up his hat-trick moments later to cap off a brilliant effort. Paulo out-muscled his opponent to get the ball down in the corner. While Hiroti's conversion attempt was unsuccessful, there was no chance of an upset with the final score finishing at 32-12.

 2 min  0-2
 9 min  0-2  Hiroti miss
24 min  6-2  Tracey try Hiroti goal
32 min 10-2  Paulo try Hiroti miss
38 min 12-2  Hiroti goal
39 min 18-2  Paulo try Hiroti goal
HT     18-2
42 min 24-2  Hiroti try Hiroti goal
55 min 28-2  Hiroti try Hiroti miss
66 min 28-8
73 min 28-12
76 min 32-12 Paulo try Hiroti miss

Paulo 3, Hiroti 2, Tracey tries
Hiroti 4 from 8 goals

Scrums     3-5 (1H  1-2 ) 
Penalties  9-5 (1H  6-2 )

72 min Brittain, Billy     10SB Punching

Final Line Up -
                                 Min Tac Pe MT LB  Rn  DR    m Er OL   K TA  T  G/A  FG

Flbk -  1 - Higgins, Leigh        80   3  -  -  -  19   3  149  -  1   -  -  -  -     -
LWng -  5 - Paulo, Jaxson         80   4  -  -  3  12   -  199  -  -   -  -  3  -     -
LCnt -  4 - Dodd, Levi            80  11  -  3  3  15   -  157  -  2   -  1  -  -     -
RCnt -  3 - Hiroti, Mawene        80  17  -  1  1  11   1  127  -  1   -  -  2  4/8   -
RWng -  2 - O'Connor, Dylan       80   4  -  -  -  13   1  140  -  -   -  -  -  -     -
5/8  -  6 - Tracey, Connor        80  13  -  2  1  18   -  101  2  -   5  -  1  -     -
Half - 18 - Taaffe, Blake         80  18  -  2  -  20   -  107  -  -   7  -  -  -     -
Prop - 21 - Amone, Tom            45  14  -  1  -  16   -  169  1  -   -  -  -  -     -     [0-21,48-72]
Hook -  9 - Brittain, Billy       72  27  3  4  -  15  13   87  1  2   4  -  -  -     - (c) [0-72]
Prop - 10 - Dillon, Kurt          58  19  1  3  -  21   -  195  2  1   -  -  -  -     -     [0-24,46-80]
SRow - 11 - Peoples, Trent        63  21  -  1  -  11   -  109  -  -   -  -  -  -     -     [0-63]
SRow - 12 - Johns, Jack           80  22  -  3  -  17   -  141  1  -   -  1  -  -     -     
Lock - 13 - Sironen, Bayley       64  29  -  1  -  17   -  136  1  -   -  -  -  -     -     [0-64]

Int  -  8 - Gray, Brock           35  12  -  -  -  13   -  153  -  -   -  -  -  -     -     [21-48,72-80]
Int  - 14 - Hills, Lyndon         22   8  -  1  -   5   -   64  -  -   -  -  -  -     -     [24-46]
Int  - 15 - Butler, Tarquinn      17   3  -  -  -   1   -    4  -  -   -  -  -  -     -     [63-80]
Int  - 16 - Manowski, Blake       16   5  1  1  -   3   -   24  -  -   1  -  -  -     -     [64-80]

                                     230  5 23  8         2069  8  7  18  2  6  4/8   -

Completion Rate      - 35 / 42  83%

Opposition Offloads  - 7

Other Reserve Grade Matches

24-22 Camp (1v4) St Geo-Ill b Canterbury (ET)
34-16 Camp (8v5) Wntwrthvll b Penrith
44-20 Camp (7v6) Newtown    b Mt Prtchrd

Other Reserve Grade Matches - Queensland

20-12 SunS  (4v1) Townsville b Snsh Coast
34-32 Koug  (3v2) Burleigh   b Wynnum
24-20 Bshp  (8v5) Bris-Easts b Bris-Norths
25-24 Pigg  (7v6) Redcliffe  b Tweed Hds


U20 NSW Jersey Flegg Cup - Minor Preliminary Semi-Final
(5v8) v St George-Illawarra, 11:00am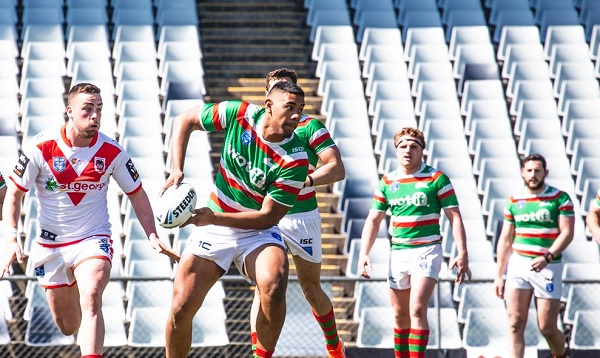 WIN 32-24
Late Changes - Taaffe is out. Zaurini starts fieve-eighth, Ilias half, Taumoepenu at prop, Aiden Manowski on the bench. The South Sydney Rabbitohs have downed the St. George Illawarra Dragons in Week 1 of the Jersey Flegg Finals. It was fifth-placed Rabbitohs up against eighth-placed Dragons in a tense, must-win game to kick-off proceedings at Campbelltown Sports Stadium on Sunday. The Dragons started the attack early through a break by Fullback, Cody Ramsey, after slicing into the left edge when returning the football. It took great defence from the Rabbitohs to recover and were relieved to have not been punished by the earlier play. The Rabbitohs made a break of their own through Josh Cook, who went straight up the middle third of the field, after picking out a retreating 'A' defender. Cook calmly drew the fullback and found a supporting Kane Allan to open proceedings in the fifth minute. Lachlan Ilias made no mistake from beside the posts to give the Rabbitohs an early 6-0 lead. It only took a couple of sets for the Dragons to reply through Cody Ramsey, after Tyran Wishart stepped his way through defenders to then link up with his fullback. Blair Grant converted the try to square up the scores at six apiece in the 10th minute. A bounce-back was evident however, when Lachlan Ilias crossed only three minutes later through brute strength and determination. While he was unsuccessful with his conversion attempt, the Rabbitohs had regained the lead at 10-6. A penalty in the set after points marched the Rabbitohs back up field and into 'good ball' territory. Just as it seemed their lead would increase, some great goal line defence by the Dragons stopped any chance of the Rabbitohs scoring in that set. The Dragons managed to string together consecutive sets of their own which got them back on the attack. They were looking very threatening but an all-or-nothing play from Kane Allan saw him chance his arm at an intercept, and was rewarded for it. The rangy winger managed to streak down the touch line to bag his second of the game in a 90-metre effort. The conversion attempt was successful from Lachlan Ilias which took the score out to 16-6 with 22 minutes having past. Moments later there was the turning point of the half when Lachlan Ilias failed to find touch off a penalty. Instantly the Dragons tails were up but a back-and-forth period saw the points dry up momentarily. This was until Josh Cook scored a try of his own through a barge over close to the line. The sideline attempt at conversion was missed but the Rabbitohs had a commanding lead with the score at 20-6. Just as it appeared that would be the final score of the half, Saints replied through Cody Ramsey again who like Kane Allan, also bagged a first half double. It was another great assist from Tyran Wishart who put the deft kick through for Ramsey to pounce. Blair kicked his second goal of the match to take the score to 20-12 at half time and put the Dragons back into the game. A positional change occured n the second half with Zampech moving to five-eighth and Zaurini to the centres. It was a less than ideal start to the second half by the Rabbitohs when the ball was dropped from the kick-off, which instantly put the Dragons on the attack. Desperate defence from the Rabbitohs held off the Dragons scoring and a penalty in the set after marched the Rabbitohs back up field. Fullback, James Tautaiolefua, kept the ball alive on last which eventually found Lachlan Ilias who put a chip through and almost regathered. Unfortunately for them, the bounce of the ball just went dead. Both teams entered the arm wrestle again before the Dragons found themselves back in Rabbitohs territory through second-phase play. A pinpoint kick from Blair Grant found a leaping Sam Grant on the left wing for the Dragons, who then planted the ball down in the corner. Grant made no mistake with the conversion attempt from out wide which closed the Rabbitohs lead to just two points at 20-18. In the spirit of the back-and-forth game, the Rabbitohs hit back a few sets later through Marc Zaurrini. Zaurrini was the beneficiary of a Tautaiolefua assist, after a well-executed block play put the Fullback in space. Ilias converted the try to take the score to 26-18 in the 49th minute. The Rabbitohs went back-to-back, scoring a solo try out of nothing through Lachlan Ilias a few sets later. The successful conversion took his personal points tally to 16 for the game. The Dragons built pressure of their own and were breathing down the neck of the Rabbitohs. Their persistence eventually paid off. Another line break by Cody Ramsey off a kick return had the Rabbitohs defensive line at sixes and sevens and a simple shift to the open side put Sam McCann in for his double. Blair had a perfect day with the boot but in the end, it was all too late for the Dragons leaving the final score at 32-24.

 4 min  6-0  K.Allan try Ilias goal
 9 min  6-6
12 min 10-6  Ilias try Ilias miss
19 min 16-6  K.Allan try Ilias goal
27 min 20-6  J.Cook try Ilias miss
33 min 20-10
HT     20-10
40 min 20-18
45 min 26-18 Zaurini try Ilias goal
53 min 32-18 Ilias try Ilias goal
57 min 32-24

K.Allan 2, Ilias 2, J.Cook, Zaurini tries
Ilias 4 from 6 goals

Scrums     3-3 (1H  1-0 )
Penalties 10-9 (1H  5-6 )

Final Line Up -
                                 Min Tac Pe MT LB  Rn  DR    m Er OL   K TA  T  G/A  FG
                                                                                                         
Flbk -  1 - Tautaiolefua, James   70   5  -  -  -   -   -  143  -  5   -  1  -  -     -                  
LWng -  2 - Dut, Muong            70   4  -  -  -   -   -   73  -  -   -  -  -  -     -                  
LCnt -  4 - Zampech, Bradley      70  16  1  6  -   -   -   73  -  -   2  1  -  -     -                  
RCnt -  3 - Mougios, Nic          70  10  -  7  -   -   -   85  -  -   -  -  -  -     - (c)              
RWng -  5 - Allan, Kane           70   2  -  2  -   -   -  157  -  -   -  -  2  -     -                  
5/8  - 21 - Zaurini, Marc         70  12  1  4  1   -   -   92  -  -   -  -  1  -     -                  
Half -  7 - Ilias, Lachlan        70  12  -  4  3   -   -   74  2  -   8  -  2  4/6   -                  
Prop -  8 - Bain, Luke            54  24  -  4  -   -   -   56  -  -   -  -  -  -     -     [0-47,63-70]  
Hook -  9 - Cook, Josh            70  21  3  5  1   -   -  111  1  1   -  1  1  -     -                  
Prop - 15 - Taumoepenu, Tevita    21  11  -  1  -   -   -    7  -  1   -  -  -  -     -     [0-21] 
SRow - 11 - Angianga, Tallis      63  20  2  6  -   -   -   74  1  -   -  -  -  -     -     [0-63]           
SRow - 12 - French, Matt          70  22  1  3  -   -   -   66  -  1   -  -  -  -     -                  
Lock - 13 - Fepuleai, Joshua      38  13  -  8  -   -   -   70  1  -   -  -  -  -     -     [0-29,61-70] 

Int  - 10 - Manowski, Aiden       49  19  -  4  -   -   -   48  -  1   -  -  -  -     -     [21-70]       
Int  - 14 - Mamouzelos, Peter     23  10  1  -  -   -   -   47  1  -   -  -  -  -     -     [47-70]      
Int  - 16 - Puru, Luke            15   9  -  1  -   -   -   18  -  -   -  -  -  -     -     [29-44]      
Int  - 17 - Ranga-Iti, Iizayah    28   5  -  1  -   -   -   60  -  -   -  -  -  -     -     [33-61]      

                                     215  9 56  5         1254  6  9  10  3  6  4/6   -

Completion Rate      - 26 / 32  81%

Opposition Offloads  - 10

Other U20 Jersey Flegg Cup Matches

19-18 Camp (4v1) Canberra   b Cronulla    (ET)
25-24 Camp (3v2) Penrith    b Syd Rstrs   (ET)
22-18 Camp (6v7) Canterbury b Newcastle


---
© 2019 SSR Almanac / HOME / RETURN