Britt and Turner were trimmed 24 hours before the match. Su'A and C.Allan were 18th and 19th men.
Rabbitohs finally put the lid on a never-say-die Manly with a 34-26 win at ANZ Stadium on Friday night. After a heart-stopping 80 minutes, Manly started to falter near the end through fatigue and errors. This is Souths' second consecutive trip to the preliminary finals, after the team lost to the Roosters in 2018. That match was at Allianz Stadium but next weekend Wayne Bennett's men must travel to GIO Stadium in the national capital. For Manly, it was an opportunity missed as the Sea Eagles seemed to have the momentum. They have come from 15th last season to the second week of the finals under Des Hasler's tutelage. The night had its ups and downs. Cherry-Evans was placed on report for a crusher tackle on Damien Cook. Then Souths five-eighth Cody Walker (face slap), and Sea Eagles pair centre Brad Parker (trip) and Trbojevic (push) were all sin-binned as the disciplinary issues straddled both teams. As far as the actual football went, the crowd of 32,127 certainly got their money's worth. It was an action-packed game producing 10 tries – five apiece – with the Rabbitohs taking an 18-16 lead into the break. All night it was end-to-end play, which kept both sets of supporters nervous. As the lead changed hands five times throughout the match, scores were locked up twice. The Rabbitohs' start offered a little promise. On the back of 64% possession, Souths raced to 10-0 off tries to Alex Johnston and Walker. Reynolds couldn't find his range and missed two goals before he converted Walker's try to pass 1400 career points. But then Manly responded with two tries, both against a brittle Souths right edge. Centre-turned five-eighth Dylan Walker had the final pass in both, sending Parker over first then Corey Waddell six minutes later. It was the former Penrith junior's first try for 2019. Suddenly it was a two-point ball game in the Rabbitohs' favour 12-10, and tensions were rising. They tumbled into a brawl when Manly back-rower Jack Gosiewski pushed Adam Doueihi's face into the turf under the posts, which led Walker to use "an open hand to the face", according to referee Gerard Sutton. Walker was sent to the sin bin as Rabbitohs captain Sam Burgess protested. "It's striking Sam," Sutton said. Down to 12 men and Manly were revving the engines. First Parker was held up over the line with some desperate defence but then on the other side of the field Moses Suli was running amok. He pushed off defenders and then passed to his winger Reuben Garrick, sprinted ahead before passing to Cherry-Evans to end a 40-metre movement. Manly were in the lead for the first time 16-12. But it lasted only four minutes with Souths' energetic lock Cameron Murray swan-diving near the right upright in the 39th minute to wrestle back the lead (18-16). The second half, Suli went on a 20-metre rampage early, fending off opposing centre Dane Gagai to score in the 45th minute. Manly had the lead back again 20-18. Bennett initiated a change with Grahm moving to the centre and Gagi to the wing. It was 20-20 after a Reynolds penalty for Parker's trip of James Roberts, which looked like it should have been a penalty try. Jack Gosiewski scored Manly's fifth try and that seemed to edge the Sea Eagles closer to the preliminary final (26-20). A head clash between fullback Doueihi and Johnston resulted in both going off the field. This resulted in a backline reschuffle with Gagai going to fullback, Graham and Roberts to the wing and Lowe and Murray to centre. Although he wasn't scoring points, teammate Jorge Taufua put two massive hits on Rabbitohs second-rower Ethan Lowe, which lifted the Manly team even more. Then 26-26 after John Sutton scored with Trbojevic in the bin for interfery with Gagai as Souths made a long break. South Sydney were not done though. They used Manly being down a man to their advantage and score another try to Murray to push the score to 32-26. Rabbitohs ran in two crucial tries while Trbojevic was off to turn a six-point deficit into a 32-26 lead. With pressure mounting, a shot-clock penalty against captain Daly Cherry-Evans for not restarting play quick enough meant an Adam Reynolds penalty was the last points of the game. Reynolds landed the penalty from in front and 'Glory, Glory to South Sydney' started playing across the stadium.
Walker and Gagai were charged with grade one contrary conduct on Manly backrower Jack Gosiewski after a melee in the 29th minute of the match, when Gosiewski head slammed Doueihi while on the ground in a tackle. Walker and Gagai have each been hit with a fine of $1,500. Both have taken the early guilty plea which reduces the fine to $1,150 and are free to play next week.
Reserve Grade - Canterbury NSW Premiership Minor Preliminary Final
(2v4) v Wentworthville, Kogarah Oval, Sat Sep 21 3:05pm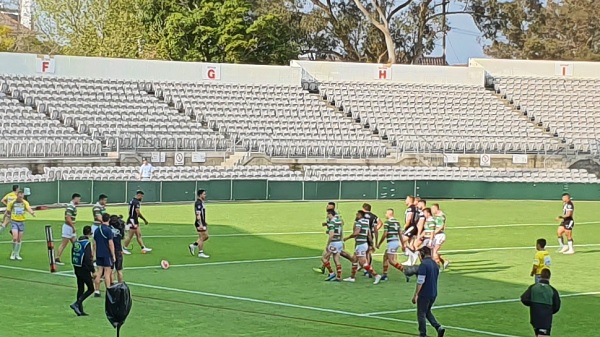 LOSS 10-35
Late Changes - Peoples is out. G.Burgess starts prop, Britt on the bench. The South Sydney Rabbitohs Canterbury Cup side have fallen 35-10 in their preliminary final against the Wentworthville Magpies in a disappointing end to their season. With both sides filled to the brim with NRL talent, which included a last-minute inclusion of George Burgess for the Red and Green, it was a match with plenty of intrigue, however it would be the Magpies getting ahead to a 20-10 halftime lead to set up victory. It was a fast start from the Magpies, who earned themselves a penalty in the ruck with plenty of fast play-the-balls and starting 25 metres out from the Rabbitohs' line. The Red and Green were quick to repel their opponents, however a clever kick from dummy-half by Matt McIlwrick saw Kyle Turner dive on the ball behind the line. A shallow dropout from the Rabbitohs saw Wentworthville back on the attack, however play was halted for a number of minutes as Bayley Sironen succumbed to a HIA. An early kick from the Magpies behind the line saw fullback Josh Hoffman collect the ball and score under the posts after a cruel bounce went against the Rabbitohs. The conversion from in front then saw Wentworthville lead 6-nil after seven minutes. A great take from Mawene Hiroti under the high ball saw the Rabbitohs back in the contest, however a clumsy head-high tackle gave the Magpies another chance to hit back. The ill-discipline from the men in Cardinal and Myrtle then saw their opponents opt to kick a penalty goal after a leg pull, furthering their lead after ten minutes. A contentious play-on call after a suspected knock-on from the kick-off allowed Wentworthville to carry on with their momentum, but again it was Hiroti who diffused a bomb and streaked 20 metres away to put his side on the front-foot. Things continued from bad to worse for the Rabbitohs, with a Corey Allan error in the play-the-ball giving Wentworthville possession 20 metres out, with a defensive effort from Leigh Higgins holding his opposition winger up over the line. However it was another kick and another error gifting Wentworthville yet another try, with a grubber going past Allan and being picked off by the black and white, extending their lead to fourteen. The bounce of the ball finally went to the Rabbitohs, with a Connor Tracey kick deflecting off a Magpie and going into touch, giving the side the head and feed on halfway. The added territory then saw Billy Brittain grubber through for Kyle Turner to touch down just as the ball looked to be going out, giving the side a much-needed boost after a dire quarter. With Hiroti's kick, the Rabbitohs were back within eight points. Both sides continued to show their class, with the Magpies pinning the Rabbitohs back with kicks while the Red and Green looked to open the defence up with early shifts out wide. Kicks continued to hurt the Rabbitohs, with another low kick touching Hiroti's hands and going out, giving the Magpies yet another feed in front of the sticks, with a trick play from the scrum seeing Matt McIlwrick cross over. With the successful conversion, it was back to a a 14-point deficit for the Rabbitohs. Needing a spark with not long left in the half, a high kick from the Red and Green saw winger and fullback cough up the ball back to the Rabbitohs. On the ensuing set the left side clicked into gear with Connor Tracey and Levi Dodd quickly putting Hiroti over in the corner. The winger would miss the sideline conversion, leaving the scores at 20-10 with five left in the half. With an added confidence came steel in the Souths' defence, as well as some adventurous ball-playing, however yet another unforgiving error in the Rabbitohs' half saw the Magpies with another opportunity, but the side's defensive efforts were able to prevent any further scoring before the break. A great kick from the first set saw the Rabbitohs nearly touch down Connor Tracey knocked on in the in-goal, but an offside call on Dean Britt saw Wentworthville back on the attack. With more kicks from the Magpies putting pressure on the Rabbitohs, a Corey Allan dive in the in-goal saw the Red and Green drop out, with further pressure seeing Jaemon Salmon dive over from dummy half in an easy effort. An offside penalty just before halfway gave the Rabbitohs a sniff, however a risky pass from Jaydn Su'A saw the Steeden lost forward, and more ill discipline on the other side of the field saw the Magpies extend their lead through a penalty goal. But the Rabbitohs would fail to lay down, with a strong break from Mawene Hiroti setting the side up for a chance to score, and with a penalty for a high tackle on Leigh Higgins soon after, the Red and Green were starting to swing momentum their way. Another chance for Tracey went begging as the bounce of the ball went away from the five-eighth once more, careening straight for a high kick that beat him to the dead-ball line. The go-forward from the Magpies proved to be overwhelming for the Rabbitohs, however a strong defensive set prevented their opponents from scoring, with a head-high tackle on Hawkins putting the side into enemy territory. George Burgess looked to stamp his mark, however a dropped ball over the line was the tale of the tape for the afternoon. Further errors continued to cruel the side, with a kick from the scrum seeing a footrace between Hiroti and Hoffman, with the Wentworthville Magpies fullback reaching the ball first. A missed penalty goal then saw the Rabbitohs kick a 20 metre dropout, only for the Magpies to reply with a long-range effort, with a late field goal added with just minutes to go.

 5 min  0-6
10 min  0-8
16 min  0-14
21 min  6-14 Turner try Hiroti goal
28 min  6-20
33 min 10-20 Hiroti try Hiroti miss
HT     10-20
44 min 10-26
50 min 10-28
74 min 10-34
78 min 10-35

Turner, Hiroti tries
Hiroti 1 from 2 goals

Scrums     6-6 (1H  4-3 ) 
Penalties  3-8 (1H  0-3 )

Final Line Up -
                                 Min Tac Pe MT LB  Rn  DR    m Er OL   K TA  T  G/A  FG

Flbk -  1 - Allan, Corey          80   4  -  -  -  14   1  115  1  -   -  -  -  -     -
LWng -  5 - Hiroti, Mawene        80   7  -  1  2  10   1  150  1  -   -  -  1  1/2   -
LCnt -  4 - Dodd, Levi            80  10  -  1  -  14   3   85  -  2   -  1  -  -     -
RCnt -  3 - Gagan, Jacob          80  18  -  3  -   3   -   23  1  -   -  -  -  -     -
RWng -  2 - Higgins, Leigh        80   6  1  -  -   8   2   77  -  -   -  -  -  -     -
5/8  -  6 - Tracey, Connor        80  21  1  4  -  11   -   71  -  -   3  -  -  -     -
Half -  7 - Hawkins, Dean         80  17  1  8  -   6   -   41  -  -  10  -  -  -     -
Prop - 18 - Burgess, George       48  31  -  3  -   6   -   44  1  -   -  -  -  -     -     [0-24,50-64]
Hook -  9 - Brittain, Billy       80  55  1  6  -  10   8   64  -  -   1  1  -  -     - (c) 
Prop - 10 - Dillon, Kurt          49  30  1  5  -  10   -   86  -  -   -  -  -  -     -     [0-26,57-80]
SRow - 11 - Turner, Kyle          68  32  -  4  -   6   -   51  -  -   -  -  1  -     -     [0-38,43-73]
SRow - 12 - Su'A, Jaydn           80  36  1  9  -  10   -   89  2  1   -  -  -  -     -     
Lock - 13 - Sironen, Bayley        5   6  -  -  -   -   -    -  -  -   -  -  -  -     -     [0-5]

Int  -  8 - Britt, Dean           21  14  1  1  -   4   -   35  -  -   -  -  -  -     -     [38-59]
Int  - 14 - Amone, Tom            30  23  1  3  -   5   -   61  -  -   -  -  -  -     -     [24-57,73-80]
Int  - 15 - Gray, Brock           40  21  -  -  -   5   -   32  1  -   -  -  -  -     -     [26-50,64-80]
Int  - 16 - Johns, Jack           59  29  -  2  -   4   -   39  -  -   1  -  -  -     -     [5-43,59-80]

                                     360  8 50  2         1069  7  3  15  2  2  1/2   -

Completion Rate      - 20 / 27  74%

Opposition Offloads  - 9

Effective 1st Tackles

 0 min  14m KO
 1 min  92m Hawkins kick 24m / SS P(Dillon)
 4 min  84m DO / (W TRY)
 7 min  16m KO
 8 min 100m Tracey kick COF 39m / SS P(Dillon) 80m / SS P(SuA) (W GOAL)
11 min  16m KO
13 min  29m Hawkins kick COF
14 min  96m SS Err(CAllan) SCR / SS Err(CAllan) (W TRY)
18 min  25m KO
20 min  44m Johns kick
21 min   0m W Err SCR / Brittain kick TRY
24 min  30m Hawkins kick COF
26 min  21m SCR / Hawkins kick
28 min 100m SS Err(Hiroti) SCR (W TRY)
30 min   9m KO
32 min  20m SCR / Hawkins kick
33 min   0m W Err / TRY
36 min  22m Hawkins kick
38 min  70m SCR / SS Err(Gray) SCR

half time

40 min  96m Hawkins kick SS NO TRY SS Err(Tracey) DIG 30m / SS P(Britt) 65m / SS P(Hawkins)
44 min  88m Sh-DO / (W TRY)
46 min  18m KO
48 min 100m P / SS Err(SuA) SCR 22m / SS P(Brittain) (W GOAL)
51 min  12m KO
55 min  17m P / SS Err(SuA)
57 min  22m Tracey kick
60 min  42m SCR / Hawkins kick DIG
63 min  11m P / SS Err(GBurgess) SCR
66 min  63m SS Err(Gagan) SCR
68 min  20m Hawkins kick
69 min  23m SCR / Tracey kick
70 min 100m Sh-DO 88m / SS P(Higgins) (W NO GOAL)
73 min 100m 20-DO (W TRY)
76 min  58m Sh-KO 42m SS P(Amone) / (W FIELDGOAL)
79 min  38m Sh-KO

Average effective 1st tackle location
- 52.2m - for the whole match

- 48.1m - 1st half  
- 56.9m - 2nd half  

Other Reserve Grade Matches

22-20 Koga (3v1) Newtown    b St Geo-Ill

Other Reserve Grade Matches - Queensland

26-14 Town (3v1) Wynnum     b Townsville
24-6  Pizy (2v4) Burleigh   b Sunshine C


U20 NSW Jersey Flegg Cup - Minor Preliminary Final
(4v2) v Penrith, Sat Sep 21 12:50pm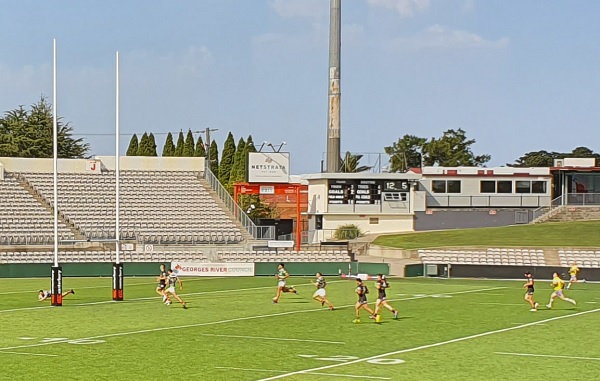 WIN 28-16
Late Changes - Dut is out, K.Allan starts on the wing, Iti at prop A.Manowski on the bench. he South Sydney Rabbitohs Jersey Flegg side have progressed to the Grand Final after an inspired 28-16 win in their preliminary final against the Penrith Panthers. Two quick-fire tries to winger Kane Allan saw the Rabbitohs lead 10-nil after ten minutes, while a try to Nic Mougios on the siren sealed the deal after a short-lived comeback by the Panthers. An early penalty in the ruck gave the Panthers the first chance of the match, but the resilient defence of the Rabbitohs forced an error soon after. The Panthers then conceded a penalty of their own, with the Rabbitohs touching down through winger Kane Allan, who scored in the corner courtesy of a Lachlan Ilias bomb which was tapped back by fullback James Tautaiolefua. Blake Taaffe's sideline conversion was unsuccessful, giving the Red and Green a 4-nil lead after five minutes. An error from Penrith 35 metres from the tryline saw the Rabbitohs with another sniff, and it was Allan in again after a left-side sweep saw the winger dive in the same corner. With Taaffe's conversion successful this time, the boys in Cardinal and Myrtle continued their strong start, up 10-nil after ten minutes. The Rabbitohs defence continued to torment the Panthers, pushing their opponents back in the tackle and once again forcing an error close to the line. A penalty for offside then saw Souths inch their way closer to the line, but consecutive errors and penalties saw a swing in momentum. With fatigue creeping in, both sides traded errors, with the Panthers 30 metres from the Rabbitohs' line after an incorrect play-the-ball, and soon it was Penrith who would strike back on the edge to score their first try after 20 minutes. With the unsuccessful conversion, Souths maintained a six-point lead with fifteen left in the first half. A quick shift to the edges on their line nearly saw Allan break through for a long-range effort, only for the ball to come out of his hands. With Penrith on the attack, a huge effort from Nic Mougios on the Panthers dislodged the ball, and it wasn't long after that hooker Josh Cook dived over to score next to the posts after a slew of penalties just minutes from the break. With Taaffe's goal, the Rabbitohs built a 16-4 lead close to halftime. A regather from the kick-off saw their opponents with an ample chance to hit back with just a minute left on the clock, however the resilience of the Rabbitohs' defence held out to maintain their 12-point lead at the break. A penalty in the first set on resumption saw the Panthers gain early ascendency, with a kick forcing a dropout from the Red and Green. Once again, the defensive fidelity of the Rabbitohs forced yet another error. After a real arm wrestle early in the second half, Lachlan Ilias then broke the Penrith defence wide open, with an inside-out ball from the ruck seeing James Tautaiolefua putting bench hooker Peter Mamouzelos through a gap to score under the posts. Taaffe's conversion then saw the Rabbitohs extend their lead to eighteen points. An unfortunate error 40 metres from the tryline from the Rabbitohs invited their opponents back into the contest, however an offside player fielding a kick took the Red and Green out of danger. Both sides continued to throw everything at one another, with multiple penalties to the Panthers eventually seeing halfback Matt Burton step his way over the line to close the deficit. With the try converted, the Rabbitohs continued to hold the lead with 20 to go. The Rabbitohs continued to shut down the attacking chances of their opponents, with Allan preventing a 40/20 and Josh Cook continuing to cause problems around the ruck, but once again it was the Panthers scoring after a break on the left, closing the gap to six points with just over ten minutes left. A lazy penalty in the ruck gave Penrith another opportunity, but yet another forced error from the Rabbitohs showed they weren't planning on going down anytime soon. Burton then put his boot to use, throwing up a massive torpedo kick that bounced back towards the Panthers, however the class of James Tautaiolefua saw the fullback calmly take possession, with the side getting a penalty for a ruck infringement one tackle later. A frantic final ten minutes saw both sides throw everything at one another, with a 70 metre intercept try to winger Nic Mougios icing the cake for the Rabbitohs who qualified for the Jersey Flegg Grand Final.

 4 min  4-0  KAllan try Taaffe miss
 9 min 10-0  KAllan try Taaffe goal
20 min 10-4
31 min 16-4  JCook try Taaffe goal
40 min 22-4  Mamouzelos Taaffe goal
48 min 22-10
55 min 22-16
60 min 28-16 Mougios try Taaffe goal

K.Allan 2, J.Cook, Mamouzelos, Mougios tries
Taaffe 4 from 5 goals

Penalties  5-8 (1H 3-3 )

Final Line Up -
                                 Min Tac Pe MT LB  Rn  DR    m Er OL   K TA  T  G/A  FG
                                                                                                         
Flbk -  1 - Tautaiolefua, James   70   1  -  3  1   -   -  179  1  5   -  1  -  -     -                  
LWng - 19 - Allan, Kane           70   4  -  3  1   -   -   79  1  -   -  -  2  -     -                  
LCnt -  3 - Zaurini, Marc         70   3  -  1  -   -   -   73  1  -   -  -  -  -     -                  
RCnt -  4 - Paulo, Jaxson         70  12  1  3  -   -   -  149  2  -   -  -  -  -     -              
RWng -  5 - Mougios, Nic          70   2  -  -  -   -   -  164  -  -   -  -  1  -     - (c)                 
5/8  -  6 - Ilias, Lachlan        70  16  -  3  -   -   -   64  -  1   9  -  -  -     -                  
Half -  7 - Taaffe, Blake         70  14  -  3  -   -   -   63  -  -   2  1  -  4/5   -                  
Prop -  8 - Bain, Luke            60  32  -  4  -   -   -   58  -  -   -  -  -  -     -     [0-50,60-70]  
Hook -  9 - Cook, Josh            70  30  -  4  1   -   -   59  -  -   2  -  1  -     -                  
Prop - 17 - Ranga-Iti, Iizayah    25  15  -  3  -   -   -   46  -  -   -  -  -  -     -     [0-14,51-62] 
SRow - 11 - Angianga, Tallis      48  23  1  4  -   -   -   63  1  -   -  -  -  -     -     [0-40,62-70]           
SRow - 12 - French, Matt          70  29  1  3  -   -   -   68  1  -   -  -  -  -     -                  
Lock - 13 - Fepuleai, Joshua      39  19  -  3  -   -   -   56  -  3   -  -  -  -     -     [0-27,58-70] 

Int  - 10 - Manowski, Aiden       35  24  1  2  -   -   -    5  2  -   -  -  -  -     -     [15-60]       
Int  - 14 - Mamouzelos, Peter     11   9  1  1  -   -   -   36  -  -   -  -  1  -     -     [40-51]      
Int  - 15 - Zampech, Bradley      43  20  2  3  -   -   -   44  1  -   -  -  -  -     -     [27-70]      
Int  - 16 - Puru, Luke             8   6  1  -  -   -   -    9  -  -   -  -  -  -     -     [50-58]      

                                     259  8 42  3         1223 10  9  13  2  5  4/5   -

Completion Rate      - 23 / 30  77%

Opposition Offloads  - 7

Other U20 Jersey Flegg Cup Matches

22-12 Koga (1v3) Canberra   b Syd Rstrs


---
© 2019 SSR Almanac / HOME / RETURN